Pachysphinx occidentalis occidentalis
(H. Edwards, 1875) Smerinthus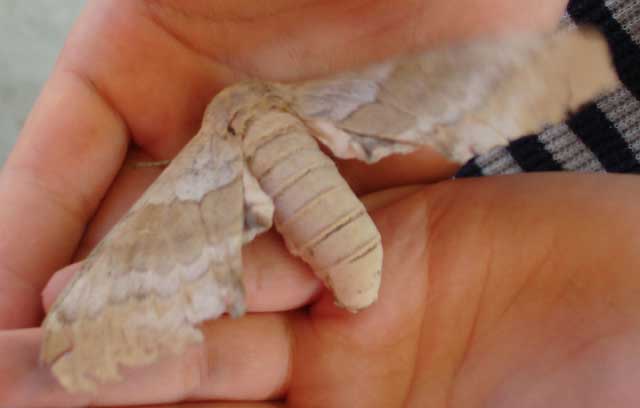 Pachysphinx occidentalis Bitterwater-Tully School,
September 2, 2008, courtesy of Candace Brewen, via Paul Johnson.
This site has been created by Bill Oehlke at oehlkew@islandtelecom.com
Comments, suggestions and/or additional information are welcomed by Bill.
TAXONOMY:



Family: Sphingidae, Latreille, 1802
Subfamily: Sphinginae, Latreille, 1802
Tribe: Smerinthini, Grote & Robinson, 1865
Genus: Pachysphinx Rothschild and Jordan, 1903
Species: occidentalis occidentalis (Henry Edwards, 1875)


MIDI MUSIC
It's a Wonderful World
copyright C. Odenkirk


ON.OFF

Paul Johnson writes, "Hi Bill,

"Funny how things come in bunches...

"Pachysphinx occidentalis is a species that is represented in the Pinnacles National monument collection by only a single specimen from the 1950's. In a full year of trapping, plus many years of checking porch lights, I have never seen one in San Benito Co. I had feared that they were extirpated.

"Within the last year students at the two local rural schools have found huge hornworms on campus. Two of these were sent to me, but I was unsuccessful at rearing them. Because of caterpillars' great size and the presence of cottonwood trees at the schools, I suspected that they were Pachysphinx.

"Yesterday my 8-year-old son's teacher, Candace Brewen, showed me the attached image of my son holding an adult Pachysphinx occidentalis (2 Sept 2008). It's great to know they're still around!

"If you use the image, please credit it to Candace Brewen. Photo taken at Bitterwater-Tully School, San Benito Co., CA."

Use your browser "Back" button to return to the previous page.

This page is brought to you by Bill Oehlke and the WLSS. Pages are on space rented from Bizland. If you would like to become a "Patron of the Sphingidae Site", contact Bill.

Please send sightings/images to Bill. I will do my best to respond to requests for identification help.