Paonias excaecata
(J. E. Smith, 1797) Sphinx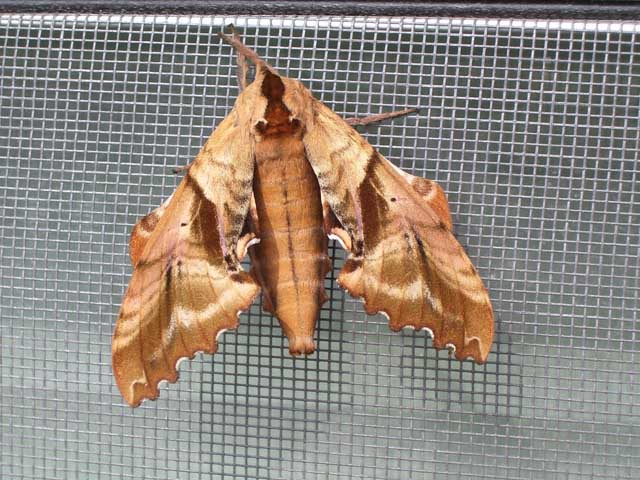 Paonias excaecata, Canton, Norfolk County, Massachusetts,
July 31, 2009, courtesy of Kerri Walonoski.
Kerri writes, April 20, 2011, "I was wondering if you could help me out. I am very curious as to what kind of moth I found on the screen outside my apartment. I have attached a digital photo that I took of it. It appears in some ways to be similar to the Mournful Sphinx, but some of the markings seem different to me, and I also feel I am quite out of its range (this photo was taken in Canton, Massachusetts). I thought this moth was very interesting to look at though, as I thought at first it was a dead leaf that had somehow gotten stuck on the screen. I would like to know more about it if you could help me in the identification.

"Thank you in advance!"

I reply, "My Sphingidae of Massachusetts website is accessed at http://www.silkmoths.bizland.com/MAsphinx.htm

"Your moth is Paonias excaecata, and I assume photo was taken some time last year as this would be a very early appearance for this spring.

"Pictures and info about Paonias excaecata can be accessed via the links on the page listed above. There is also a Norfolk County thumbnail checklist available from one of the links on the above page. It should help you with future ids. You are correct that the Mournful Sphinx would be very unlikely in Massachusetts.

"Nice picture.

"Please proved the date if you have it, grant permission to post photo, credited to you on the page, and I will document the sighting with the photo."

Thank you for your reply! This was actually taken two years ago (7/31/2009) but I was sorting through files on my computer and rediscovered both it and my desire to know what it was. You are welcome to post and credit the photo if you'd like. As another matter of curiosity, I have not found what the adults feed on. I actually found one site that said they don't feed on ANYTHING. Do they have such a short lifespan once they have come out of the pupal state?" "Some of the Sphingidae do feed as adults; some of them do not. Those in the subfamily Smerinthini, to which Paonias excaecata belongs, do not feed as adults. In that regard they are like the giant silk moths which also do not feed as adults. They live off fats stored during caterpillar days. These fats usually will only sustain them for about 5-7 days as adult moths. Thanks for permission to post images. Sphingidae from most of the other subfamilies do feed as adults."

This site has been created by Bill Oehlke at oehlkew@islandtelecom.com
Comments, suggestions and/or additional information are welcomed by Bill.

Use your browser "Back" button to return to the previous page.

This page is brought to you by Bill Oehlke and the WLSS. Pages are on space rented from Bizland. If you would like to become a "Patron of the Sphingidae Site", contact Bill.

Please send sightings/images to Bill. I will do my best to respond to requests for identification help.

Show appreciation for this site by clicking on flashing butterfly to the left.
The link will take you to a page with links to many insect sites.