Paonias excaecata
(J. E. Smith, 1797) Sphinx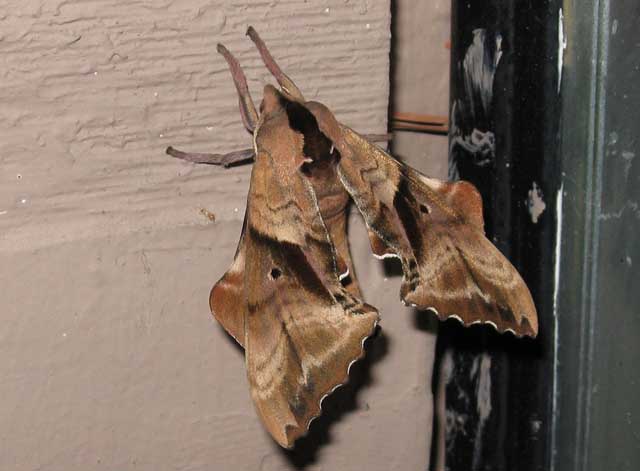 Paonias excaecata, Montgomery County, Texas,
May 26, 2008, courtesy of Tristyn Schreiber Underwood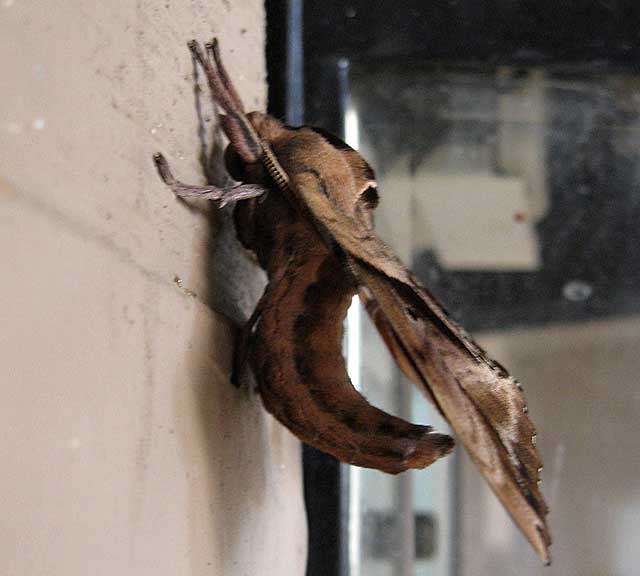 Paonias excaecata, Montgomery County, Texas,
May 26, 2008, courtesy of Tristyn Schreiber Underwood
This site has been created by Bill Oehlke at oehlkew@islandtelecom.com
Comments, suggestions and/or additional information are welcomed by Bill.
TAXONOMY:



Family: Sphingidae, Latreille, 1802
Subfamily: Sphinginae, Latreille, 1802
Tribe: Smerinthini, Grote & Robinson, 1865
Genus: Paonias Hubner, [1819]
Species: excaecata (J.E. Smith, 1797)


MIDI MUSIC
......It's a Wonderful World......
copyright C. Odenkirk


ON.OFF

Tristyn writes, "I know having an image of the hindwing would help, but the moth was not too cooperative! Anyway, I can't decide which species this is - geographically (zip code 77380), P. myops would be more likely, but the pictures I'm seeing of P. excaecata are closer, especially with the very wavy edge of the forewing.
"Thanks for any ideas!"
I replied, "Very nice images of P. excaecata. You are correct about the wavy outer margin on the forewing. If you can provide geography (state and county) and permission, I would like to post images with credit to you on a webpage??" The strongly curved abdomen in the resting position indicates this specimen is a male. The female has a much fuller abdomen that hangs straight down.
Use your browser "Back" button to return to the previous page.
This page is brought to you by Bill Oehlke and the WLSS. Pages are on space rented from Bizland. If you would like to become a "Patron of the Sphingidae Site", contact Bill.
Please send sightings/images to Bill. I will do my best to respond to requests for identification help.