Dilophonotini of Peru:
Aellopos, Eupyrrhoglossum, Nyceryx, Perigonia

This tentative checklist will become more accurate as images and information are sent to me. If you would like to assist in the development of this worldwide Sphingidae data/image base, please send info and images to Bill Oehlke.

I have arranged the images in accordance with my perception of wing characters: predominent markings, shape, colour, size.

There are probaby some Peruvian species not dlisted below, and there are some species not officially confirmed for Peru, although I think they have a good chance of being found there.

Females often have a wing shape or pattern that differs from the males. I hope some day to also have a thumbnail checklist for the females.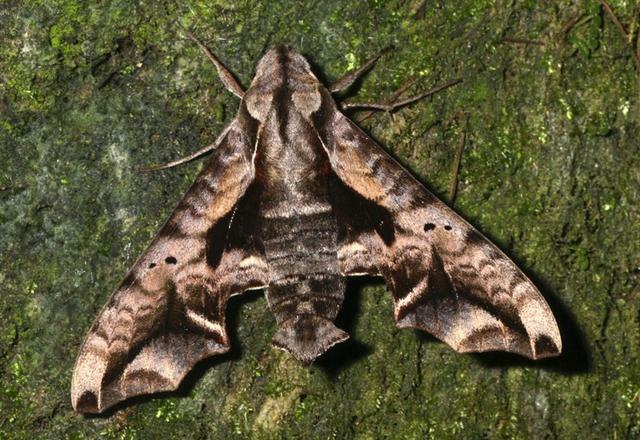 Nyceryx continua cratera male, Shima, Junin, Peru,
June 15, 2010, 700m, courtesy of Peter Bruce-Jones.
++++++++
Perigonia lusca male, Shima, Junin, Peru,
June 12, 2010, 700m, courtesy of Peter Bruce-Jones.
Perigonia
| | | |
| --- | --- | --- |
| Perigonia grisea: Forewing upperside uniform grey, crossed by a nearly straight antemedian line, a sinuate, very thin postmedian line and a double submarginal line (outer line heavier) that runs almost perpendicular from costa to tornus. Hindwing upperside most similar to Perigonia stulta but yellow tornal patch larger. | Perigonia lusca : Fw: Dark, slightly irregular, inwardly concave, thick line runs from apex to anal angle. Prominent, straight, dark aml outwardly shaded in dark brown more widely along inner angle, tapers toward costa. Small black dot at base of costa midpoint, slightly larger black, short black streak in cell. Hw yellow band very variable. Junin | Perigonia stulta: Crenulations of forewing outer margin are variable in degree of development, but greatly produced near midpoint. Forewing upperside lacks distinct grey-brown or pale brown lunate patch on the outer margin. Forewing underside submarginal line distinct at least from the apex to M2, bordered with grey distally. |
Use your browser "Back" button to return to the previous page.

This page is brought to you by Bill Oehlke and the WLSS. Pages are on space rented from Bizland. If you would like to become a "Patron of the Sphingidae Site", contact Bill.

Please send sightings/images to Bill. I will do my best to respond to requests for identification help.

Show appreciation for this site by clicking on flashing butterfly to the left.
The link will take you to a page with links to many insect sites.