Sphingidae of Argentina
Provincial Checklists

Adhemarius daphne, Yacutinga Private Reserve, Misiones Province,
(near border between Argentina and Brazil), September 2007,
courtesy of Ezequiel Osvaldo Núñez Bustos.
As of October 2007, this list has been confirmed by the L.O.L.A. publication Hawkmoths of Argentina, More, Kitching and Cocucci, 2005.
Many thanks to Ezequiel Nunez Bustos for his data and beautiful images. Nigel Venters, Fernando Penco, Oz Rittner and Dr. Carlos Marzano have also supplied much data and many images.
Below the checklist for Argentina are links to checklists for the individual provinces.
Over the years Ezequiel Osvaldo Núñez Bustos has sent me many published updates of his research into the distribution of Sphingidae in Argentina. Many thanks for his sharing and tireless work.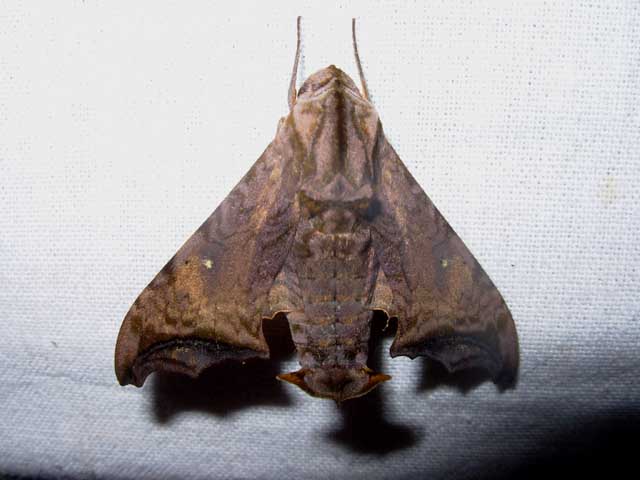 Nyceryx riscus, Yacutinga, Misiones, Argentina,
February 2008, courtesy/copyright Ezequiel Bustos.

Go to Main Sphingidae Index

Go to Indices of Nations

Go to South American Index

Use your browser "Back" button to return to the previous page.

Species from Valverde 1999 not in book
Eumorpha analis
Eumorpha cissi
Xylophanes crotonis


Enjoy some of nature's wonderments, giant silk moth cocoons. These cocoons are for sale winter and fall. Beautiful Saturniidae moths will emerge the following spring and summer. Read Actias luna rearing article. Additional online help available.

Use your browser "Back" button to return to the previous page.

This page is brought to you by Bill Oehlke and the WLSS. Pages are on space rented from Bizland. If you would like to become a "Patron of the Sphingidae Site", contact Bill.

Please send sightings/images to Bill. I will do my best to respond to requests for identification help.

Show appreciation for this site by clicking on flashing butterfly to the left.
The link will take you to a page with links to many insect sites.