The Sphingidae of Manitoba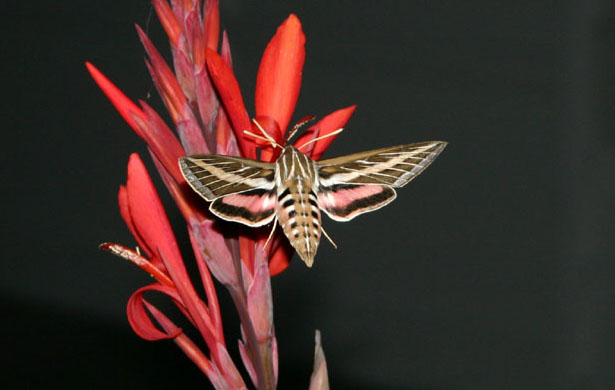 Hyles lineata, Altona, Manitoba, courtesy of Liz Wieler, September 12, 2005.
Liz writes, "I saw your website on the above moth, thanks to a friend of mine.
"I found it interesting. I had no idea what this was. I've seen them here the last couple of years, and I caught this one last night at dusk and after just a bit of rain.
"Do they overwinter here?"
I do not think this species overwinters in Canada, as I have no reports of spring or early summer sightings, except in British Columbia.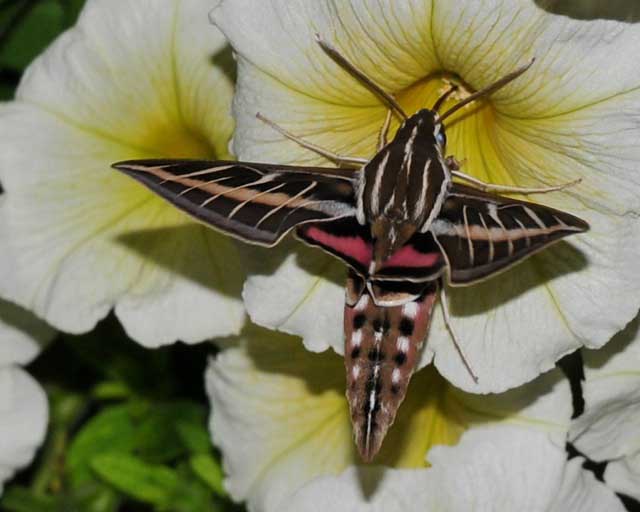 Hyles lineata, St. Andrews, Manitoba,
August 16, 2010, courtesy of Andy & Patty Simmons, and Robert Snyder.
This website is designed and maintained by Bill Oehlke. Please send sightings (date, location, species) and/or images to Bill.
Many thanks to Tina August who provides the following image of Eumorpha achemon from Brandon, Manitoba.
Eumorpha achemon, Brandon, Manitoba,
August 10, 2013, courtesy of Tina August.

Tina writes, "Hi there,
"I wanted to share these photos with you of my fearless daughter who loves moths. She found this one and nicknamed her McKayla the moth. I posted it online and a friend sent me to your website. This picture was taken in Brandon, Manitoba, Canada.
"Could you please confirm what kind of moth this is? We have never see one like this.
"Kind regards,
"Tina August"

I reply,
"Hi Tina,
"Mckayla the moth is Eumorpha achemon, one of the Sphingidae. This species is not often seen in Manitoba, but can be quite common further to the south in most of the United States.
"Thanks for thinking of me and sharing the images you sent.
"Bill Oehlke"
Sphinginae subfamily
| | |
| --- | --- |
| Sphingini tribe: | Smerinthini Tribe: |
List adapted by Bill Oehlke from North Dakota list, ** confirmed from Rev. Ron Hooper list, courtesy of Gary Anweiler, Alberta Lepidopterists' Guild.
Richard Westwood, Dept. of Biology, University of Winnipeg, indicates "I checked your sphinx moth website and noted a couple of additions of interest. Sphinx canadensis does not seem to be on your Manitoba list (It is moderately common here). Also a stray Eupmorpha labruscae was caught in Winnipeg Aug 24/1971 and a stray Agrius cingulata on Aug 8/1986. They are both located in the Manitoba Provincial Museum collection."
I have updated the lists.
In February 2004, I received this image of Hyles euphorbiae, taken in July in Neepawa, Manitoba, courtesy of Terrance Klassen.

During summer of 2003, I received images from Ontario and North Dakota so it must have been a good summer for euphorbiae.

The image below is from Portage La Prairie, September 21, 2005, courtesy of Esther Raven Ellington. The larvae were found on "Bachelor Buttons" by her nephews, Daniel and Peter Tully.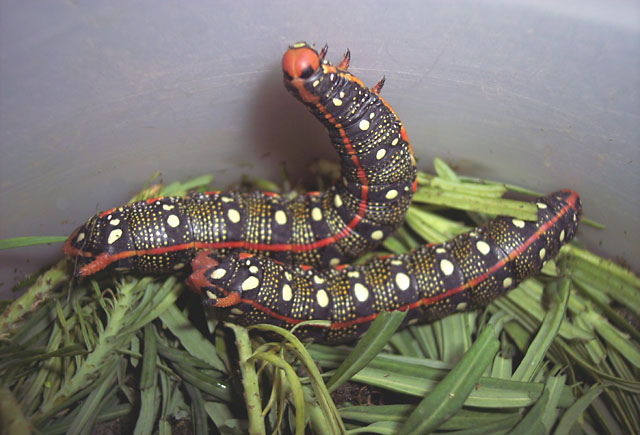 Hyles euphorbiae, Portage La Prairie, September 21, 2005, courtesy of Esther Raven Ellington.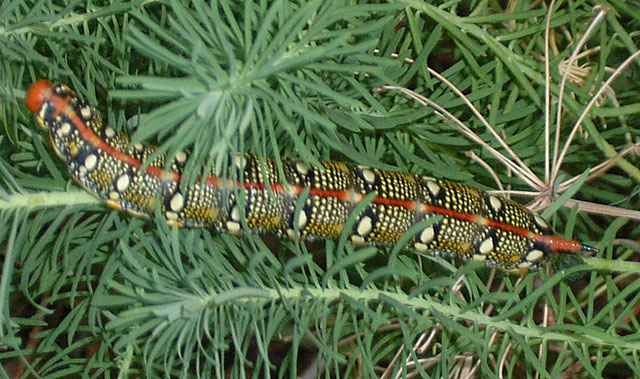 Hyles euphorbiae, Minnedosa, August 20, 2006, courtesy of Olive Cameron.
Olive writes, "I found these Hyles euphorbiae eating my Euphorbiae plant on Aug.20 in Minnedosa, Manitoba. There were six of them - 8-9cm long. Beautiful caterpillars! I thought you may be interested. We transferred them to a field with leafy spurge, as I didn't appreciate them ruining my plant."
Melanie Shura and Sophie Hannaford confirm this species in Winnipeg, Manitoba, with a mature larva find on August 4, 2007, confirmed with image.
Many thanks also to Wiiliam Stadnyk who sends the following image of Sphinx kalmiae larva, feeding on lilac.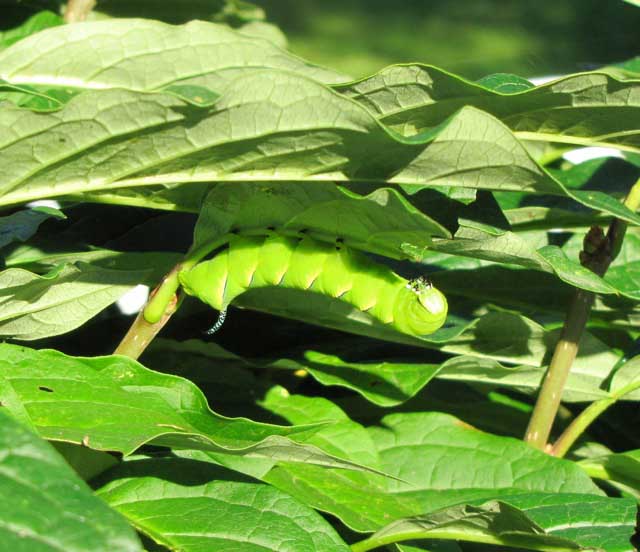 Sphinx kalmiae, Rossman Lake, Manitoba, courtesy of William Stadnyk.
Enjoy some of nature's wonderments, giant silk moth cocoons. These cocoons are for sale winter and fall. Beautiful Saturniidae moths will emerge the following spring and summer. Read Actias luna rearing article. Additional online help available.
Eggs of many North American species are offered during the spring and summer. Occasionally summer Actias luna and summer Antheraea polyphemus cocoons are available. Shipping to US destinations is done from with in the US.
Use your browser "Back" button to return to the previous page.
Please send sightings/images to Bill. I will do my best to respond to requests for identification help.

Show appreciation for this site by clicking on flashing butterfly to the left.
The link will take you to a page with links to many insect sites.
This website has been created and is maintained by Bill Oehlke without government or institutional financial assistance. All expenses, ie., text reference support material, webspace rental from Bizland, computer repairs/replacements, backups systems, software for image adjustments (Adobe Photoshop; L-View), ftp software, anti-virus protection, scanner, etc. are my own.

I very much appreciate all the many images that have been sent to me, or of which I have been granted permission to copy and post from other websites. All images on this site remain the property of respective photographers.

If you would like to contribute to the maintenace of this website by sending a contribution to

Bill Oehlke
Box 476
155 Peardon Road
Montague, Prince Edward Island, C0A1R0
Canada

your donation would be much appreciated and would be used for
1) paying for webspace rental;
2) paying for computer maintenance and software upgrades;
3) purchases of additional text reference material (journals and books) in an effort to stay current with new species;
4) helping to pay my daughter's tuition (completed spring of 2013), with the rest going to humanitarian aid.

I also hope to expand the North American Catocala site as well as the Sphingidae of the Americas site, to worldwide sites, and that will require additional funds for reference materials, etc. Both of those site are linked from your WLSS homepage.

If you are mailing a check from USA, please use $1.10 postage (2013 rate). Donations can also be made through Paypal via the button below.