The Sphingidae of New Brunswick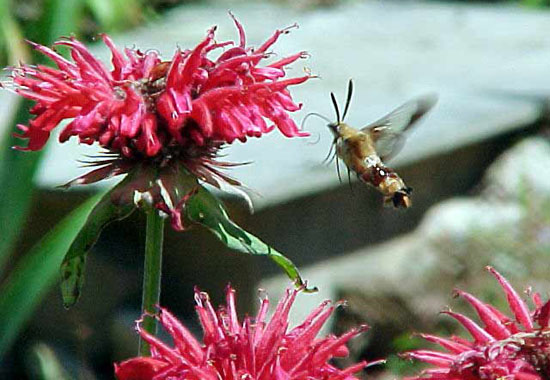 Hemaris thysbe, Quispamsis, New Brunswick, Canada,
August 7, 2005, courtesy of Bev England.
N.B., the files are not linked back to this page.
To return to this index, simply use your browser back button.
This website is designed and maintained by Bill Oehlke. Please send sightings (date, location, species) and/or images to Bill.
Sphinginae subfamily
| | |
| --- | --- |
| Sphingini tribe: | Smerinthini Tribe: |
Special thanks to Reginald P. Webster

Sphingidae sightings for 2005

Nessus sphinx, Amphion floridensis necturing on Dame's Rocket, June 19, Julie Singleton, English Settlement Road - near Taymouth, NB.
Julie writes, "There is lots of Virginia Creeper near our house, as well as a grape that we have been trying to get to grow for several years. We also start cayenne and other hot peppers annually - so there is no shortage of food around our property."

Hummingbird Clearwing, Hemaris thysbe, Bev England (August 7, 2005, Quispamsis) writes, "I thought you would like to see one of the pictures I took at the pond this Sunday......a hummingbird moth."

Gordie Snyder sent me these images of Sphinx chersis larvae, Ossekeag, New Brunswick, August 15, 2005. The blue "horn", pale lateral markings and light spiracular ovals indicate they are Sphinx chersis.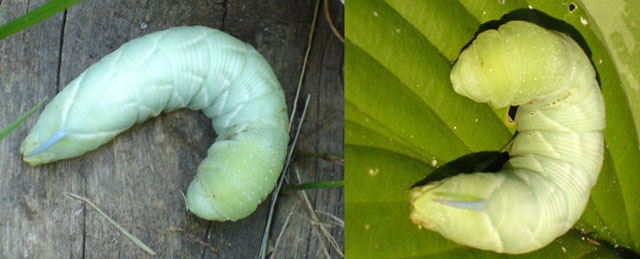 Anne Marsch sent me this image (below) of a Hyles gallii larva, Coverdale (five miles from Moncton Bridge), August 6, 2006.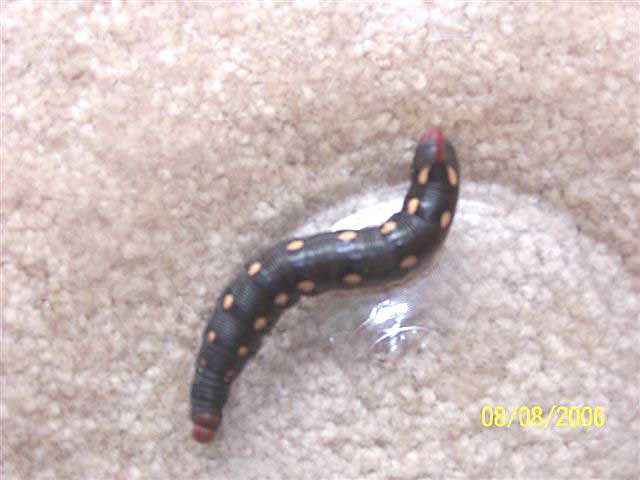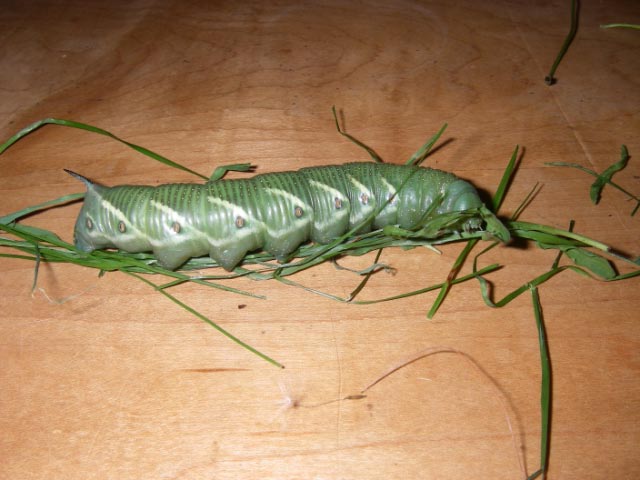 Manduca quinquemaculatus, Sandy Island, New Brunswick, Canada,
courtesy of Cameron Dick, via Tara and Jerome Dick, Sunday, Oct. 1, 2006.

Sandy Island is between Campobello Island and Deer Island in the Passamaquoddy Bay.

Gordon Snyder sent me great images of a Ceratomia amyntor larva, taken September 7, 2009, Norton, New Brunswick.

Visit Hemaris thysbe, Geary, Sunbury County, New Brunswick, Canada, August 1, 2010, Helen M˛rag McKinnon.

Goto Thumbnail Checklist of moths for quick identification.
Goto Thumbnail Checklist of larvae for quick id.

Use your browser "Back" button to return to the previous page.

This page is brought to you by Bill Oehlke and the WLSS. Pages are on space rented from Bizland. If you would like to become a "Patron of the Sphingidae Site", contact Bill.

Please send sightings/images to Bill. I will do my best to respond to requests for identification help.

This website has been created and is maintained by Bill Oehlke without government or institutional financial assistance. All expenses, ie., text reference support material, webspace rental from Bizland, computer repairs/replacements, backups systems, software for image adjustments (Adobe Photoshop; L-View), ftp software, anti-virus protection, scanner, etc. are my own. The one-time-life-time membership fee that is charged at the time of the registration covers most of those expenses.

I very much appreciate all the many images that have been sent to me, or of which I have been granted permission to copy and post from other websites. All images on this site remain the property of respective photographers.

If you would like to contribute to the maintenace of this website by sending a contribution to

Bill Oehlke
Box 476
155 Peardon Road
Montague, Prince Edward Island, C0A1R0
Canada

your donation would be much appreciated and would be used for
1) paying for webspace rental;
2) paying for computer maintenance and software upgrades;
3) purchases of additional text reference material (journals and books) in an effort to stay current with new species;
4) helping to pay my daughter's tuition.

I also hope to expand the North American Catocala site as well as the Sphingidae of the Americas site, to worldwide sites, and that will require additional funds for reference materials, etc. Both of those site are linked from your WLSS homepage.

If you are mailing a check from USA, please use $1.15 postage. Donations can also be made through Paypal via the button below.

Donations are not required to maintain your standing as a WLSS member, nor do they gain you any preferencial treatment with regard to livestock and/or supplies (sleeves), compared to othe rWLSS members. All WLSS members get first crack at my annual offerings and get an approximate discount of 10% as compared to non-members.

I do usually ask donors if they have any special requests for material on WLSS, and I try to accomodate when appropriate or within my ability to do so.