The Sphingidae of Nova Scotia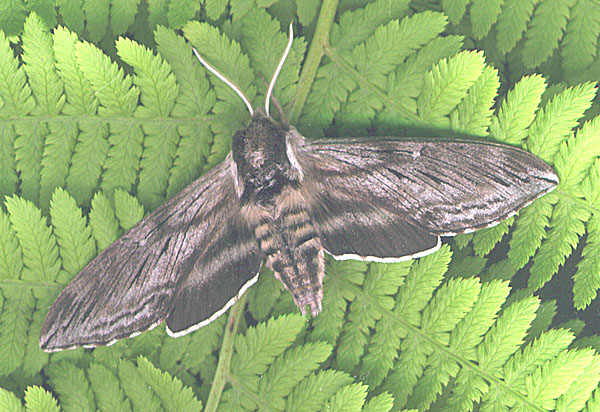 Sphinx poecila by Bill Oehlke.
N.B., the files are not linked back to this page.
To return to this index, simply use your browser back button.
This website is designed and maintained by Bill Oehlke. Please send sightings (date, location, species) and/or images to Bill.
Sphinginae subfamily
| | |
| --- | --- |
| Sphingini Tribe: | Smerinthini Tribe: |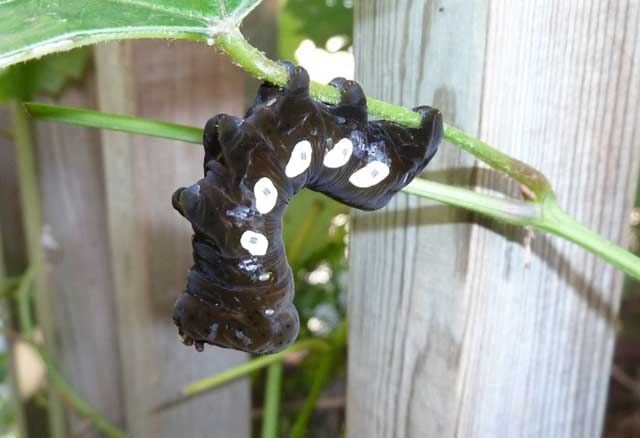 Eumorpha pandorus final instar, black form, Tatamagouche, Nova Scotia,
August 30, 2010, courtesy of Pippa, Chris and Thomas Moss.

I was surprised to see the larva from Tatamagouche, Nova Scotia, as I felt the sporadic reports from that province were only of adult strays. Pippa confirms that the grape vine upon which it was feeding "is well established, being there for over two decades. The vine it came from was in Nova Scotia even before that. We have no new vines purchased this year but did have a new honeysuckle near it, from a local nursery.

"The pictures were taken on the 30th Aug. 2010, at about 3:45 p.m. It proceeded to eat the whole vine leaf and was still there when we left for work the following morning, but had gone when my husband came home that night at about 8 p.m."

The date of the larva find suggest a mid to late July flight time for adult E. pandorus in Nova Scotia.

On October 5, 2011, I received the following image from Anne R. Bangham.
Eumorpha pandorus, Lockeport, Shelburne County, south eastern Nova Scotia,
October 5, 2011, courtesy of Anne R. Bangham.

The following image from Krista Melville suggests a mid to late July flight, possibly from a wind assisted adult stray from further south. With so many larvae finds, it may well be that Eumorpha pandorus is an overwintering resident in Nova Scotia.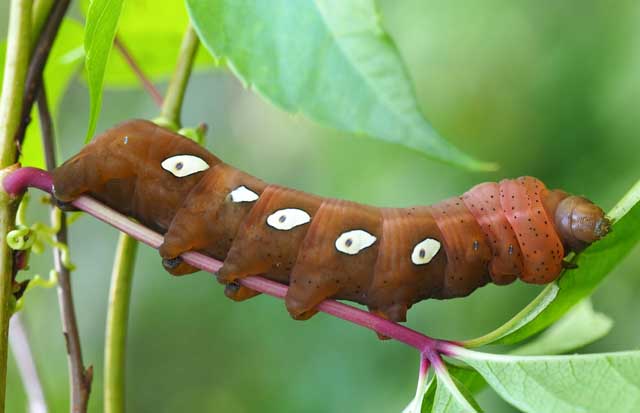 Eumorpha pandorus final instar on Virginia Creeper, Canning, Nova Scotia,
August 26, 2017, courtesy of Krista Melville.

List provided by Derek Bridgehouse with updates by Chris Majka. I am not sure of Sphinx canadensis, and Aellopos tantalus is very questionable.

* Darapsa choerilus is usually classified as Darapsa pholus in older literature.

In June 2010 Chris Majka sends the following email:

"I don't know if you are aware, however, in Ferguson (1955) four additional species of Sphingidae are reported from Nova Scotia including:

Aellopos tantalus (Linnaeus) – [Sydney from the 1890's; there is some question about this specimen]
Eumorpha fasciatus (Sulzer) – [Musquodoboit, McNab's Island, Granville Ferry]
Eumorpha pandorus (Hübner) – [Armdale]
Hyles lineata (Fabricius) – [McNab's Island, Digby]

"The first two would appear to be non-resident migrants, but Hyles lineata (Fabricius) is a resident species and the Eumorpha pandorus was found associated with Ampelopsis in NS, so at least that individual seems to have bred here.

"Also Wright (1989) recorded Xylophanes tersa (Linnaeus) on Sable Island; another, a vagrant sub-tropical migrant."

In response to some of my comments, Chris sends additional thoughts.

Chris adds, "I'm sure Aellopos tantalus (Linnaeus), Eumorpha fasciatus (Sulzer), and Eumorpha pandorus (Hübner) are all irregular vagrants. I don't know if Hyles lineata (Fabricius) can/does overwinter. Ferguson noted that he examined a number of specimens collected in Digby by John Russell (his collection is now at the CNC) so there's some indication that it appeared there on a regular basis. I'm not sure when Russell collected (1930's?) and I'm not aware of recent records in NS, but on the other hand, I don't know that anyone has looked at sphinx moths in the Digby area for decades."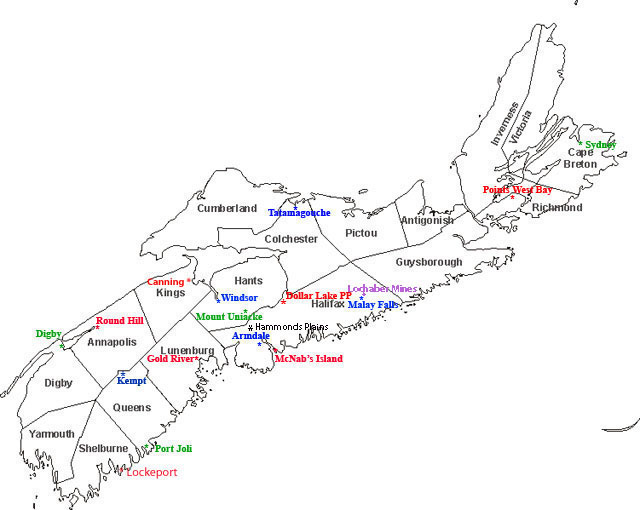 Nova Scotia counties with some reporting locales.

Robert Jindra provides the following sightings in Cape Breton Island (The Points West Bay), summer of 2005:

1) C. undolusa: Many males (around 15) between July 15 and August 5., 1 female July 10th
2) S. poecila: Many (males and females) on honeysuckle between July 15 and August 05
3) P. modesta: 3 males (25 – 28 July)
4) S. kalmiae: Many! (hundreds of males, females) on our Honeysuckle between July 15 and August 09
5) A. Luna (2 males), July 15, 21
6) A. polyphemus (4 males) between July 15 and July 29
7) S. chersis, 1 male (July 22)
8) P. myops, 1 male (July 24) 9) D. choerilus (pholus), 3 males, July 25, 28, August 01
10) S. cerisyi, 7 males, July 15-29
11) Canadian Tiger swallowtail, 1 female July 14

Robert also writes, "In Germany I place the "earth"-caterpillars which are ready to pupate into big plastic containers with approximately 30cm deep soil. I use soil with a very soft riddled (without crumbles) mixture of 50% sand and 50% clay. The soil should be humid but not wet. The caterpillars dig into the soil down to approximately 20 cm below surface and then they make an egg-shaped hollow. Some species cover the hollow with some silk-strings too. Because of the perfect moisture into the hollow, the caterpillars will turn into a perfect pupae with an extremely smooth skin.

"After the caterpillar has turned into a pupa, it will stay in the hollow until eclosion. The pupa definitely does not wiggle to the surface! The full developed moths of the earth pupators are always hatching out in their hollows. Just after they have eclosed, they dig to the surface, probably with using the old tube of the caterpillar. "

I asked Jim Tuttle for his eclosion experience with earth pupators and he writes (August 28, 2005), "As for the pupal emergence, it has been my experience with Manduca sexta and Citheronia regalis that the pupa works its way to the surface (head up), stops just as the head breaks the surface of the ground, and then the adult breaks out of the pupal shell.

"I can only assume that the pupa is using the same path that was previously dug by the larva. I dug emergence pits in my yard, let larva burrow in, let the pupae naturely overwinter, and then monitored the subsequent emergences.

"I cannot speak to any other species... I do know that I decided to take this observation approach because I felt that any observations in artificial containers might taint the results or my perception of the process.

"Is it possible that the adults of some species eclose in the subterranean chambers and then make their way to the surface - I guess so..."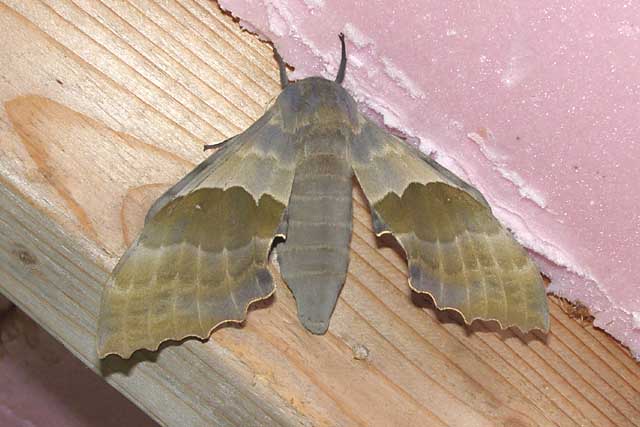 Pachysphinx modesta female, Windsor, Nova Scotia, July 28, 2007,
courtesy of Joanne and Corrine Martell.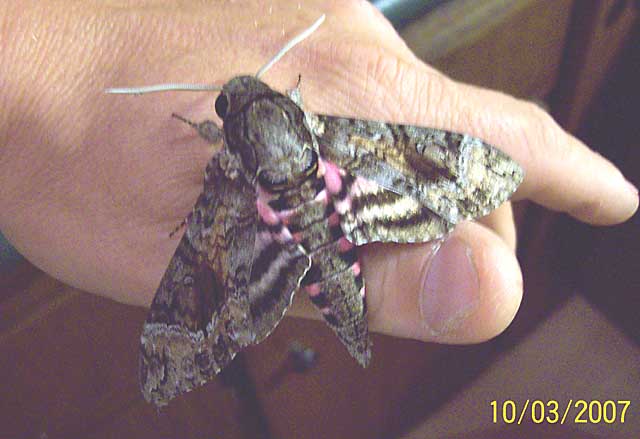 Agrius cingulata, October 3, 2007, Lunenburg County, N.S.,
courtesy of Steve Hatt.
Agrius cingulata, White Lakes, Halifax County, Nova Scotia,
September 20, 2012, courtesy of John Gilhen via Derek Bridgehouse.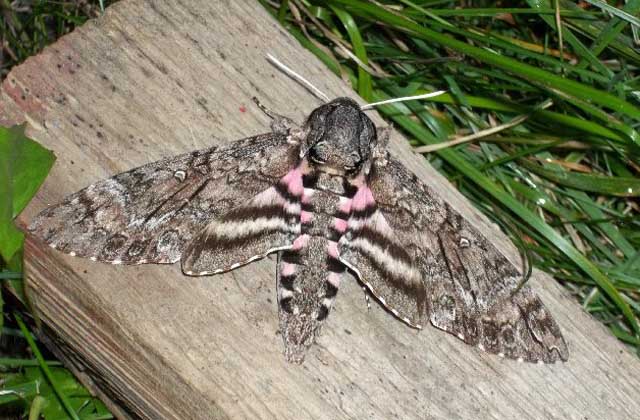 Agrius cingulata, Sydney, Cape Breton Island, Nova Scotia,
September 30, 2012, courtesy of Lorna MacLean.

Lorna MacLean writes, "I am sending this photo of Agrius cingulata I took in my backyard today Sep 30, 2012. It was sitting on my woodpile."

In Malay Falls/Sheet Harbour area of Halifax County, I (Bill Oehlke) have personally seen Ceratomia undulosa, Lapara bombycoides, Sphinx kalmiae, Sphinx drupiferarum, Sphinx poecila, Pachysphinx modesta, Paonias excaecata, Smerinthus cerisyi, Smerinthus jamaicensis, Hemaris thysbe and Darapsa choerilus (pholus). I suspect the other Nova Scotia species are there as well.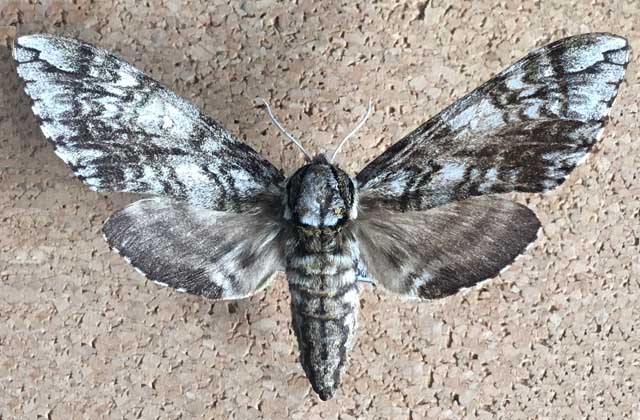 Ceratomia undulosa, Malay Falls, Nova Scotia, Canada,
June 25, 2016, courtesy of Derek Bridgehouse.
Steve Hatt from Lunenburg county writes, "The large moths that I know I have seen are...luna moth, cecropia moth, polyphemus moth (very common), twin spotted sphinx, cerisyi's sphinx, poplar sphinx, blinded sphinx, laurel sphinx, wild cherry sphinx, poecila sphinx, elm sphinx, and northern pine sphinx. And then recently a pink spotted hawkmoth. To my knowledge I haven't seen Hyalophora columbia.

"However, when I was young I had the impression we didn't have them in NS. So I may have seen one and just assumed it was an odd looking cecropia moth."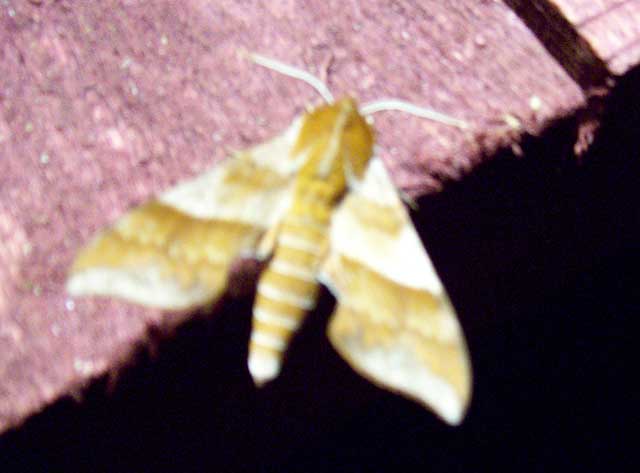 Darapsa choerilus, June 14, 2008, Gold River, Lunenburg County, Nova Scotia, courtesy of Steve Hatt.

Bev Wigney from Round Hill, Nova Scotia (near Annapolis Royal), reports the following:
Amphion floridensis, June 2, 2010, resting on some Gill-over-the-Ground;
Paonias myops coming to lights, May 23-24, 2010; June 2, 2010.

Derek Bridgehouse sends the following report from Nova Scotia, July 11, for Dollar Lake PP behind airport called Antrim Rd, I believe. "It was a warm eve and heavy mist (almost rain but not quite) from 9:30 -11:30 picked up eight species of Sphinx. But still not getting the two species I'm looking for. So three different locales in different parts of the province and getting same stuff. But the thrill of getting the variety is still there."

P. modesta, Sphinx kalmiae, L. bombycoides, P. myops (2nd of summer), P. excaecatus (1st of the summer), S. jamaicensis (2nd of summer), had a S. cerisyi in Malay Falls which was 1st of season, C. undulosa and D. choerulus.

From Mt. Uniacke, July 8, 2009, Derek Bridgehouse reports, "Sphinx wise got undulosa, bombycoides, kalmae, but the real surprise was getting P. myops."

Derek writes, July 13, 2010: "Bill – I was down to Queens Co (Mount Merritt Rd., Kempt, Queens Co., NS) overnite yesterday and got back this aft. I will send you GPS cords (N 44* 07.988; W 65*07.755).

Anyways, I took 9 species of Sphinx (C. undulosa, L. bombycoides, Sphinx chersis, S. kalmiae, P. modesta, Paonias excaecata, P. myops, Smerinthus cerisyi and S. jamaecensis), 3 species of Catocala and 2 species of Saturniid. All Hyalophora has now ceased as I have not seen any in 2 weeks. This place I went, however, does have columbia and cecropia.

"My main find and catch was Sphinx chersis (what a big critter, just not as robust as modesta). My 3 Catocala sp are badia coelebs, coccinata (what a beauty) and sordida.

"I used a banana-molsasses–rum mix and actually got to witness kalmiae hovering in front of trees like hummingbirds with proboscis out like a straw slurping up the banana-rum mix from tree trunk.

"I have never seen the sheets so full of moths esp Sphingids – awesome, I can only imagine during saturniid season."

Derek reports early season flights of Hemaris diffinis and Hemaris thysbe in Halifax County, May 14, 2012.

Derek reports a very late Sphinx kalmiae adult, taken at Liscombe Lodge, August 26, 2017.

Visit Nova Scotia Catocala.

Visit Nova Scotia thumbnail checklist: adult moths.
Visit Nova Scotia thumbnail checklist: larvae.
Use your browser "Back" button to return to the previous page.

This page is brought to you by Bill Oehlke and the WLSS. Pages are on space rented from Bizland. If you would like to become a "Patron of the Sphingidae Site", contact Bill.

Please send sightings/images to Bill. I will do my best to respond to requests for identification help.

Enjoy some of nature's wonderments: Giant Silk Moth cocoons. Native Saturniidae cocoons are available in the fall and winter. Big beautiful moths will emerge the following spring/summer.

This website has been created and is maintained by Bill Oehlke without government or institutional financial assistance. All expenses, ie., text reference support material, webspace rental from Bizland, computer repairs/replacements, backups systems, software for image adjustments (Adobe Photoshop; L-View), ftp software, anti-virus protection, scanner, etc. are my own. The one-time-life-time membership fee that is charged at the time of the registration covers most of those expenses.

I very much appreciate all the many images that have been sent to me, or of which I have been granted permission to copy and post from other websites. All images on this site remain the property of respective photographers.

If you would like to contribute to the maintenace of this website by sending a contribution to

Bill Oehlke
Box 476
155 Peardon Road
Montague, Prince Edward Island, C0A1R0
Canada

your donation would be much appreciated and would be used for
1) paying for webspace rental;
2) paying for computer maintenance and software upgrades;
3) purchases of additional text reference material (journals and books) in an effort to stay current with new species;
4) helping to pay my daughter's tuition (completed spring of 2013).

I also hope to expand the North American Catocala site as well as the Sphingidae of the Americas site, to worldwide sites, and that will require additional funds for reference materials, etc. Both of those site are linked from your WLSS homepage.

If you are mailing a check from USA, please use $1.15 postage. Donations can also be made through Paypal via the button below.

Donations are not required to maintain your standing as a WLSS member, nor do they gain you any preferencial treatment with regard to livestock and/or supplies (sleeves), compared to other WLSS members. All WLSS members get first crack at my annual offerings and get an approximate discount of 10% as compared to non-members.

I do usually ask donors if they have any special requests for material on WLSS, and I try to accomodate when appropriate or within my ability to do so.