The Sphingidae of Quebec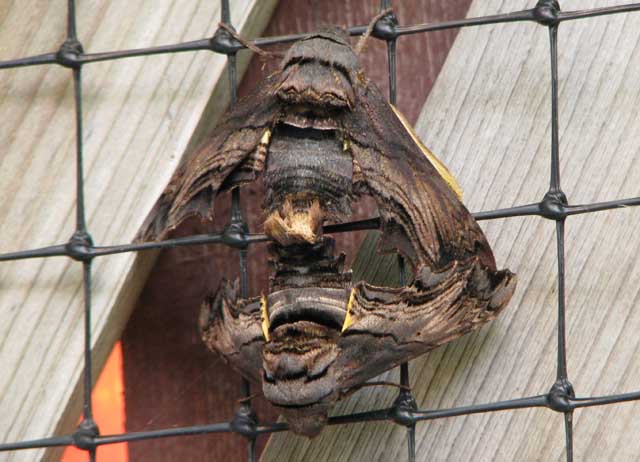 Sphecodina abbottii, Pointe Cliare, Quebec,
May 18, 2011, courtesy of Sylvain Miller
Sylvain Miller writes, "I would like to confirm the identification of these moths (above). Are they Sphecodina abbottii?
The first adult arrived on my fence May 17, 2010. On the morning of May 18, I saw the second one mating.

I reply, "Very nice picture of Sphecodina abbottii pairing. I request permission to post photo, credited to you. The female, first one, would have pupated underground somewhere near the fence. When she emerged, she climbed up the fence and that night, via a pheromone, called in the male and they paired. Female is upper moth. Male is lower moth." I think Sphecodina abbottii must be a very common species in Quebec, as I am often sent images of larvae and adult moths of that species for identification purposes.

This website is designed and maintained by Bill Oehlke. Please send sightings (date, location, species) and/or images to Bill.
Sphinginae subfamily
| | |
| --- | --- |
| Sphingini tribe: | Smerinthini Tribe: |
List provided by Dave Clermont
Goto Thumbnail Checklist of moths for quick identification.
Goto Thumbnail Checklist of larvae for quick id.

This website is designed and maintained by Bill Oehlke. Please send sightings (date, location, species) and/or images to Bill.

Sightings 2006

Sphecodina abbottii, Plateau district of Montreal, Quebec, May 27, Mike and Katya Epstein

Sphecodina abbottii larva, July 13, 2006, Granby, Quebec, about 40 miles South East of Montreal. It was discovered on the ground after trimming and shaking vines growing up the side of the house. I was also told that another specimen was brought in yesterday from a village nearby. Laurent Denault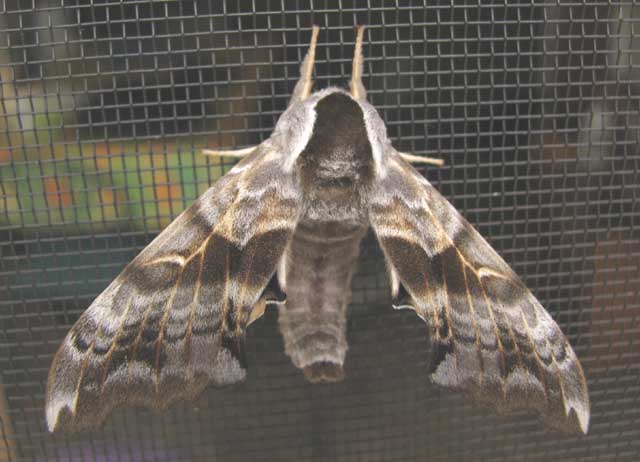 Smerinthus cerisyi, Wilson Lake, near Kazabazua, Quebec,
May 20, 2007, courtesy of Jim Cumming.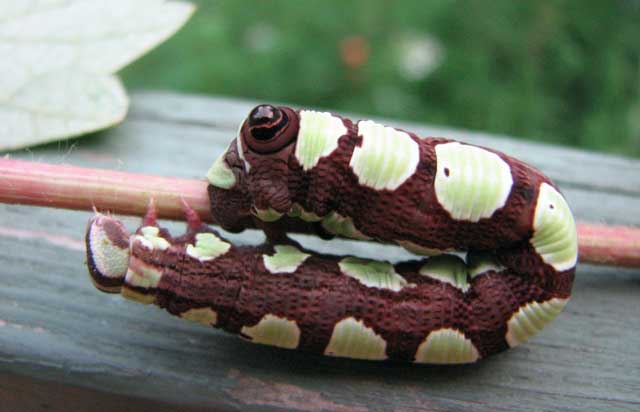 Sphecodina abbottii larva (green form), August 5-8, 2007, St-Alphonse-de-Granby, Quebec,
courtesy of Gauvin Marielle.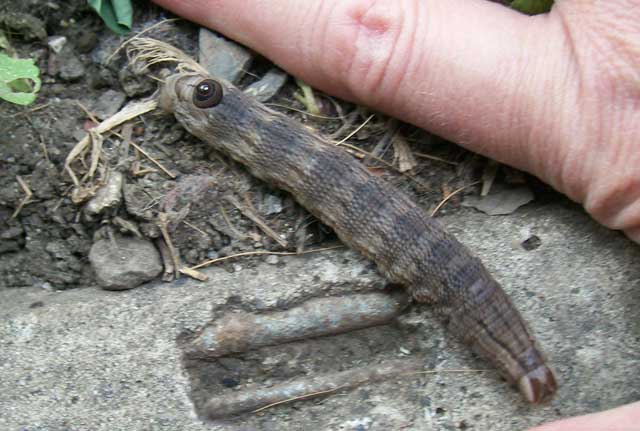 Sphecodina abbottii larva (brown form), downtown Montreal , Quebec,
July 24, 2009, courtesy of Jennifer Morrison.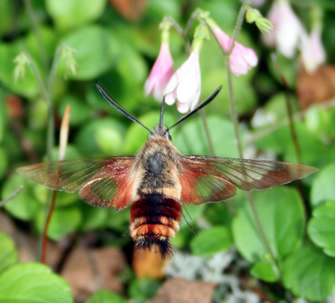 Hemaris thysbe, Gouin Reservoir, northern Quebec,
July 5, 2010, courtesy of Neil Cameron.
Visit Hemaris thysbe nectaring, Champlain Lookout, Gatineau Park, Quebec, June 3, 2011, courtesy of Giorgio Zanetti.
Visit Hemaris thysbe nectaring at pink phlox, Aylmer, Gatineau, August 2, 2010, courtesy of Michel Paradis.
Visit Hemaris thysbe nectaring at pink phlox, Laurentian, Quebec, August 2-15, 2010, courtesy of Ilania Abileah
Many thanks to Yohann Racine who sends me the following data for Havelock, Quebec for 2015. The number of specimens observed follows the species name.
Ceratomia amyntor 5
Ceratomia undulosa many
Lintneria eremitus 3
Sphinx canadensis 6
Sphinx kalmiae 1
Sphinx drupiferarum in Luskville Fall only one
Lapara bombyoides 6
Smerinthus jamaicensis many
Smerinthus cerisyi many
Paonias exaecata many
Paonias myops many
Pachysphinx modesta many
Hemaris thysbe many
Hemaris diffinis many
Eumorpha pandorus 5
Sphecodina abbottii many
Amphion floridensis many
Darapsa myron many
Darapsa choerilus 6
Hyles gallii 5

Enjoy some of nature's wonderments, giant silk moth cocoons. These cocoons are for sale winter and fall. Beautiful Saturniidae moths will emerge the following spring and summer. Read Actias luna rearing article. Additional online help available.
Eggs of many North American species are offered during the spring and summer. Occasionally summer Actias luna and summer Antheraea polyphemus cocoons are available. Shipping to US destinations is done from with in the US.
Use your browser "Back" button to return to the previous page.
This page is brought to you by Bill Oehlke and the WLSS. Pages are on space rented from Bizland. If you would like to become a "Patron of the Sphingidae Site", contact Bill.
Please send sightings/images to Bill. I will do my best to respond to requests for identification help.

Show appreciation for this site by clicking on flashing butterfly to the left.
The link will take you to a page with links to many insect sites.
This website has been created and is maintained by Bill Oehlke without government or institutional financial assistance. All expenses, ie., text reference support material, webspace rental from Bizland, computer repairs/replacements, backups systems, software for image adjustments (Adobe Photoshop; L-View), ftp software, anti-virus protection, scanner, etc. are my own. The one-time-life-time membership fee that is charged at the time of the registration covers most of those expenses.

I very much appreciate all the many images that have been sent to me, or of which I have been granted permission to copy and post from other websites. All images on this site remain the property of respective photographers.

If you would like to contribute to the maintenace of this website by sending a contribution to

Bill Oehlke
Box 476
155 Peardon Road
Montague, Prince Edward Island, C0A1R0
Canada

your donation would be much appreciated and would be used for
1) paying for webspace rental;
2) paying for computer maintenance and software upgrades;
3) purchases of additional text reference material (journals and books) in an effort to stay current with new species;
4) helping to pay my daughter's tuition (completed spring 2013).

I also hope to expand the North American Catocala site as well as the Sphingidae of the Americas site, to worldwide sites, and that will require additional funds for reference materials, etc. Both of those site are linked from your WLSS homepage.

If you are mailing a check from USA, please use $1.10 postage (2013 rate). Donations can also be made through Paypal via the button below.

Donations are not required to maintain your standing as a WLSS member, nor do they gain you any preferencial treatment with regard to livestock and/or supplies (sleeves), compared to other WLSS members. All WLSS members get first crack at my annual offerings and get an approximate discount of 10% as compared to non-members.

I do usually ask donors if they have any special requests for material on WLSS, and I try to accomodate when appropriate or within my ability to do so.