The Sphingidae of Saskatchewan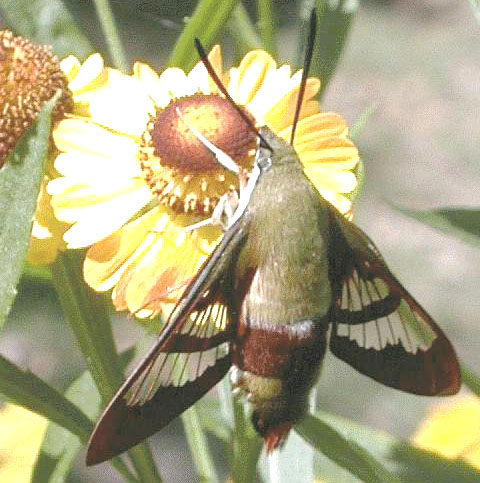 Hemaris thysbe photo courtesy of Praveen Mutalik.
This website is designed and maintained by Bill Oehlke. Please send sightings (date, location, species) and/or images to Bill.
Sphinginae subfamily
| | |
| --- | --- |
| Sphingini tribe: | Smerinthini Tribe: |
Visit Saskatchewan Sphingidae Adult Moths Thumbnails checklist
Visit Saskatchewan Sphingidae Larval Thumbnails checklist

List adapted by Bill Oehlke from North Dakota and Montana lists. ?? means I have no confirmed reports; I just suspect the species (Amorpha juglandis, Eumorpha achemon) may be there. Eumorpha achemon has now been confirmed by Karen Edwards, based on larval image from Estevan in southern Saskatchewan, September 10, 2010.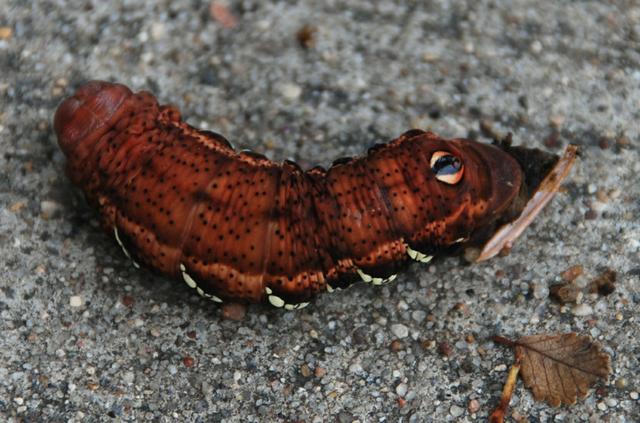 Eumorpha achemon prepupal fifth instar, Estevan, Saskatchewan,
September 10, 2010, courtesy of Karen Edwards.

In September 2013 I was alerted by Daniel Marlos, moderator of What's That Bug? that Darlean Weigetz had submitted an Eumorpha achemon larval image from Regina, Saskatchewan. Apparently this species is becoming established in Saskatchewan.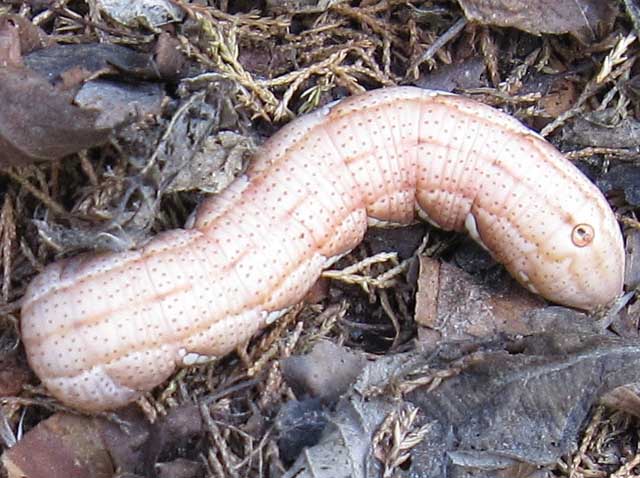 Eumorpha achemon fifth instar (pale), Regina, Saskatchewan,
September 5, 2013, courtesy of Darlean Weigetz.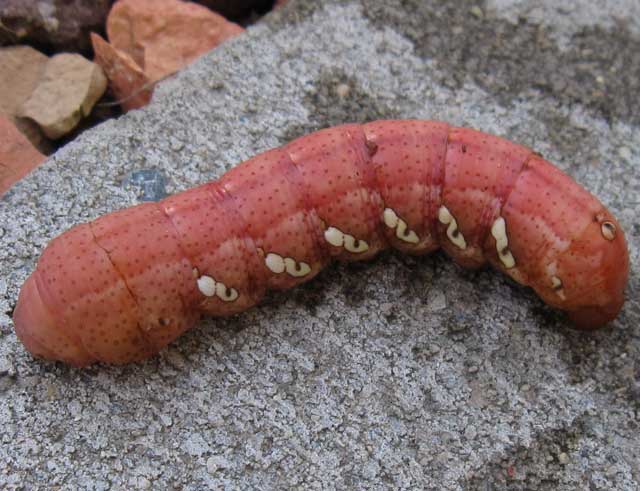 Eumorpha achemon prepupal (reddish) larva, Regina, Saskatchewan,
September 5, 2013, courtesy of Darlean Weigetz.

Darlene writes, "I think this is an Achemon Sphinx caterpillar. It's very large! I live in Regina, Saskatchewan. When I first found it, it was a very pale beige. Within an hour it turned dark beige, by morning it was reddish. It has a fake "eye" on its back end with white markings along its sides. If this is indeed what I think it is, is this common in Saskatchewan? I've never seen one before." Many of the Sphingidae larvae will take on a darker colouration as they prepare to pupate. Often an amber, reddish, burgundy hue is an indication that the moth will not emerge until spring.

Starred items (**) have been confirmed by Cedric Gillott, Professor Emeritus, Department of Biology, University of Saskatchewan.

Pounded items (##) are from Rev. Ron Hooper, courtesy of Gary Anweiler, Alberta Lepidopterists' Guild.

On August 2, 2016, Lisa T. sent me two images of Eumorpha achemon larvae encountered in her yard in Regina. I do not know if this species can successfully overwinter in Saskatchewan, or if migrant adults have simply deposited eggs during northerly excursions.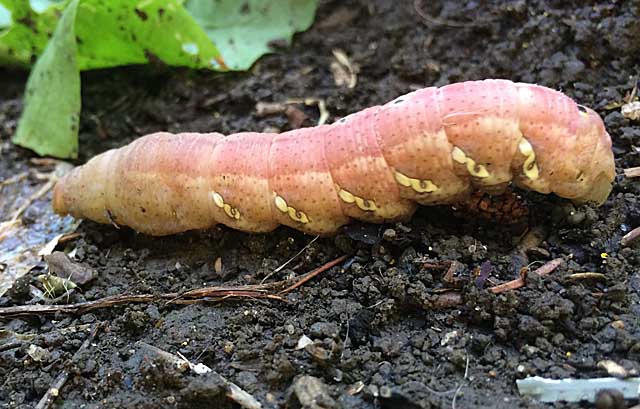 Eumorpha achemon prepupal, Regina, Saskatchewan,
August 2, 2016, courtesy of Lisa T.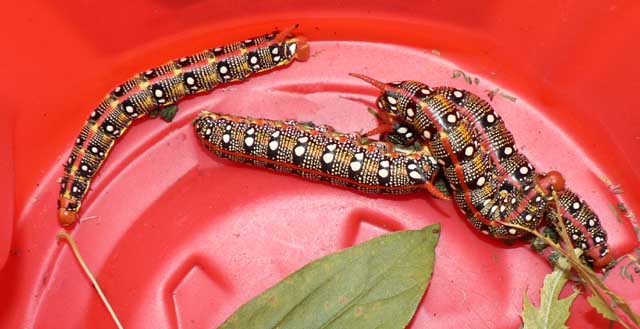 Hyles euphorbiae, Swift Current, Saskatchewan,
courtesy of Marnie Kay-Macmillan, July 31, 2007

Marnie writes, "A friend found these caterpillars on a shrub in their yard – they nearly defoliated the entire shrub. We live in Swift Current, Saskatchewan, which is in the south west corner of Saskatchewan. Can you tell from the picture what type of caterpillar it is?"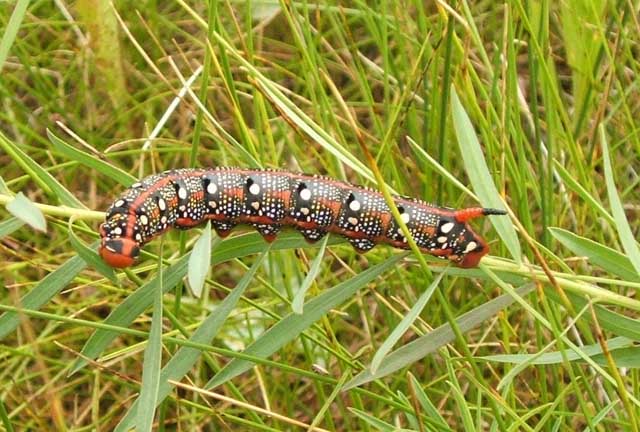 Hyles euphorbiae red form, on leafy spurge, Zehner (12 miles NE of Regina), Saskatchewan, courtesy of Dave Fries.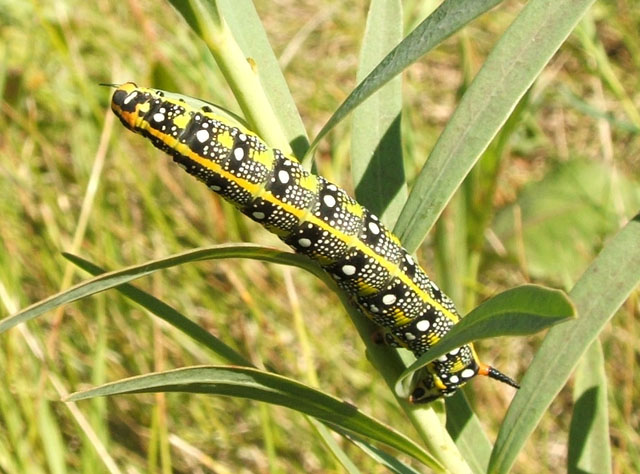 Hyles euphorbiae yellow form, on leafy spurge, Zehner (12 miles NE of Regina), Saskatchewan, courtesy of Dave Fries.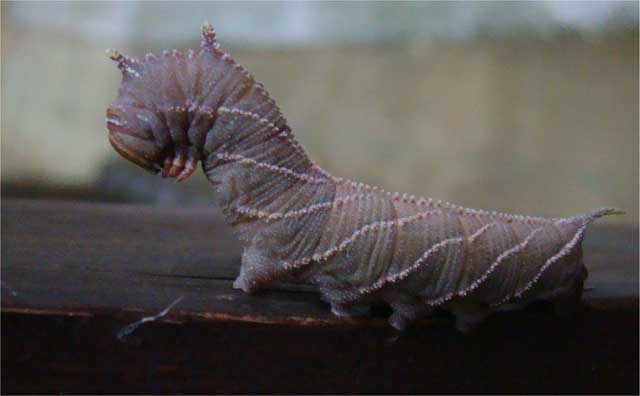 Ceratomia amyntor, fifth instar, Saskatoon, Saskatchewan,
October 5, 2008, courtesy of Doug Freestone.
Doug Freestone of Saskatoon, Saskatchewan writes (October 5, 2008), "Attached is a photo I took this morning of a caterpillar that was climbing a 4x4 post on my front deck. I have not seen one of these before and would like some help to identify it.
"This caterpillar was about 6 cm long and about 1 cm diameter. It was cool and rainy (14C) this AM and he was not moving too quickly, but 30 minutes later he had disappeared.
"I am located 25 km SW of Saskatoon, SK.
"TIA for any help."
I replied, "It is Ceratomia amyntor, the Four-horned Sphinx also know as the Elm Sphinx. I would like permission to use image with credit to you on my Saskatchewan Sphingidae page."
"Permission granted with thanks, Bill. We live on an acreage SW of Saskatoon.
"Are these common in this location? Seems to me (a lay person) that it's a bit late in the year for these creatures to be wandering around. We have had just one very light frost to date, but the first "killing frost" of the season is overdue."
Yes, it is late in the season. It might just be a late caterpillar that probably would not make it through if you had had a hard earlier frost. Another possiblity is that the larva has been parasitized. The internal parasite larva secrete a hormone that keeps the caterpillar growing and feeding beyond its normal limit so the parasitic larvae have enough food to take them through their larval stage. It's a bug eat bug world out there.
The larvae depicted is mature and has probably crawled to the soil where it will excavate a subterranean chamber in which to pupate.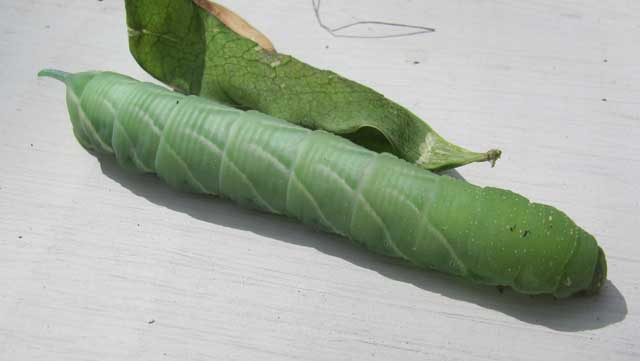 Sphinx chersis fifth instar, Lumsden Beach, Saskatchewan,
August 11, 2011, courtesy of Fiona Ramsay.

For care of "found larvae/caterpillars" visit Manduca sexta larva, central Texas, August 21, 2008, Trina Woodall.
Use your browser "Back" button to return to the previous page.
This page is brought to you by Bill Oehlke and the WLSS. Pages are on space rented from Bizland. If you would like to become a "Patron of the Sphingidae Site", contact Bill.
Please send sightings/images to Bill. I will do my best to respond to requests for identification help.
Enjoy some of nature's wonderments, giant silkmoth cocoons. The cocoons are available in the fall and winter moths. The large and showy moths will emerge in spring and summer. Online help is available.
This website has been created and is maintained by Bill Oehlke without government or institutional financial assistance. All expenses, ie., text reference support material, webspace rental from Bizland, computer repairs/replacements, backups systems, software for image adjustments (Adobe Photoshop; L-View), ftp software, anti-virus protection, scanner, etc. are my own. The one-time-life-time membership fee that is charged for WLSS membership at the time of the registration covers most of those expenses.
I very much appreciate all the many images that have been sent to me, or which I have been granted permission to copy and post from other websites. All images on this site remain the property of respective photographers.
If you would like to contribute to the maintenace of this website by sending a contribution to
Bill Oehlke
Box 476
155 Peardon Road
Montague, Prince Edward Island, C0A1R0
Canada
your donation would be much appreciated and would be used for
1) paying for webspace rental;
2) paying for computer maintenance and software upgrades;
3) purchases of additional text reference material (journals and books) in an effort to stay current with new species;
4) helping to pay my daughter's tuition (completed spring of 2013);
5) anything extra goes to humanitarian aid.
I also hope to expand the North American Catocala site as well as the Sphingidae of the Americas site, to worldwide sites, and that will require additional funds for reference materials, etc. Both of those site are linked from your WLSS homepage.
If you are mailing a check from USA, please use $0.85 postage (old rate)/($1.25 was 2015 letter mail rate for US to Canada). Donations can also be made through Paypal via the button below.
Donations are not required to maintain your standing as a WLSS member, nor do they gain you any preferencial treatment with regard to livestock and/or supplies (sleeves), compared to other WLSS members. All WLSS members get first crack at my annual offerings and get an approximate discount of 10% as compared to non-members.
I do usually ask donors if they have any special requests for material on WLSS, and I try to accomodate when appropriate or within my ability to do so.