Specodina abbottii

Sphecodina abbottii larva, Muskoka, Ontario,
August 1, 2014, courtesy of Emilie Shaw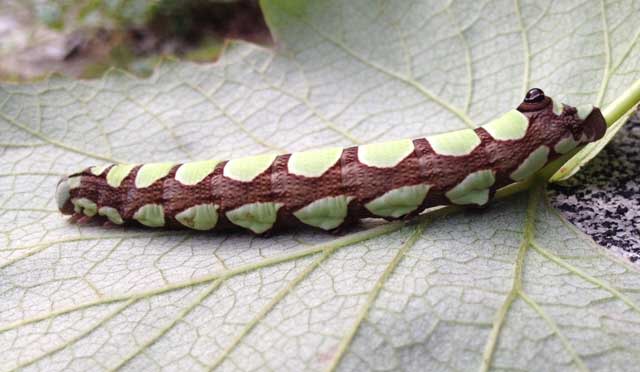 Sphecodina abbottii larva, Muskoka, Ontario,
August 1, 2014, courtesy of Emilie Shaw
Emilie writes, "Hi! I just found your website by trying to identify these rather large larvae that are clinging to my grape vine. I thought you may like to have these images. They were taken today, in Muskoka, Ontario on August 1, 2014 at 7:15 pm. I've only found three on the plant. Part of my curiosity is are they harmful to my plant and are they commonly found here? Thanks for your info!"
I reply, "You have sent images of the larva of Sphecodina abbottii, the Abbott's Sphinx. Pictures and info via the link from http://www.silkmoths.bizland.com/onOntariosphlar.htm. I will shortly post a link from this page to your images.
"If your grape vine is well established and they have not stripped it of its foliage, there will not be any harm done. Thanks for thinking of me."
Use your browser "Back" button to return to the previous page.
Please report sightings and send high quality jpg images to Bill Oehlke to help build a website useful to many people.