Sphingidae of St. Lucia

Manduca rustica harterti, Jalousie Resort, St. Lucia, courtesy of Tony and Pat James
Although I believe these "tribal" checklists contain only species within St. Lucia, there may be some omissions.
The list should be very reliable, however, as it is from Jean Haxaire's Systematic List for Martinique and Guadeloupe.
Many thanks to Tony and Pat James who have sent images and sighting data. Tony writes, November 5, 2006:
"This September, Pat & I returned for a delayed "retirement" holiday to St. Lucia, staying in two places on the island. As well as going out looking for Phasmid species, I took the opportunity to run a portable UV light trap in the ground of the hotels (with the managers' permission, and the loan of a damaged bed-sheet to put the trap on at each location), and recorded species and quantities coming in overnight through our stay. The local staff also became very interested in this strange blue glow emanating from our chalets, and I was soon explaining all about the moths on their island, and how monitoring them could give an indication of their eco-system's health. Over the 2 weeks, we recorded around 70 species of moth, including Sphingids, and I am still working through the Pyralids to find identifications, although it is now getting difficult to tag names on the "lbj"s (little brown jobs) - it's also difficult to be sure of species, when there might just be colour variations. Oh well!
"So, the results for St. Lucia are 5 species adult, and 2 larvae, one of which I don't know yet (but hopefully may hatch soon, as it has now pupated--subsequent eclosion revealed Manduca rustica harteri).
"East Winds Inn (North West St. Lucia, just north of Castries):
Perigonia lusca lusca , East Winds Inn, September 20,
courtesy of Tony and Pat James, id by Ian Kitching.
"20th Sept 2006: The first Hawkmoth to come in here was a small Sphingid, Perigonia lusca just after we began trapping. 22nd Sept 2006: The second species was Pachylia ficus which came in after a move to a different chalet higher up the hillside, and nearer the wild area adjacent to the property.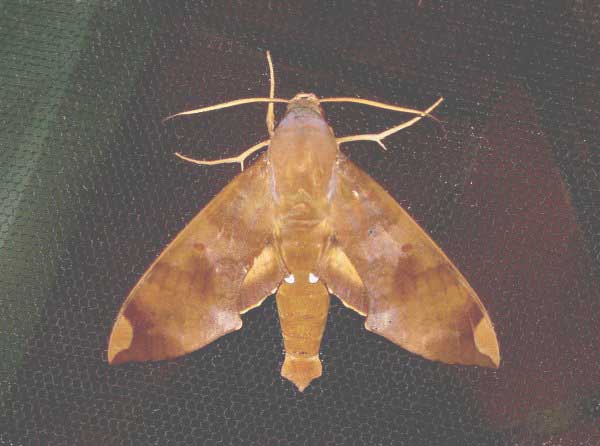 Pachylia ficus, East Winds Inn, September 22, courtesy of Tony and Pat James.
"These were the only Sphingid species recorded at this site.
"Jalousie Resort (South West St. Lucia, just south of Soufriere):
27th Sept 2006: The third species recorded is a bit of an uncertainty, but is a Eumorpha sps. It has been tentatively identified as Eumorpha satellitia licaon.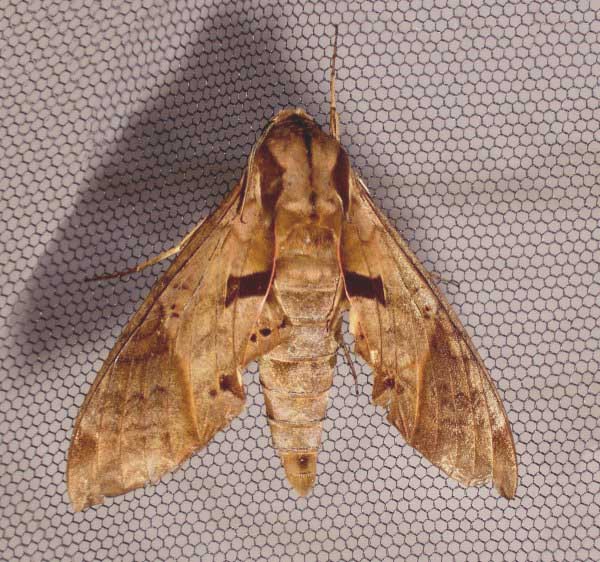 Eumorpha satellitia licaon, Jalousie Resort, September 27,
courtesy of Tony and Pat James, tenative id by Ian Kitching.
Also, whilst out scanning vegetation for Phasmids along the long drive through wild forest into the Resort, we came across a large Sphingid larva (~120mm) feeding on a low broadleaf seedling. It has since pupated, and I am waiting to see if it will hatch. It has a large proboscis sheath detached from the body on the pupa, so I presume this will be very long when it is adult. Pictures of the larva and its pupa are enclosed. Hopefully I will be able to send the Adult picture later on.
Manduca rustica harterti, Jalousie Resort,
courtesy of Tony and Pat James, confirmed by emergent moth.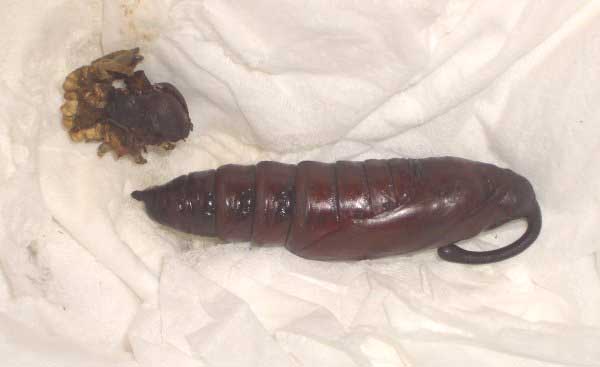 Manduca rustica harterti, Jalousie Resort, courtesy of Tony and Pat James.
"28th Sept 2006: The 5th species was an old friend from our St Kitts recording, Enyo lugubris, with a male & female (pictures enclosed) arriving on the same night. This was the most prolific flying Hawkmoth, with another male recorded on 29th, and also one on the 1st Oct., making 4 in total.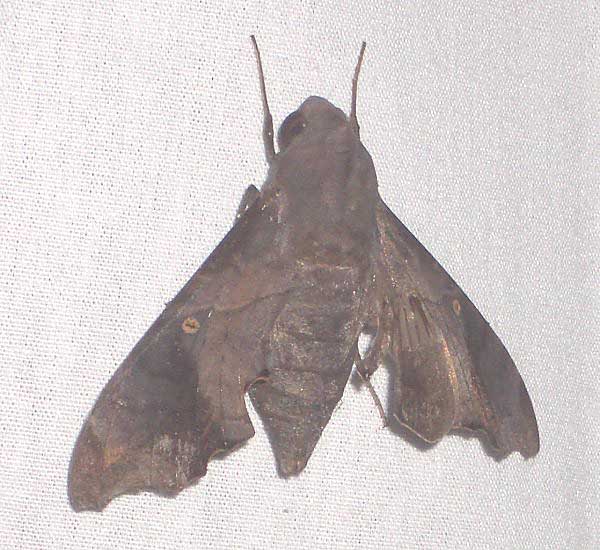 Enyo lugubris, female, Jalousie Resort, September 28, courtesy of Tony and Pat James.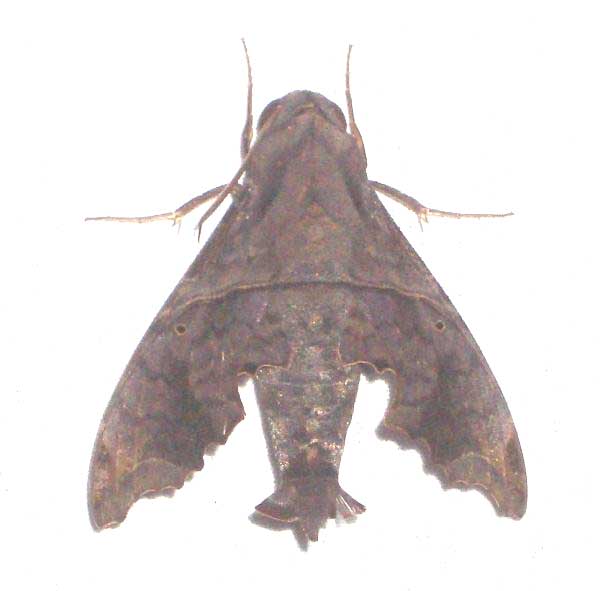 Enyo lugubris, male, Jalousie Resort, September 28, courtesy of Tony and Pat James.
"Whilst again out on the approach drive in the evening looking for more leaves for the above larva, in strong winds and rain, we found two moths copulating on a leafy spray overhanging the drive. The female was at rest on the tip, whilst the attached male was fluttering furiously, possibly trying to find something to land on.

It was too difficult to photograph there, so they were quickly transferred to one of our collecting boxes, and taken back to our chalet and released into the Keep Net, where I took a number of photographs. They were quickly identified as Xylophanes pluto, our 6th species, and stayed coupled all the next day, but the following morning, I found the male dead at the bottom of the net, and the female succumbed the following day. No eggs were laid.

I am not sure what happened, but found one of the cleaning girls spraying in the room another morning. I suspect it was insecticide used to keep down mosquitoes, but am not sure. We had some Phasmids in another keep net adjacent to them, and they survived OK.
"Finally, staff locally, once they became aware of our interest (it appears news spread rapidly throughout the complex of our interests!) told us of large black "worms" on some of the decorative shrubs. My first deduction proved to be correct when we visited the site of their Spar, and found a large number of Pseudosphinx tetrio larvae on the border bushes. These we found in a number of places throughout the Resort, and turned out to be the most prolific (as usual) species there. No adults came to light, however, but it may have been the wrong time for adults.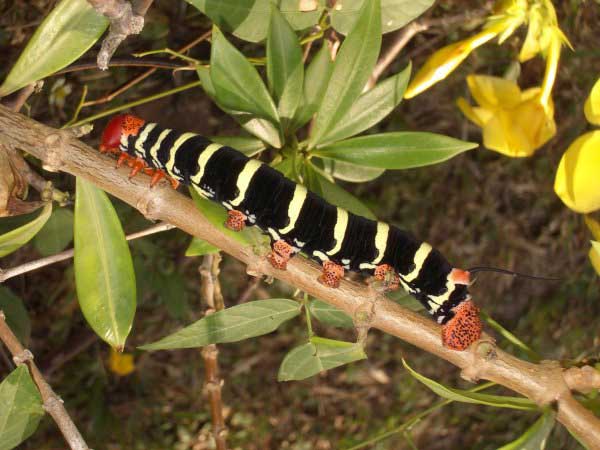 Pseudosphinx tetrio, Jalousie Resort, courtesy of Tony and Pat James.
"Please acknowledge the kind help all the staff gave us at each Resort. I shall be sending an overall report of species found to each location once compilation is completed. - Thanks!)
"As mentioned previously, it wasn't a bad record for the short period, but I was rather disappointed that the quantities of each species was rather low (quite often singletons per species). Bearing in mind we usually expect over 100 species a night, with upwards of 300 - 400 insects in total in Cornish Summers, I had hoped to get good returns in the tropics. We have more and more evidence that Hotels and many Caribbean Island Administrations (not just in St. Lucia) are using more and more insecticides, so I suspect this is the main cause of reduced counts around the tourist and commercial growing areas.
"Finally, I did manage to dig out the picture we took at the trackside leading up to plantations just south of Dennery (North East Coast) in 1994. This was a possibly just emerged specimen of Eumorpha fasciatus, as it was resting in darkness."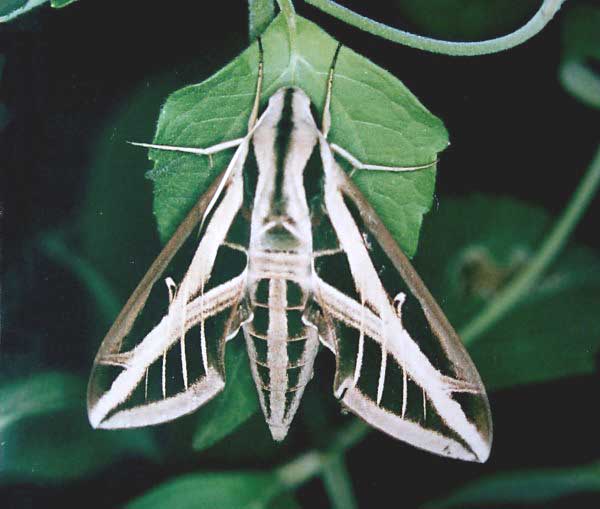 Eumorpha fasciatus, Dennery, 1994, courtesy of Tony and Pat James.
If you have corrections to offer, please contact
Bill Oehlke at oehlkew@islandtelecom.com.
Will Colon sent me a digital image of a Xylophanes tersa resting on a wall of a Sandal's Resort in St. Lucia.
Go to Main Sphingidae Index
Go to U.S. Index: Alabama to Missouri
Go to U.S. Index: Montana to Wyoming
Go to Central America Index
Go to South America Index.htm
Go to Indices of Nations