| | |
| --- | --- |
| | Created/dedicated as per What's That Bug submission by Arthur C. Borror, mid February 2006; October 1, 2011 |
Sphingidae of Tobago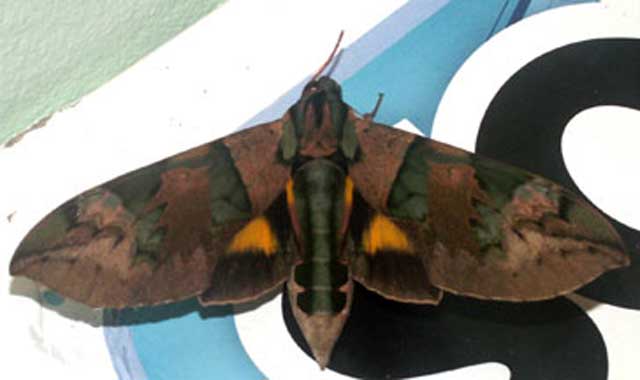 Eumorpha capronnieri, Tobago, mid February, 2006,
courtesy of Arthur C. Borror, via What's That Bug submission.
Although I believe these "tribal" checklists contain only species within Tobago, there are probably many omissions.
The list is very tentative as of October 1, 2011.
Go to Main Sphingidae Index
Go to U.S. Index: Alabama to Missouri
Go to U.S. Index: Montana to Wyoming
Go to Central America Index
Go to South America Index.htm
Go to Indices of Nations
Use your browser "Back" button to return to the previous page.
This page is brought to you by Bill Oehlke and the WLSS. Pages are on space rented from Bizland. If you would like to become a "Patron of the Sphingidae Site", contact Bill.
Please send sightings/images to Bill. I will do my best to respond to requests for identification help.
Enjoy one of nature's wonderments: Live Saturniidae (Giant Silkmoth) cocoons.

Show appreciation for this site by clicking on flashing butterfly to the left.
The link will take you to a page with links to many insect sites.