Xylophanes tersa tersa
zail-AH-fan-eesmmTER-suh
Tersa Sphinx Moth
(Linnaeus, 1771) Sphinx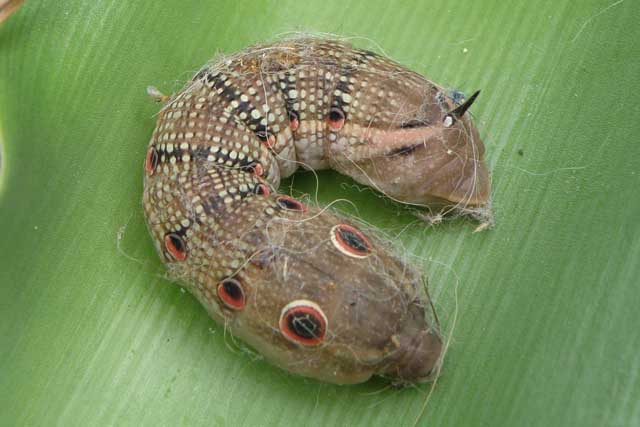 Xylophanes tersa, Austin, Travis County, Texas,
October 5, 2009, courtesy of Jacque Austin.
Jacque writes, "Caterpillar was found on our garage floor. Hairy look is due to lint also on our garage floor."

I identified the larva and indicated, "It is the caterpillar of Xylophanes tersa, the Tersa Sphinx. Thanks for thinking of me. This species is quite common in your area. It has been attacked or is in process of attack by parasitic wasps. I request permission to post your image credited to you to a webpage?"

This site has been created by Bill Oehlke at oehlkew@islandtelecom.com
Comments, suggestions and/or additional information are welcomed by Bill.
TAXONOMY:



Family: Sphingidae, Latreille, 1802
Subfamily: Macroglossinae, Harris, 1839
Tribe: Macroglossini, Harris, 1839
Genus: Xylophanes Hubner [1819] ...........
Species: tersa tersa Linnaeus, 1771


MIDI MUSIC
.....It's a Wonderful World.....
copyright C. Odenkirk


ON.OFF

Use your browser "Back" button to return to the previous page.
Goto Main Sphingidae Index
Goto Macroglossini Tribe
Goto Central American Indices
Goto Carribean Islands
Goto South American Indices
Goto U.S.A. tables
Use your browser "Back" button to return to the previous page.
This page is brought to you by Bill Oehlke and the WLSS. Pages are on space rented from Bizland. If you would like to become a "Patron of the Sphingidae Site", contact Bill.
Please send sightings/images to Bill. I will do my best to respond to requests for identification help.