Aellopos blaini
ay-LOH-puhsmm BLAYN-eye
Herrich-Schaffer, [1869]
Aellopos blaini male, Cuba, courtesy of Tomas Melichar.
This site has been created by Bill Oehlke at oehlkew@islandtelecom.com
Comments, suggestions and/or additional information are welcomed by Bill.
TAXONOMY:



Family: Sphingidae, Latreille, 1802
Subfamily: Macroglossinae, Harris, 1839
Tribe: Dilophonotini, Burmeister, 1878
Genus: Aellopos Hubner, [1819] ...........
Species: blaini Herrich-Schaffer, [1869]


MIDI MUSIC
.....It's a Wonderful World.....
copyright C. Odenkirk


ON.OFF

DISTRIBUTION:
Aellopos blaini moths fly in Cuba (specimen type locality), Jamaica, Hispaniola, Puerto Rico.
In Greek mythology, Aello (also Aellopos) is one of the harpies (winged hags with sharp bird-talons) and her name means 'The Stormy One'. She is possibly the mother of Achilles' horses, Balius (Balios) and Xanthus (Xanthos), sired by Zephyrus.
FLIGHT TIMES:
ECLOSION: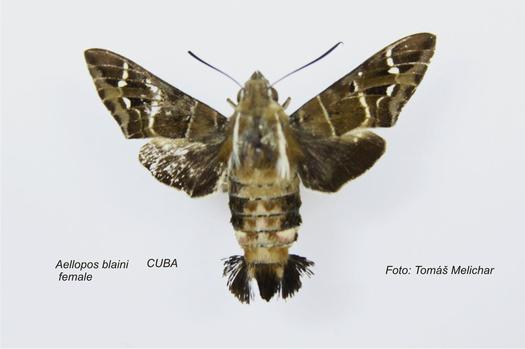 Aellopos blaini female, Cuba, courtesy of Tomas Melichar.
SCENTING AND MATING:
Females call in the males with a pheromone released from a gland at the tip of the abdomen. EGGS, LARVAE, PUPAE:
Return to Sphingidae Index
Return to Dilophonotini Tribe
Use your browser "Back" button to return to the previous page.
This page is brought to you by Bill Oehlke and the WLSS. Pages are on space rented from Bizland. If you would like to become a "Patron of the Sphingidae Site", contact Bill.
Please send sightings/images to Bill. I will do my best to respond to requests for identification help.