Adhemarius blanchardorum
(Hodges, 1985) Amplypterus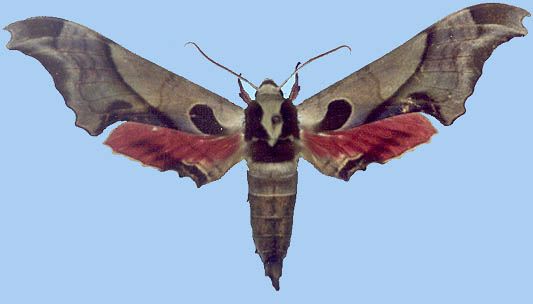 Adhemarius blanchardorum, Mexico, courtesy of Manuel Balcazar-Lara.
This site has been created by Bill Oehlke at oehlkew@islandtelecom.com
Comments, suggestions and/or additional information are welcomed by Bill.
TAXONOMY:

Superfamily: Sphingoidea, Dyar, 1902
Family: Sphingidae, Latreille, 1802
Subfamily: Sphinginae, Latreille, 1802
Tribe: Smerinthini, Grote & Robinson, 1865
Genus: Adhemarius, Oiticica, 1939
Species: blanchardorum, (Hodges, 1985)

MIDI MUSIC
"What.A.Wonderful.World"
copyright C. Odenkirk
MIDI CITY


ON.OFF

DISTRIBUTION:
Blanchard's Sphinx, Adhemarius blanchardorum (wingspan ; males smaller than females), seems to be disappearing from Texas.
Mr. Donald Bowman: "It seems the moth may be confined to the deciduous forest in Upper Green Gulch to Panther Pass summit. I have yet to find it in the Basin area but I believe it will be found there."
It is also reported in northeastern Mexico, but CATE indicates only a "questionable" presence in Mexico. Vadim Kroutov sends an image of a male from Hidalgo, Mexico.
The dark inner pm line of the forewing is quite convex.
Adhemarius blanchardorum male, Hidalgo, Mexico,
courtesy of Vadim Kroutov.
FLIGHT TIMES AND PREFERRED FOOD PLANTS:
Adhemarius blanchardorum adults are .
Adhemarius blanchardorum larvae feed upon ?? and .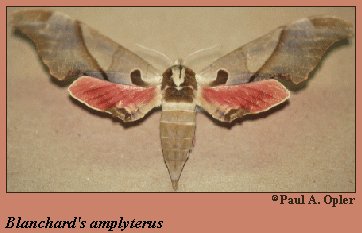 Female courtesy of Paul Opler
ECLOSION, SCENTING AND MATING:
EGGS, LARVAE AND PUPAE:

Larval Food Plants


Listed below are primary food plant(s) and alternate food plants. It is hoped that this alphabetical listing followed by the common name of the foodplant will prove useful. The list is not exhaustive. Experimenting with closely related foodplants is worthwhile.
Return to Smerinthini Tribe

Return to Mani Sphingidae Index

Use your browser "Back" button to return to the previous page.

This page is brought to you by Bill Oehlke and the WLSS. Pages are on space rented from Bizland. If you would like to become a "Patron of the Sphingidae Site", contact Bill.

Please send sightings/images to Bill. I will do my best to respond to requests for identification help.