Updated as per More, Kitching and Cocucci's

Hawkmoths of Argentina

2005, October, 2007

Updated as per

All Leps Barcode of Life

, October, 2007

Updated as per

http://biological-diversity.info/sphingidae.htm (Belize)

, November 2007

Updated as per

Fauna Entomologica De Nicarauga

, November 2007

Updated as per

The Known Sphingidae of Costa Rica

, November 2007

Updated as per personal communication with Jose Monzon (Guatemala); May 2009

Updated as per personal communication with Ezequiel Bustos (Aguas Blancas, Salta, Argentina, 405m); December 2009

Updated as per personal communication with Gregory Nielsen (Villavicencio, Meta, Colombia, August 23, 2011, 500m); September 14, 2011

Updated as per personal communication with Albert Thurman (Cocle Province, Panama, September 16, 2013; Panama Province: Cerro Campana National Park, Aug 13, 1978); January 15, 2014

Updated as per personal communication with Ezequiel Bustos (Shilap revta. lepid. 43 (172) diciembre, 2015, 615-631 eISSN 2340-4078 ISSN 0300-5267), January 4, 2016
Aellopos ceculus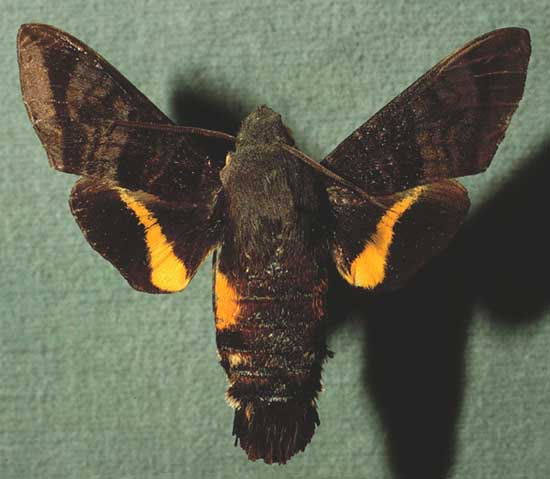 Aellopos ceculus male courtesy of Dan Janzen.
This site has been created by Bill Oehlke at oehlkew@islandtelecom.com
Comments, suggestions and/or additional information are welcomed by Bill.
TAXONOMY:



Family: Sphingidae, Latreille, 1802
Subfamily: Macroglossinae, Harris, 1839
Tribe: Dilophonotini, Burmeister, 1878
Genus: Aellopos Hubner, [1819] ...........
Species: ceculus Cramer, 1777


MIDI MUSIC
.....It's a Wonderful World.....
copyright C. Odenkirk


ON.OFF

DISTRIBUTION:
Aellopos ceculus (wingspan 42-47 mm; females larger than males; forewing length 20mm (GN)) moths fly in
Surinam; with records from
Mexico;
Belize: Stann Creek;
Guatemala (JM);
probably Honduras;
probably Nicaragua: Zelaya, Rivas, probably Rio San Juan;
Costa Rica: Guanacaste, Alajuela, San Jose, Lemon, Puntarenas, Heredia, Carthage;
Panama: Panama, Darien; Cocle (confirmed by Albert Thurman); Panama Province: Cerro Campana National Park (AT)
Colombia: Meta: Villavicencio (500m) (GN);
Ecuador: Napo, Morona-Santiago;
Peru;
Bolivia: La Paz;
Argentina rare, maybe Salta (405m EB);
Venezuela;
Guyana;
Surinam;
French Guiana;
Brazil: Mato Grosso.
The adults fly in the evening from 5:30-7:00 pm and again in the morning from 6:30-9:00 am.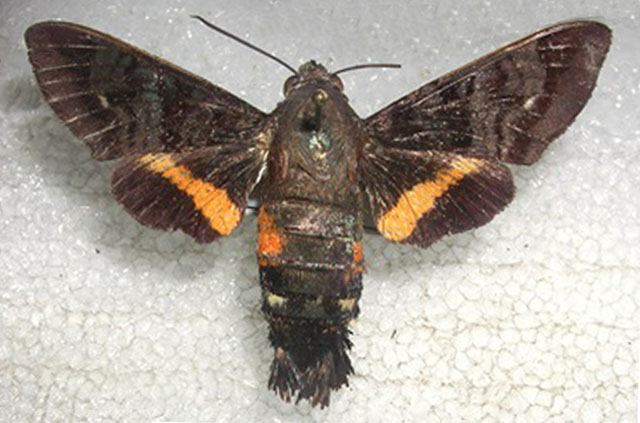 Aellopos ceculus, EL Cope National Park, Cocle Province, Panama,
September 16, 2013, 797m, courtesy of Albert Thurman,
collected in daytime flight by William Tyson.
FLIGHT TIMES:
In Costa Rica moths have been taken on the wing in every month of the year. There are probably three main broods: December-January, April-May and August-September. Gregory Nielsen reports an August 23, 2011, flight in Villavicencio, Meta, Colombia.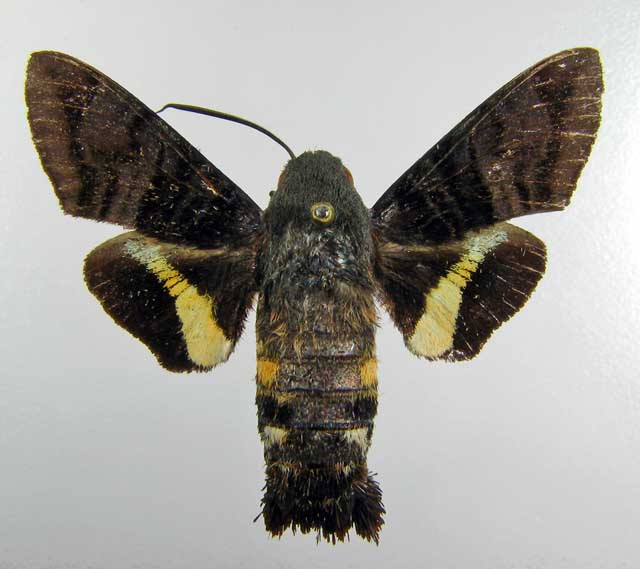 Aellopos ceculus, Villavicencio, Meta, Colombia,
Km 13 via Acacias, 04°03'55.0 N, 073°41'87.0 W
500m, LFW 20mm, August 23, 2011, courtesy of Gregory Nielsen.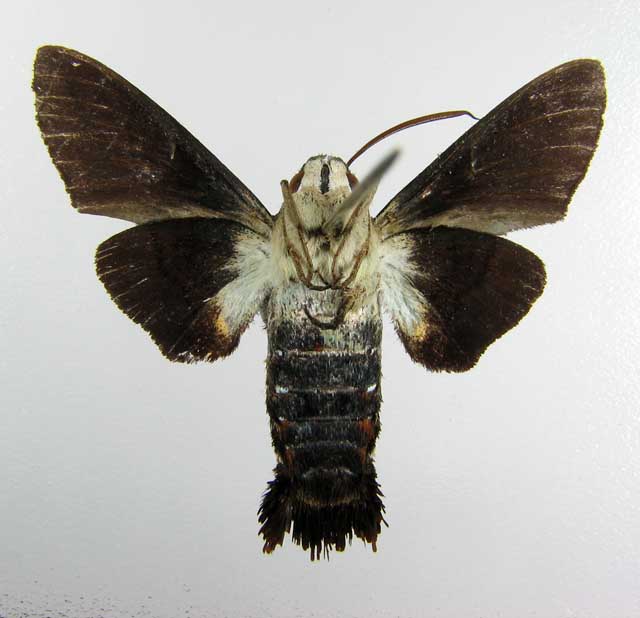 Aellopos ceculus (verso), Villavicencio, Meta, Colombia,
Km 13 via Acacias, 04°03'55.0 N, 073°41'87.0 W
500m, LFW 20mm, August 23, 2011, courtesy of Gregory Nielsen.
ECLOSION:
Adults eclose from pupae just under leaf litter or from subterranean chambers.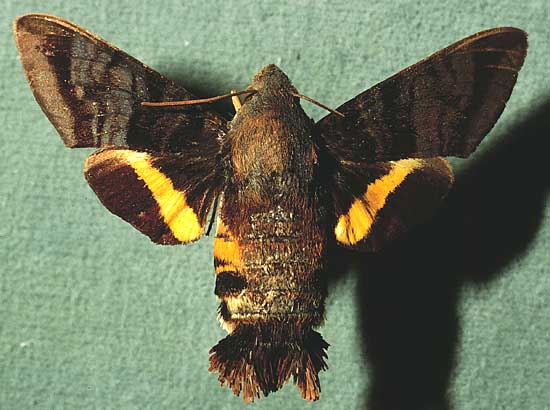 Aellopos ceculus female courtesy of Dan Janzen.
SCENTING AND MATING:
Females call in the males with a pheromone released from a gland at the tip of the abdomen. EGGS, LARVAE, PUPAE:Larvae feed on various species of the Rubiaceae family.
Return to Sphingidae Index
Return to Dilophonotini Tribe
Use your browser "Back" button to return to the previous page.
This page is brought to you by Bill Oehlke and the WLSS. Pages are on space rented from Bizland. If you would like to become a "Patron of the Sphingidae Site", contact Bill.
Please send sightings/images to Bill. I will do my best to respond to requests for identification help.
Enjoy one of nature's wonderments: Live Saturniidae (Giant Silkmoth) cocoons.

Show appreciation for this site by clicking on flashing butterfly to the left.
The link will take you to a page with links to many insect sites.