Aleuron cymographum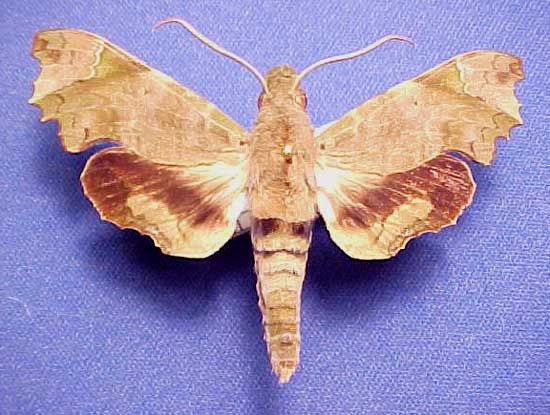 Aleuron cymographum by John Vriesi.
This site has been created by Bill Oehlke at oehlkew@islandtelecom.com
Comments, suggestions and/or additional information are welcomed by Bill.
TAXONOMY:

Family: Sphingidae, Latreille, 1802
Subfamily: Macroglossinae, Harris, 1839
Tribe: Dilophonotini, Burmeister, 1878
Genus: Aleuron Hubner, [1819] ...........
Species: cymographum Rothschild & Jordan, 1903


MIDI MUSIC
.....It's a Wonderful World.....
copyright C. Odenkirk


ON.OFF

DISTRIBUTION:
Aleuron cymographum flies in
Bolivia: La Paz (750-1200m);
Ecuador Riobamba; and
Peru.
Easily distinguished from all other species of Aleuron (except Aleuron carinata) by the black belts on the anterior margins of the abdominal segments dorsally; these are not visible when the segments are telescoped into one another, except for the two first belts, which are broader. Aleuron carinata differs in lacking the pale apical patch of the forewing upperside delimited basally by a crenulated white line between the costa to M2. Forewing with apex of M3 more prominent than in Aleuron chloroptera, inner margin more concave.Costal margin of hindwing slightly convex near the base, but not lobed.
Abdomen with dorsal black segmental bands, similar to those of Aleuron carinata.
Forewing upperside olive-green, with clayish grey shades, some indistinct undulating lines in basal half (very similar to Aleuron chloroptera); a minute black discal spot; a dark shade beginning at costal margin near apex of the discal cell and ending on the outer margin between M3 and CuA1; some indistinct lines in the outer half of wing, one bordered with a sharply marked, undulating white line that stops at the dark oblique shade.
Forewing underside with a sharply defined black median area, sinuate proximally, not entering the cell, but dilated basad posterior to cell Hindwing upperside with blackish median band widening distally and broadly joining the blackish marginal band. Hindwing underside with two median and a postmedian line, greenish, more or less accentuated by vein-dots. CATE
FLIGHT TIMES:
Aleuron cymographum adults probably fly from at least April to January. ECLOSION:Adults eclose from pupae formed in shallow subterranean chambers.
SCENTING AND MATING:
Females call in the males with a pheromone released from a gland at the tip of the abdomen. EGGS, LARVAE, PUPAE:Larvae probably feed on Curatella americana and other members of Dilleniaceae family.
The larvae have very long "horns" in the early instars and are green.
Larvae become darker, almost brown, as they mature and anal horn is greatly diminished.
Eclosion is approximately 18 days after pupation. The pupae are smooth and shiny, orange with black markings.
Return to Sphingidae Index
Return to Dilophonotini Tribe

Use your browser "Back" button to return to the previous page.
This page is brought to you by Bill Oehlke and the WLSS. Pages are on space rented from Bizland. If you would like to become a "Patron of the Sphingidae Site", contact Bill.
Please send sightings/images to Bill. I will do my best to respond to requests for identification help.