Updated as per personal communication with Andres Oscar Contreras (Neembucu, Paraguay); May 2009
Updated as per personal communication with Sergio D. Ríos Díaz in CATÁLOGO DE LOS SPHINGIDAE (INSECTA: LEPIDOPTERA) DEPOSITADOS EN EL MUSEO NACIONAL DE HISTORIA NATURAL DEL PARAGUAY; sent to me in July 2014 by Sergio D. Ríos Díaz.
Updated as per personal communication with Miguel Angelo Biz (Laurentino, Santa Catarina, Brazil); December 4, 2016
Updated as per personal communication with Cleverton Bigaski (Ponto Grossa, Parana, Brazil); March 19, 2016

Adhemarius eurysthenes
ad-heh-MAHRR-ee-usMyou-rihs-THEN-ees
(R. Felder, [1874]) Ambulyx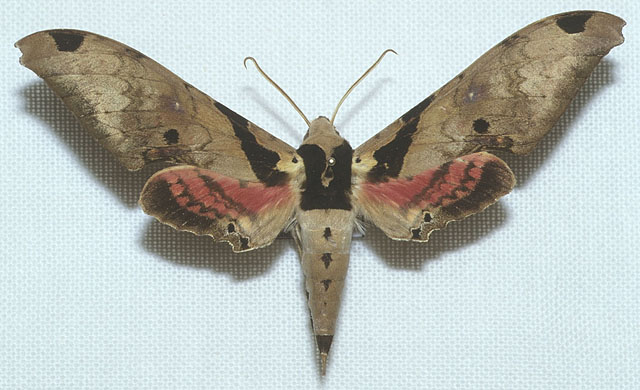 Adhemarius eurysthenes male courtesy of Hubert Mayer copyright.
This site has been created by Bill Oehlke at oehlkew@islandtelecom.com
Comments, suggestions and/or additional information are welcomed by Bill.
TAXONOMY:

Superfamily: Sphingoidea, Dyar, 1902
Family: Sphingidae, Latreille, 1802
Subfamily: Sphinginae, Latreille, 1802
Tribe: Smerinthini, Grote & Robinson, 1865
Genus: Adhemarius, Oiticica, 1939
Species: eurysthenes, (R. Felder, [1874])
DISTRIBUTION:
Adhemarius eurysthenes flies in
Colombia ?;
Brazil: (Minas Gerais, Rio de Janeiro, Parana (ALBCOL)), and Parana: Ponto Grossa, Santa Catarina: Laurentino (MAB); and in
Paraguay: (Concepcion, San Pedro (UD)); (Neembucu (AOC)). FLIGHT TIMES AND PREFERRED FOOD PLANTS: Adhemarius eurysthenes probably produces at least two broods annually with peak flights in February-March and July-August. If my id is correct, there is also a December flight in Santa Catarina, Brazil.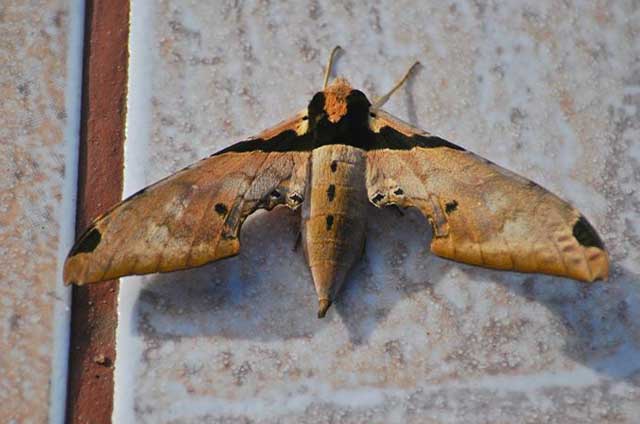 Adhemarius eurysthenes, Laurentino, Santa Catarina, Brazil,
December 4, 2016, courtesy of Miguel Angelo Biz.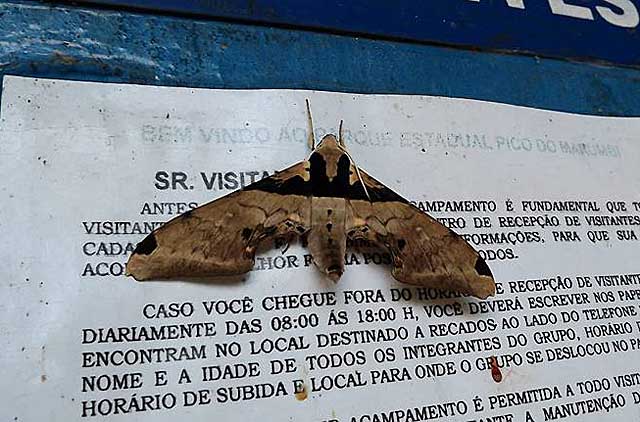 Adhemarius eurysthenes, Ponto Grossa, Parana, Brazil,
March 19, 2016, courtesy of Cleverton Bigaski.

Adhemarius eurysthenes larvae probably feed upon Ocotea veraguensis, Ocotea atirrensis and Ocotea dendrodaphne and Persea species.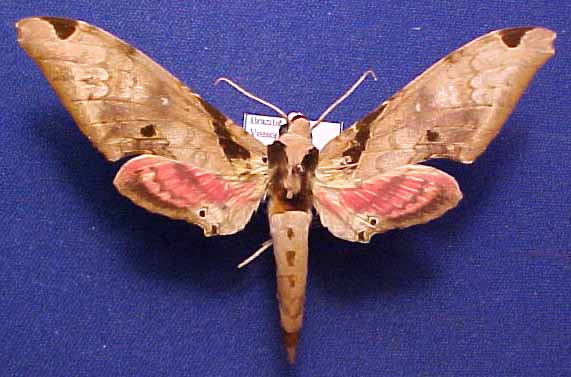 Adhemarius eurysthenes courtesy of John Vriesi.
ECLOSION, SCENTING AND MATING:
EGGS, LARVAE AND PUPAE:

Larval Food Plants


Listed below are primary food plant(s) and alternate food plants. It is hoped that this alphabetical listing followed by the common name of the foodplant will prove useful. The list is not exhaustive. Experimenting with closely related foodplants is worthwhile.
Return to Smerinthini Tribe

Return to Mani Sphingidae Index

Use your browser "Back" button to return to the previous page.

This page is brought to you by Bill Oehlke and the WLSS. Pages are on space rented from Bizland. If you would like to become a "Patron of the Sphingidae Site", contact Bill.

Please send sightings/images to Bill. I will do my best to respond to requests for identification help.

Enjoy one of nature's wonderments: Live Saturniidae (Giant Silkmoth) cocoons.

Show appreciation for this site by clicking on flashing butterfly to the left.
The link will take you to a page with links to many insect sites.