Adhemarius gannascus jamaicensis
ad-heh-MAHRR-ee-usmmgahn-NAS-kuhsmmjeh-may-KEN-sihs
(Rothschild & Jordan, 1915) Amplypterus

Adhemarius gannascus jamaicensis, July 2004,
Mockingbird Hill Hotel, Port Antonio, Portland, Jamiaca, courtesy of Tony and Pat James.
This site has been created by Bill Oehlke at oehlkew@islandtelecom.com
Comments, suggestions and/or additional information are welcomed by Bill.
TAXONOMY:

Superfamily: Sphingoidea, Dyar, 1902
Family: Sphingidae, Latreille, 1802
Subfamily: Sphinginae, Latreille, 1802
Tribe: Smerinthini, Grote & Robinson, 1865
Genus: Adhemarius, Oiticica, 1939
Species: gannascus jamaicensis, (Rothschild & Jordan, 1915)

MIDI MUSIC
"What.A.Wonderful.World"
copyright C. Odenkirk
MIDI CITY


ON.OFF

DISTRIBUTION:
The Adhemarius gannascus jamaicensis moth flies in Jamaica.
The pronunciation of scientific names is troublesome for many. The "suggestion" at the top of the page is merely a suggestion. It is based on commonly accepted English pronunciation of Greek/Roman or historical names and/or some fairly well accepted "rules" for latinized scientific names.
The suggested pronunciations, on this page and on other pages, are primarily put forward to assist those who hear with internal ears as they read.
There are many collectors from different countries whose intonations and accents would be different.
Some of the early describers/namers chose genus and species names indicating some character of the insect, but more often, they simply chose names from Greek or Roman mythology or history.
Those species names which end in "ensis" indicate a specimen locale, and those which end in "i", pronounced "eye", honour a contempory friend/collector/etc.
Josť Oiticica Filho (1906 - 1964), the French entomologist/photographer who assigned the genus name, Adhemarius, possibly chose the name from Adhemarus, the fifth and last of the old counts of Querci (Verdun, France) who died in 880 AD.
Gannascus is for a German chief and military leader who fought against the expanding Roman Empire.
The subspecies name is for "Jamaica" the specimen type locality.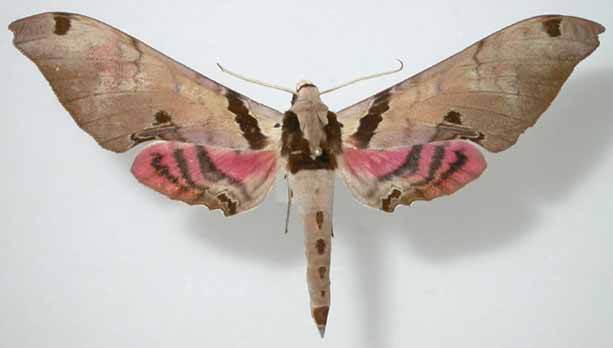 Adhemarius gannascus jamaicensis courtesy of Jean Haxaire.
FLIGHT TIMES AND PREFERRED FOOD PLANTS:
Adhemarius gannascus jamaicensis probably produces at least two broods annually with one of those flights in July. Adhemarius gannascus jamaicensis larvae probably feed upon ECLOSION, SCENTING AND MATING: EGGS, LARVAE AND PUPAE:

Larval Food Plants


Listed below are primary food plant(s) and alternate food plants. It is hoped that this alphabetical listing followed by the common name of the foodplant will prove useful. The list is not exhaustive. Experimenting with closely related foodplants is worthwhile.
Return to Smerinthini Tribe

Return to Main Sphingidae Index

Use your browser "Back" button to return to the previous page.

This page is brought to you by Bill Oehlke and the WLSS. Pages are on space rented from Bizland. If you would like to become a "Patron of the Sphingidae Site", contact Bill.

Please send sightings/images to Bill. I will do my best to respond to requests for identification help.