Updated as per personal communication with Andres Urbas (near Kaw Mountains, French Guiana, March 31, 2011); April 19, 2011
Updated as per CATE Sphingidae: Peru, Ecuador, Colombia, Guyana, French Guiana, Brazil: Para; April 19, 2010
Updated as per personal communication with Andres Urbas, (Camp Caiman, near Kaw, french Guiana, March 31, April 6, 2011); May 7, 2011

Adhemarius roessleri
Eitschberger, 2002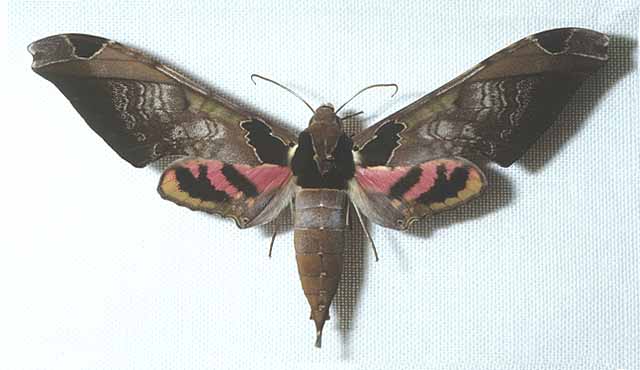 Adhemarius ypsilon male (probably roessleri) courtesy of Hubert Mayer copyright.
This site has been created by Bill Oehlke at oehlkew@islandtelecom.com
Comments, suggestions and/or additional information are welcomed by Bill.
TAXONOMY:

Superfamily: Sphingoidea, Dyar, 1902
Family: Sphingidae, Latreille, 1802
Subfamily: Sphinginae, Latreille, 1802
Tribe: Smerinthini, Grote & Robinson, 1865
Genus: Adhemarius, Oiticica, 1939
Species: roessleri, Eitschberger, 2002

MIDI MUSIC
"What.A.Wonderful.World"
copyright C. Odenkirk
MIDI CITY


ON.OFF

DISTRIBUTION:
The Adhemarius roessleri moth (forewing length: mm) flies in
northern Peru;
Ecuador;
Colombia;
Guyana: Tumatumari; and eastward into
French Guiana: Kaw; and
Brazil: Para.
This moth was formerly classified as Adhemarius ypsilon.
Those, who agree with this recent split, acknowledge roessleri from French Guiana but not ypsilon.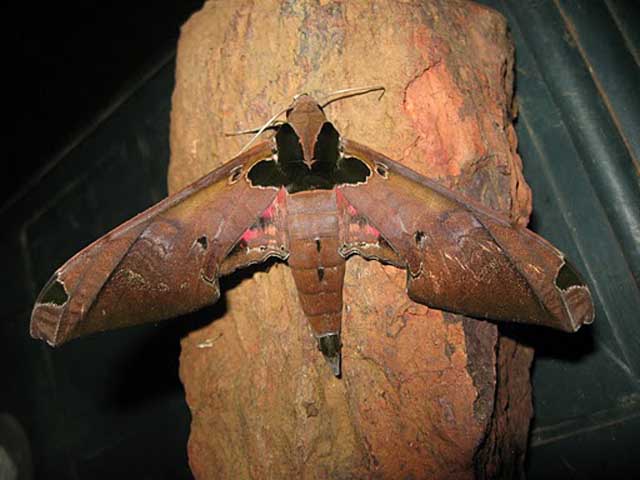 Adhemarius roessleri, Kaw Mountains, French Guiana,
March 31, 2011, courtesy of Andres Urbas.
FLIGHT TIMES AND PREFERRED FOOD PLANTS:
Adhemarius roessleri probably produces at least two broods annually. Andres Urbas reports a March 31 - April 6, 2011, flight near Kaw Mountains, French Guiana.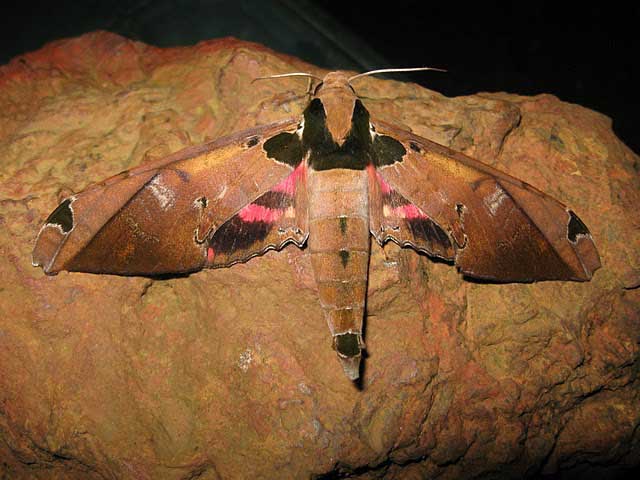 Adhemarius roessleri, Kaw Mountains, French Guiana,
April 6, 2011, courtesy of Andres Urbas.

Adhemarius roessleri larvae probably feed upon Ocotea veraguensis, Ocotea atirrensis and Ocotea dendrodaphne.
ECLOSION, SCENTING AND MATING:
EGGS, LARVAE AND PUPAE:

Larval Food Plants


Listed below are primary food plant(s) and alternate food plants. It is hoped that this alphabetical listing followed by the common name of the foodplant will prove useful. The list is not exhaustive. Experimenting with closely related foodplants is worthwhile.
Return to Smerinthini Tribe

Return to Main Sphingidae Index

Use your browser "Back" button to return to the previous page.

This page is brought to you by Bill Oehlke and the WLSS. Pages are on space rented from Bizland. If you would like to become a "Patron of the Sphingidae Site", contact Bill.

Please send sightings/images to Bill. I will do my best to respond to requests for identification help.