Updated as per

AN ANNOTATED CHECKLIST OF THE SPHINGIDAE OF BOLIVIA

, October 2007

Updated as per

Sphingidae (Lepidoptera) de Venezuela

, Compilado por: María Esperanza Chacín; December 2009

Updated as per personal communication with Leif Gabrielsen (Bella Vista Lodge, Pichincha, Ecuador, October 19, 2009); December 2009

Updated as per personal communication with Stephen Elliott (Tapichalaca Lodge, Loja, Ecuador, November 23, 2011); November 28, 2011

Updated as per personal communication with Brian Fetcher (Tapichalaca Lodge, Loja, Ecuador, February 2, 2014; 2500m); March 10, 2014

Updated as per personal communication with Brian Fetcher (Abra Patricia Reserve, Amazonas, Peru, October 10, 2009; 2000m); March 21, 2014
Adhemarius sexoculata
ad-heh-MAHRR-ee-usMsex-agh-kew-LAY-tuh
(Grote, 1867) Ambulyx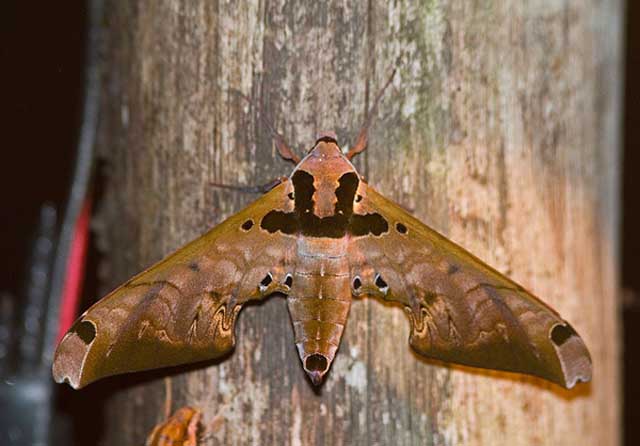 Adhemarius sexoculata, Bella Vista Lodge, Pichincha, Ecuador,
October 19, 2009, courtesy of Leif Gabrielsen.
This site has been created by Bill Oehlke at oehlkew@islandtelecom.com
Comments, suggestions and/or additional information are welcomed by Bill.
TAXONOMY:

Superfamily: Sphingoidea, Dyar, 1902
Family: Sphingidae, Latreille, 1802
Subfamily: Sphinginae, Latreille, 1802
Tribe: Smerinthini, Grote & Robinson, 1865
Genus: Adhemarius, Oiticica, 1939
Species: sexoculata, (Grote, 1867)

MIDI MUSIC
"What.A.Wonderful.World"
copyright C. Odenkirk
MIDI CITY


ON.OFF

DISTRIBUTION:
Adhemarius sexoculata (forewing length: 55 - 61mm, probably larger) flies in
Brazil;
Venezuela: Lara, Merida, Tachira;
Ecuador: Pichincha (October); Loja (February, November)
Bolivia: La Paz (August), Cochabamba (40m); and
Peru: Amazonas (October); Pasco (June).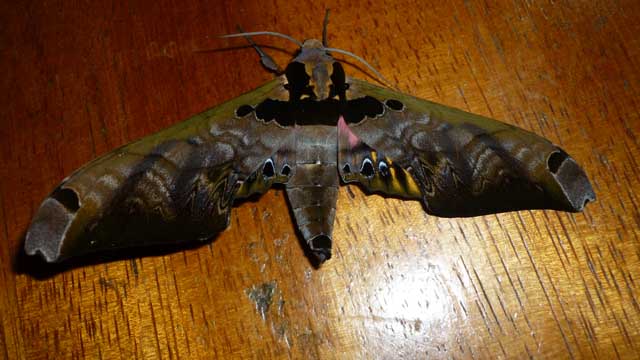 Adhemarius sexoculata, Tapichalaca Lodge, Loja, Ecuador,
November 23, 2011, courtesy of Stephen Elliott, id by Bill Oehlke.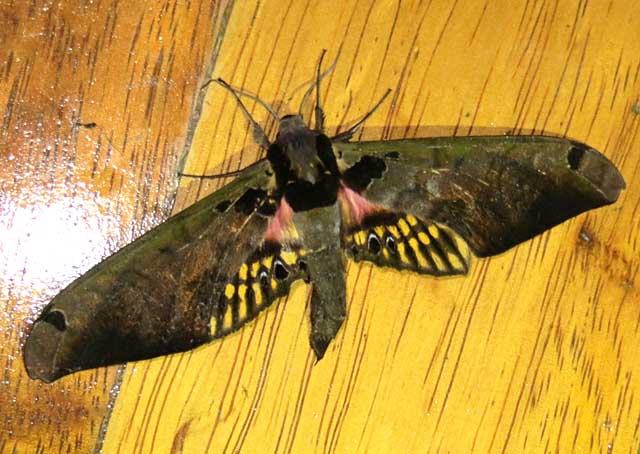 Adhemarius sexoculata, Tapichalaca Reserve, Loja, Ecuador,
February 2, 2014, courtesy of Brian Fletcher, id by Bill Oehlke.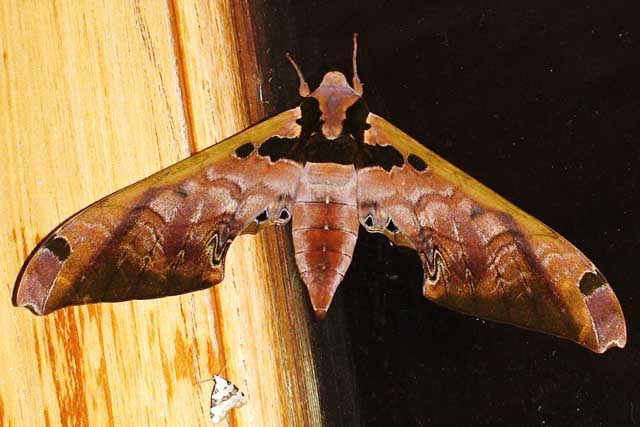 Adhemarius sexoculata, Abra Patricia Reserve, Amazonas, Peru,
October 10, 2009; 2000m, courtesy of Brian Fletcher.

Like the very similar Adhemarius tigrina, Adhemarius sexoculata lacks a dark area on the basal costa.
The two species can be differentiated by the presence of larger hindwing eye spots on veins CuA2 and 1A with an additional smaller spot on vein CuA1. Adhemarius tigrina lacks these eye spots.
The hindwing basal area of A. sexoculata is pinkish, while the same area in tigrina is yellow.
middle and outermost of the three bands of yellow patches merged longitudinally into streaks (separate in Adhemarius tigrina).
Hindwing underside without a prominent, nearly straight transverse median line. CATE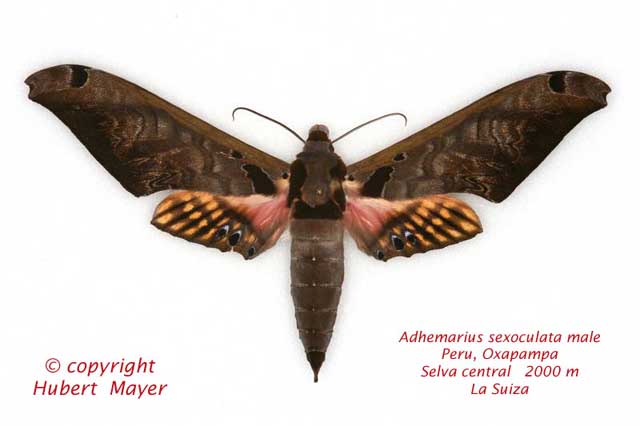 Adhemarius sexoculata male, Pasco, Peru,
June 20, 2000m, courtesy of Hubert Mayer copyright.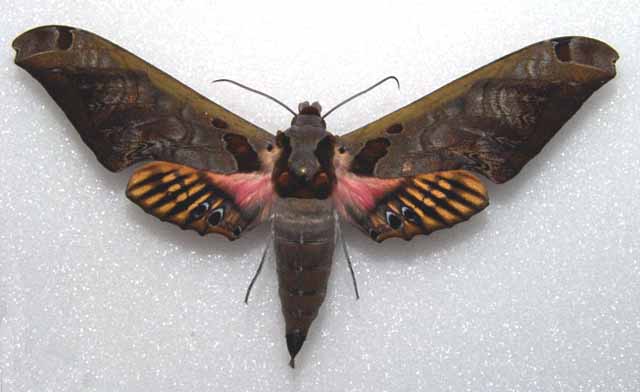 Adhemarius sexoculata male courtesy of Hubert Mayer copyright.
The pronunciation of scientific names is troublesome for many. The "suggestion" at the top of the page is merely a suggestion. It is based on commonly accepted English pronunciation of Greek names and/or some fairly well accepted "rules" for latinized scientific names.
The suggested pronunciations, on this page and on other pages, are primarily put forward to assist those who hear with internal ears as they read.
There are many collectors from different countries whose intonations and accents would be different.
Some of the early describers/namers chose genus and species names indicating some character of the insect, but more often, they simply chose names from Greek or Roman mythology or history.
Those species names which end in "ensis" indicate a specimen locale, and those which end in "i", pronounced "eye", honour a contempory friend/collector/etc.
José Oiticica Filho (1906 - 1964), the French entomologist/photographer who assigned the genus name, Adhemarius, possibly chose the name from Adhemarus, the fifth and last of the old counts of Querci (Verdun, France) who died in 880 AD.
The species name, sexoculata, recognizes the six swollen "eyelike" areas on dark veins of the hindwings.
FLIGHT TIMES AND PREFERRED FOOD PLANTS:
Adhemarius sexoculata produces at least two broods annually with peak flights in February and July-August. It probably broods continuously, weather/climate permitting.
I recently received an image from Merida (elevation 2500m), Venezuela, from mid January.
Rick Buss writes of a sighting in Peru: "The actual sighting was October 15, 2006, in the Urubamba Cordillera at 3000 meters elevation. The specimen was in an open building where it had flown to fluorescent lights sometime during the night."
I have images from Ecuador in October-November.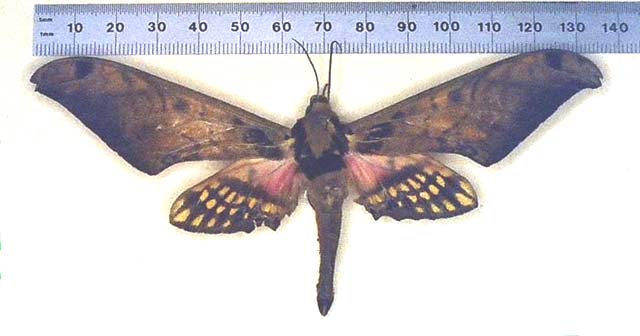 Adhemarius sexoculata, Peru, wingspan: approximately 138mm, courtesy of Rick Buss.

Females are active from midnight until 1:30am with males on the wing from 12:30-2:30am.

Adhemarius sexoculata larvae probably feed upon Ocotea veraguensis, Ocotea atirrensis and Ocotea dendrodaphne.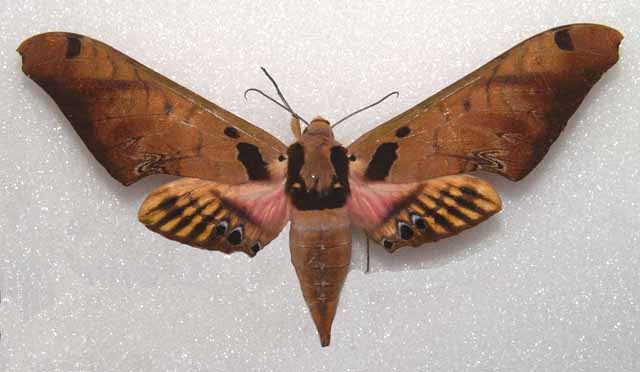 Adhemarius sexoculata female courtesy of Hubert Mayer copyright.
ECLOSION, SCENTING AND MATING:
EGGS, LARVAE AND PUPAE:

Larval Food Plants


Listed below are primary food plant(s) and alternate food plants. It is hoped that this alphabetical listing followed by the common name of the foodplant will prove useful. The list is not exhaustive. Experimenting with closely related foodplants is worthwhile.
Return to Smerinthini Tribe

Return to Main Sphingidae Index

Use your browser "Back" button to return to the previous page.

This page is brought to you by Bill Oehlke and the WLSS. Pages are on space rented from Bizland. If you would like to become a "Patron of the Sphingidae Site", contact Bill.

Please send sightings/images to Bill. I will do my best to respond to requests for identification help.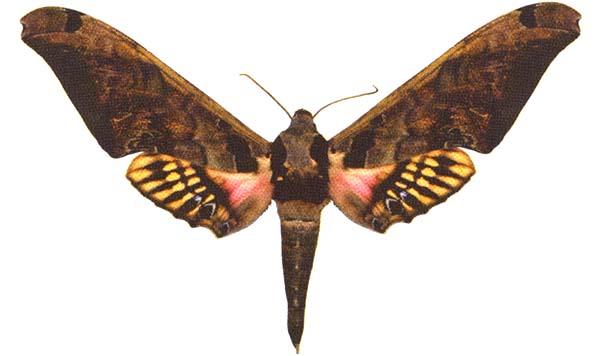 Adhemarius sexoculata courtesy of Vladimir Izersky.