Aellopos titan cubana
B. P. Clark, 1936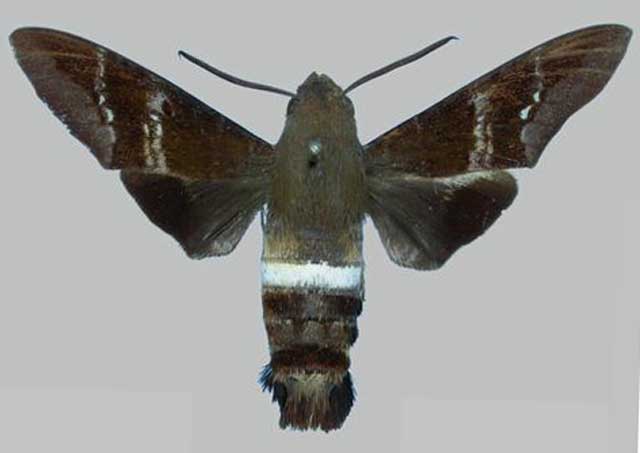 Aellopos titan cubana male, Holguin, Cuba,
BMNH, via Ian Kitching, as per Creative Commons.
This site has been created by Bill Oehlke.
Comments, suggestions and/or additional information are welcomed by Bill.
TAXONOMY:


Family: Sphingidae, Latreille, 1802
Subfamily: Macroglossinae, Harris, 1839
Tribe: Dilophonotini, Burmeister, 1878
Genus: Aellopos Hubner, [1819] ...........
Species: titan cubana B. P. Clark, 1936

DISTRIBUTION:
Aellopos titan cubana flies in Cuba. Santiago de Cuba and San Cristobal and Holguin. FLIGHT TIMES: ECLOSION:Adults eclose from pupae formed in shallow subterranean chambers. SCENTING AND MATING:Females call in the males with a pheromone released from a gland at the tip of the abdomen. EGGS, LARVAE, PUPAE:Larvae probably feed on various species of the Rubiaceae (madder) family.
Caterpillars pupate in loose cocoons in shallow underground chambers.
Pupae are dark, smooth and shiny, and relatively thin considering the stout appearance of the moth.
Return to Sphingidae Index
Return to Dilophonotini Tribe
Use your browser "Back" button to return to the previous page.
This page is brought to you by Bill Oehlke and the WLSS. Pages are on space rented from Bizland. If you would like to become a "Patron of the Sphingidae Site", contact Bill.
Please send sightings/images to Bill. I will do my best to respond to requests for identification help.