COCYTIUS CLUENTIUS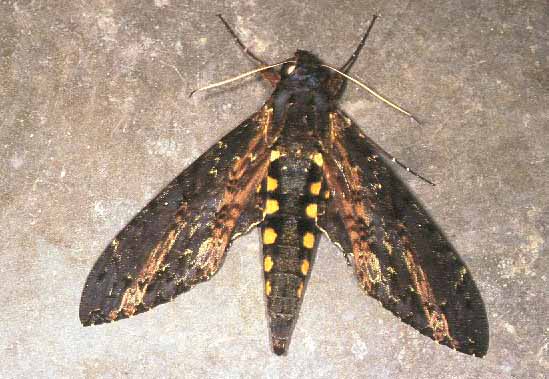 Cocytius cluentius from Rancho Grande, H. Pittier National Park, Venezuela
courtesy of Paolo Mazzei.
This site has been created by Bill Oehlke at oehlkew@islandtelecom.com
Comments, suggestions and/or additional information are welcomed by Bill.
TAXONOMY:



Family: Sphingidae, Latreille, 1802
Subfamily: Smerinthinae, Grote & Robinson, 1865
Tribe: Sphingini, Latreille, 1802
Genus: Cocytius Hubner, 1819 ...........
Species: cluentius Cramer 1775


MIDI MUSIC
.....It's a Wonderful World.....
copyright C. Odenkirk


ON.OFF

DISTRIBUTION:
Cocytius cluentius (Wing span: 115 - 148 mm, males much smaller than females)], flies in the "West Indies", the specimen type locality, and from Mexico to Argentina; Antilles. The proboscis is over nine inches long. FLIGHT TIMES: Cocytius cluentius adults probably nectar at flowers and fly in at least two broods in Costa Rica, with moths on the wing January-February and again in July-August. This moth comes in to lights much less frequently than other Cocytius species, but both sexes appear. ECLOSION:Pupae probably wiggle to surface from subterranean chambers just prior to eclosion.
Cocytius cluentius female from Costa Rica, courtesy of Dan Janzen.
SCENTING AND MATING:Females call in the males with a pheromone released from a gland at the tip of the abdomen. EGGS, LARVAE, PUPAE:
| | |
| --- | --- |
| Colourful larvae feed on Guatteria diospyroides and probably other members of the Annonaceae family. | |
Return to Sphingidae Index
Return to Sphingini Tribe