Updated as per

http://biological-diversity.info/sphingidae.htm (Belize)

, November 2007

Updated as per

Fauna Entomologica De Nicarauga

, November 2007

Updated as per

The Known Sphingidae of Costa Rica

, November 2007

Updated as per personal communication with Vladimir Izersky, (Coviriali, Junin, Peru, September), December 2008

Updated as per

AN ANNOTATED CHECKLIST OF THE SPHINGIDAE OF BOLIVIA

, December 2009

Updated as per

Sphingidae (Lepidoptera) de Venezuela

, Compilado por: María Esperanza Chacín; December 2009

Updated as per CATE Sphingidae (Mexico, Costa Rica, Panama, Ecuador, Peru; description); May 14, 2011

Updated as per personal communication with Hubert Mayer (La Union del Toachi, Pichincha, Ecuador, January 2, 2003); June 2, 2014

Updated as per personal communication with Vadim Kroutov (French Guiana); July 19, 2014
Callionima denticulata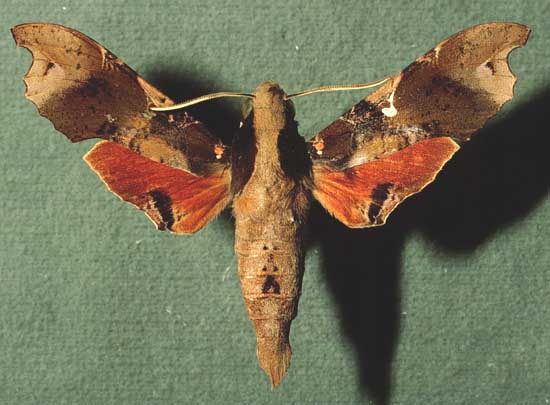 Callionima denticulata male, Costa Rica, courtesy of Dan Janzen.
This site has been created by Bill Oehlke at oehlkew@islandtelecom.com
Comments, suggestions and/or additional information are welcomed by Bill.
TAXONOMY:

Family: Sphingidae, Latreille, 1802
Subfamily: Macroglossinae, Harris, 1839
Tribe: Dilophonotini, Burmeister, 1878
Genus: Callionima Lucas, 1857 ...........
Species: denticulata Schaus, 1895


MIDI MUSIC
.....It's a Wonderful World.....
copyright C. Odenkirk


ON.OFF

DISTRIBUTION:
Callionima denticulata (Wing span: 59 - 72 mm), flies in
Mexico;
Nicaragua: Rio San Juan;
Costa Rica: Puntarenas, Alajuela, San Jose, Guanacaste, Carthage, Lemon, Heredia;
Panama: Veraguas;
western Venezuela: Tachira, Zulia;
Ecuador: Pichincha;
Peru: Junin (662m),
Bolivia: La Paz (750m), etc.
I suspect it also flies in Colombia.
Flight seems to be shortly after midnight.
Vadim Kroutov reports them in French Guiana, so I suspect they would also be in Guyana and Suriname.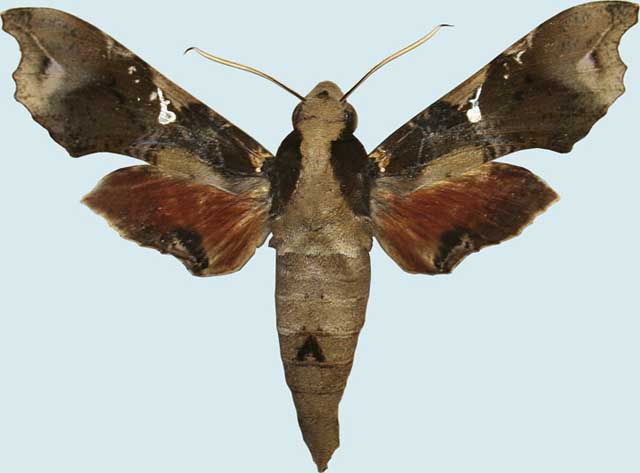 Callionima denticualata male, 662m, Coviriali, Junin, Peru,
September 21, 2008, courtersy of Vladimir Izersky.
This species is very similar to Callionima pan pan, but the forewing apex is strongly truncate, and the outer margin is strongly hollowed out below the apex and markedly dentate. CATE
FLIGHT TIMES:
Callionima denticulata adults fly continuously and specimens have been taken in every month in Costa Rica. Hubert Mayer reports a January flight in western Ecuador.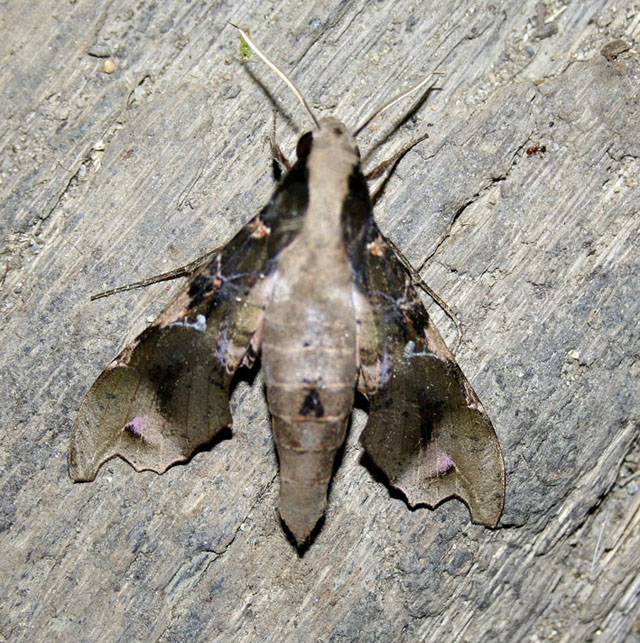 Callionima denticualata male, 662m, Coviriali, Junin, Peru,
September 21, 2008, courtersy of Vladimir Izersky.
ECLOSION:
Adults eclose from pupae formed in flimsy cocoons among leaf litter.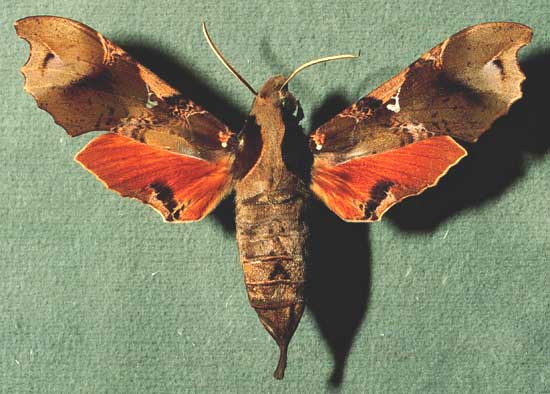 Callionima denticulata female courtesy of Dan Janzen.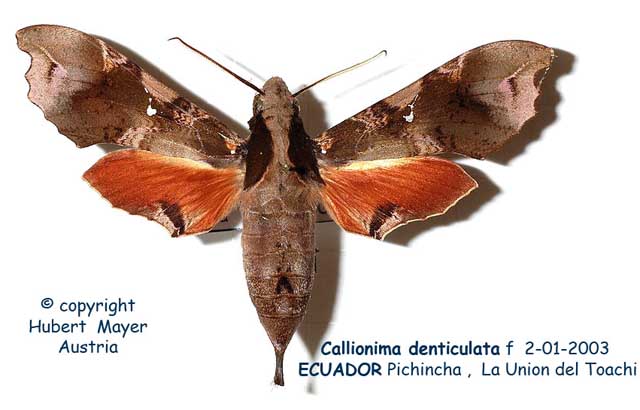 Callionima denticulata female, La Union del Toachi, Pichincha, Ecuador,
January 2, 2003, courtesy of Hubert Mayer.
SCENTING AND MATING:
Females call in the males with a pheromone released from a gland at the tip of the abdomen. Both males and females nectar at flowers and come in to lights, but males are taken much more frequently that way. EGGS, LARVAE, PUPAE:Larvae feed on Tabernaemontana alba and probably on other members of the Apocynaceae (Dogbane) family.
The anal horn is orange and thick. Larvae are green with reddish orange spiracles and a longitudinal, dotted black line down the back.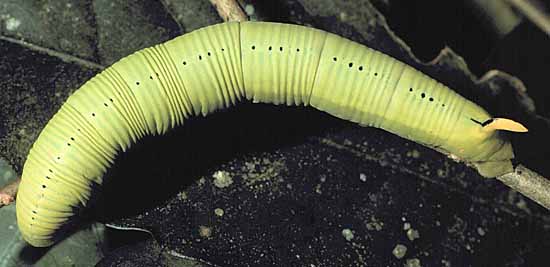 Larvae are parasitized by Thyreodon schauffi of the Ichneumonidae family and by Drino piceiventris of the Tachinidae family.
Return to Sphingidae Index
Return to Dilophonotini Tribe