AN ANNOTATED CHECKLIST OF THE SPHINGIDAE OF BOLIVIA, October 2007

Updated as per

French Guiana Sphingidae

; March 9, 2011

Updated as per CATE Sphingidae, April 22, 2011

Updated as per personal communication with Jose Ramon Alvarez Corral; May 27, 2012; ongoing

Updated as per personal communication with Hubert Mayer (Shimabenzo, Rio Tambo, Satipo, Junin, Peru, a36mm; August); June 2, 2014
Morcocytius mortuorum
moor-koh-SIT-ee-usM mor-chew-OR-um
Rothschild and Jordan, 1910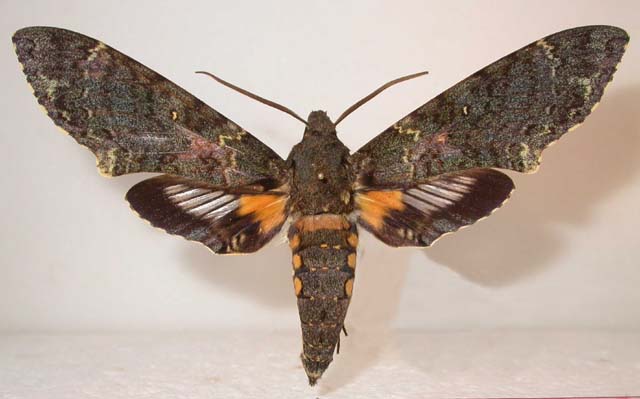 Morcocytius mortuorum male, Peru, courtesy of Jean Haxaire
This site has been created by Bill Oehlke at oehlkew@islandtelecom.com
Comments, suggestions and/or additional information are welcomed by Bill.
TAXONOMY:



Family: Sphingidae, Latreille, 1802
Subfamily: Sphinginae, Latreille, [1802]
Tribe: Sphingini, Latreille, 1802
Genus: Cocytius Hubner, [1819] ...........
Species: mortuorum Rothschild and Jordan, 1910


MIDI MUSIC
.....It's a Wonderful World.....
copyright C. Odenkirk


ON.OFF

DISTRIBUTION:
Morcocytius mortuorum [(Wing span: approximately 130-140mm, males smaller than females)], flies in
Brazil;
Panama;
Colombia;
Ecuador;
Peru: Junin (HM);
and Bolivia: La Paz: Murillo, Río Zongo, 750m; and
French Guiana: SGO.
I suspect it also flies in Venezuela Amazonas (JRAC), Guyana and Suriname.
This moth will most often appear in reference work as Cocytius mortuorum until the new designation as the single species in the Morcocytius genus designation becomes more wiedely known.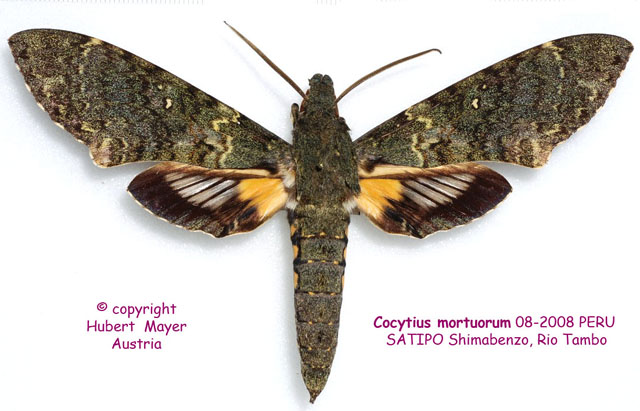 Morcocytius mortuorum, Shimabenzo, Rio Tambo, Satipo, Junin, Peru,
136mm, August 2008, courtesy of Hubert Mayer.
FLIGHT TIMES:
Morcocytius mortuorum adults nectar at flowers and probably brood continuously. Specimens are reported from October and November in Peru. There are reports from French Guiana for March and April. ECLOSION:Pupae probably wiggle to surface from subterranean chambers just prior to eclosion.
SCENTING AND MATING:
Females call in the males with a pheromone released from a gland at the tip of the abdomen. EGGS, LARVAE, PUPAE: Larvae probably feed on Guatteria diospyroides, Annona purpurea, Annona reticulata, Xylopia frutescens and Custard apple (Annona glabra) and probably other members of the Annonaceae family.
Moths emerge from pupae in as few as 21 days from pupation.
Use your browser "Back" button to return to the previous page.
Return to U. S.A. Table
Return to Sphingidae Index
Return to Sphingini Tribe