Ceratomia sonorensis
seer-a-TOHM-ee-uhmm suh-nor-EN-sis
Sonoran Sphinx
Hodges, 1971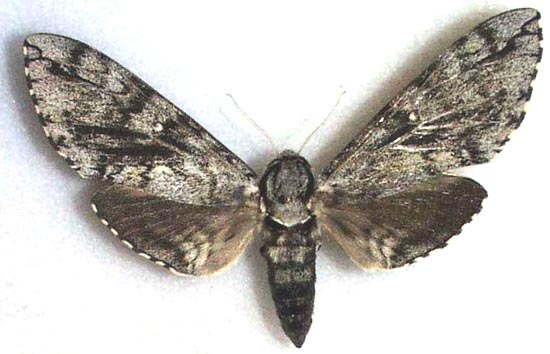 Ceratomia sonorensis courtesy of Bruce Walsh.
This site has been created by Bill Oehlke at oehlkew@islandtelecom.com
Comments, suggestions and/or additional information are welcomed by Bill.
TAXONOMY:



Family: Sphingidae, Latreille, 1802
Subfamily: Sphinginae, Latreille, [1802]
Tribe: Sphingini, Latreille, 1802
Genus: Ceratomia Harris, 1839 ...........
Species: sonorensis Hodges, 1971


MIDI MUSIC
.....It's a Wonderful World.....
copyright C. Odenkirk


ON.OFF

DISTRIBUTION:
The Sonoran Sphinx, Ceratomia sonorensis [Wing span: 3 5/16 - 3 1/2 inches (8.4 - 8.9 cm)], flies at elevations over 3700 feet in oak and oak-pine associations in Madrean woodland in Sonora, Mexico and in southeast Arizona.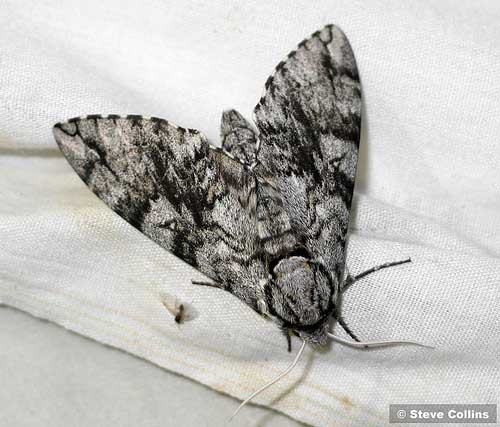 Ceratomia sonorensis, Madera Canyon, Arizona, July 2006, courtesy of Steve Collins.

The fringes of the upper wings are checkered black and white. The upperside of the forewing is dark gray with black bars and dashes and whitish patches. The upperside of the hindwing is dark brown with pale gray at the base and has two black transverse lines.
FLIGHT TIMES:
There is but a single annual brood with adults on the wing from July-August. ECLOSION:Pupae probably wiggle to surface from subterranean chambers just prior to eclosion.
SCENTING AND MATING:
Females call in the males with a pheromone released from a gland at the tip of the abdomen. EGGS, LARVAE, PUPAE:Larvae feed on ash (Fraxinus] of the Oleaceae family.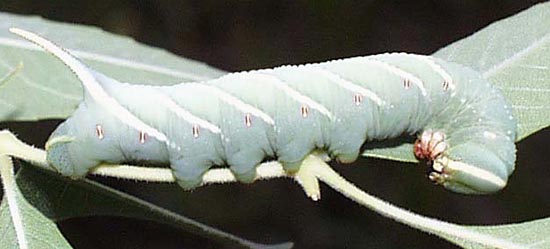 Ceratomia sonorensis larva courtesy of Bruce Walsh.
Return to U. S.A. Table
Return to Sphingidae Index
Return to Sphingini Tribe