Amphonyx vitrinus
am-FOH-nixM vih-TRYE-nus
Rothschild and Jordan, 1910

Amphonyx vitrinus male, Cuba, courtesy of Tomas Melichar
This site has been created by Bill Oehlke. Comments, suggestions and/or additional information are welcomed by Bill.
TAXONOMY:


Family: Sphingidae, Latreille, 1802
Subfamily: Sphinginae, Latreille, [1802]
Tribe: Sphingini, Latreille, 1802
Genus: Amphonyx Poey, 1832 ...........
Species: vitrinus Rothschild and Jordan, 1910

DISTRIBUTION:
Amphonyx vitrinus [(Wing span: ), males smaller than females)], flies in Cuba and Hispaniola.
The Cocytius genus was recently split because of significant genitalic differences amongst moths previously grouped under Cocytius.
FLIGHT TIMES:
Amphonyx vitrinus adults nectar at flowers and probably brood continuously.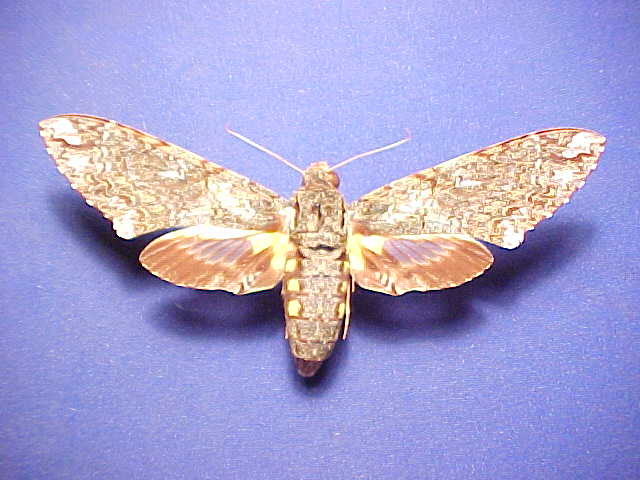 Amphonyx vitrinus, Cuba, by John Vriesi
ECLOSION:
Pupae probably wiggle to surface from subterranean chambers just prior to eclosion.
SCENTING AND MATING:
Females call in the males with a pheromone released from a gland at the tip of the abdomen. EGGS, LARVAE, PUPAE: Larvae probably feed on Guatteria diospyroides, Annona purpurea, Annona reticulata, Xylopia frutescens and Custard apple (Annona glabra) and probably other members of the Annonaceae family.
Moths emerge from pupae in as few as 21 days from pupation.
Return to U. S.A. Table
Return to Sphingidae Index
Return to Sphingini Tribe