Updated as per

CATE

; April 7, 2011
Euryglottis albostigmata albostigmata
you-rih_GLAHT-tisM al-boh-stig-MAY-tuh
Rothschild, [1895]

Euryglottis albostigmata courtesy of Jean Haxaire
This site has been created by Bill Oehlke at oehlkew@islandtelecom.com
Comments, suggestions and/or additional information are welcomed by Bill.
TAXONOMY:



Family: Sphingidae, Latreille, 1802
Subfamily: Sphinginae, Latreille, [1802]
Tribe: Sphingini, Latreille, 1802
Genus: Euryglottis Boisduval, [1875] ...........
Species: albostigmata albostigmata Rothschild, [1895]


MIDI MUSIC
.....It's a Wonderful World.....
copyright C. Odenkirk


ON.OFF

DISTRIBUTION:
Euryglottis albostigmata albostigmata (wingspan: males: 110mm; females: probably larger) flies in
Colombia: Cauca Valley, specimen type locality; R Dagua; and in
Ecuador: ??Pichincha: Pacto?? (1200-1600m), and
Peru.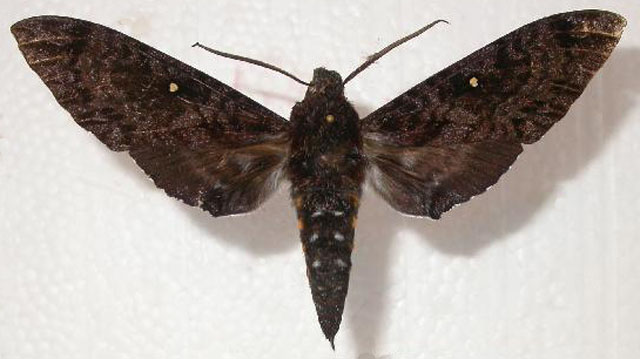 Euryglottis albostigmata male, 110mm, Pacto, Pichincha, Ecuador,
February 26, 2002, 1200-1600m, courtesy of Tomas Melichar.

In Puno, southern Peru, a subspecies, basalis, was recognized, but I am not sure if it remains distinct or has been synonymized with the nominate subspecies. This species is distinct in colour and patterning from other Euryglottis species:

The dorsal surface of the forewing upperside lacks a pale angle-shaped marking in submarginal area.

The dorsal surface of the female hindwing is more extensively white than that of the male. CATE
FLIGHT TIMES:
Euryglottis albostigmata albostigmata adults fly in February-March, August, and probably in other months. ECLOSION:Pupae probably wiggle to surface from subterranean chambers just prior to eclosion.
SCENTING AND MATING:
Females call in the males with a pheromone released from a gland at the tip of the abdomen. EGGS, LARVAE, PUPAE:
Return to Sphingidae Index
Return to Sphingini Tribe