Updated as per

AN ANNOTATED CHECKLIST OF THE SPHINGIDAE OF BOLIVIA

, October 2007

Updated as per More, Kitching and Cocucci's

Hawkmoths of Argentina

2005, October, 2007

Updated as per personal communication with Ezequiel Osvaldo Núñez Bustos (Argentina), Ocotber 2007

Updated as per personal communication with Nigel Venters, December 2007

Updated as per personal communication with Larry Valentine, Itanhandu, Minas Gerais, Brazil, February 19, 2011

Updated as per personal communication with Sergio D. Ríos Díaz in

CATÁLOGO DE LOS SPHINGIDAE (INSECTA: LEPIDOPTERA) DEPOSITADOS EN EL MUSEO NACIONAL DE HISTORIA NATURAL DEL PARAGUAY

; sent to me in July 2014 by Sergio D. Ríos Díaz.

Updated as per personal communication with Ezequiel Bustos (Shilap revta. lepid. 43 (172) diciembre, 2015, 615-631 eISSN 2340-4078 ISSN 0300-5267), January 4, 2016
Eumorpha analis
you-MOR-fuhMuh-NAHL-lis
(Rothschild & Jordan, 1903) Philampelus posticarius

Eumorpha analis, Yacutinga Private Reserve, Misiones, Argentina,
courtesy of Ezequiel Osvaldo Núñez Bustos.
This site has been created by Bill Oehlke at oehlkew@islandtelecom.com
Comments, suggestions and/or additional information are welcomed by Bill.
TAXONOMY:

Superfamily: Sphingoidea, Dyar, 1902
Family: Sphingidae, Latreille, 1802
Subfamily: Macroglossinae, Harris, 1839
Tribe: Philampelini, Burmeister
Genus: Eumorpha, Hubner, [1807]
Species: analis, (Rothschild & Jordan, 1903)

MIDI MUSIC
"What.A.Wonderful.World"
copyright C. Odenkirk
MIDI CITY


ON.OFF

DISTRIBUTION:
Eumorpha analis flies in
Bolivia: Santa Cruz (150-450m), probably/possibly in Cochabamba, Chuquisaca, Potosi, Tarija; and
Argentina: Catamarca, Cordoba, Formosa, Jujuy, Misiones, Salta, San Luis, Tucuman;
Paraguay: Concepcion, San Pedro, Guaira, Amambay, Canindeyu, Itapua (WO??) and;
Brazil: Rio de Janeiro, Sao Paulo, Minas Gerais, Parana, Mato Grosso do Sul.
In Argentina, Ezequiel Osvaldo Núñez Bustos reports, "This is a very common species here, flying in provinces of the north and centre of the country."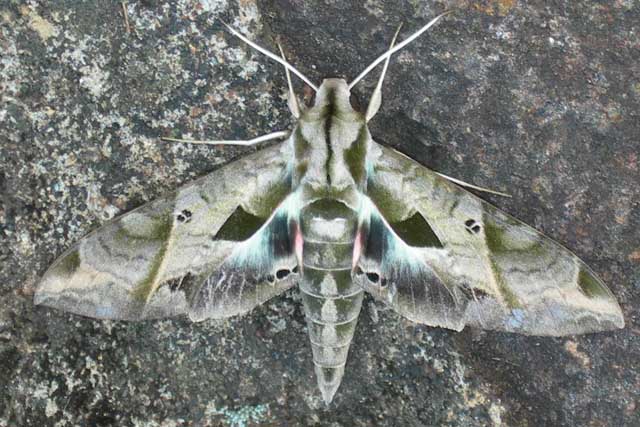 Eumorpha analis, Itanhandu, Minas Gerais, Brazil,
February 19, 2011, courtesy of Larry Valentine.

The genus name "Eumorpha" means well-formed.

The species choice of "analis" might refer to the shape of the hindwing near the anal angle.

The pronunciation of scientific names is troublesome for many. The "suggestion" at the top of the page is merely a suggestion. It is based on commonly accepted English pronunciation of Greek names and/or some fairly well accepted "rules" for latinized scientific names.

The suggested pronunciations, on this page and on other pages, are primarily put forward to assist those who hear with internal ears as they read.

There are many collectors from different countries whose intonations and accents would be different.
FLIGHT TIMES AND PREFERRED FOOD PLANTS:
Eumorpha analis adults are on the wing in March and November-December in Bolivia.
Nigel Venters has taken them in Cordoba Province, Argentina in December. They probably fly in other months as well. Sergio Rios Diaz reports September-October flights in Paraguay.
Eumorpha analis larvae probably feed upon Vitis.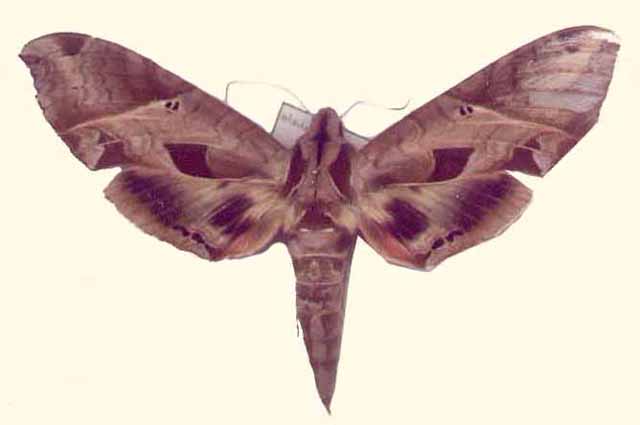 Eumorpha analis, Río Negro, Argentina,
courtesy of Daniel Rojas Lanus.
ECLOSION, SCENTING AND MATING:
Pupae wiggle to surface just prior to eclosion. Females call at night, and males fly into the wind to pick up and track the pheromone plume. EGGS, LARVAE AND PUPAE:Larvae probably feed on various species of grapes and other members of Vitaceae family.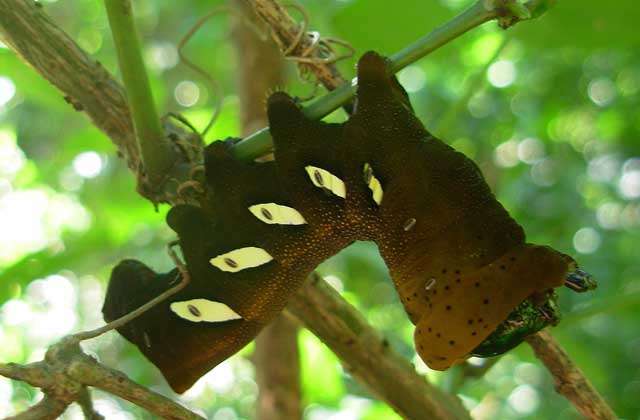 Eumorpha analis ??, Cuna Piru Provincial Park, Misiones, Argentina,
September 9, 2010, courtesy of Ezequiel Osvaldo Nunez Bustos.

The above larva is believed to be Eumorpha analis, largely based on process of elimination. However, it might also be E. satellitia licaon which would be an additonal to Argentina Sphingidae list.

It was not raised through to adulthood.
Larval Food Plants
Listed below are primary food plant(s) and alternate food plants. It is hoped that this alphabetical listing followed by the common name of the foodplant will prove useful. The list is not exhaustive. Experimenting with closely related foodplants is worthwhile.
| | |
| --- | --- |
| Vitaceae ....... | Grape, etc. |
Return to Philampelini Index

Return to Sphingidae Index