Belize south) to
Guatemala (JM);
Costa Rica;
Venezuela;
French Guiana: Rt to Kaw;
Brazil;
Peru: Junin (662m): Chanchamayo; and
Bolivia: La Paz: Murillo, Río Zongo (750m).
Colombia is the specimen type locality; Boyaca: Muzo; Chaco.

I suspect it also flies in Suriname and Guyana.

In both sexes the forewing apex is truncated as opposed to sinuate as in Enyo gorgon. Ground colour is chocolate-brown, almost black in some places. The forewing discal cell is narrower than in either Enyo gorgon or in Enyo taedium taedium.
FLIGHT TIMES:
Enyo cavifer cavifer probably has two to three broods annually, with adults taken in Costa Rica from May to June, August to September and from December to January.
Bruno Penin reports a February flight in French Guiana.
Vladimir Izersky reports them on the wing in Junin, Peru, in January.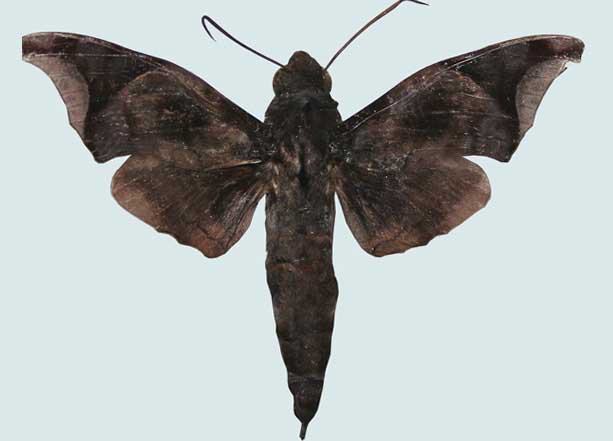 Enyo cavifer male, Coviriali, Junin, Peru,
January 7, 2008, 662m, courtesy of Vladimir Izersky.
ECLOSION:
Adults eclose from pupae formed in subterranean chambers.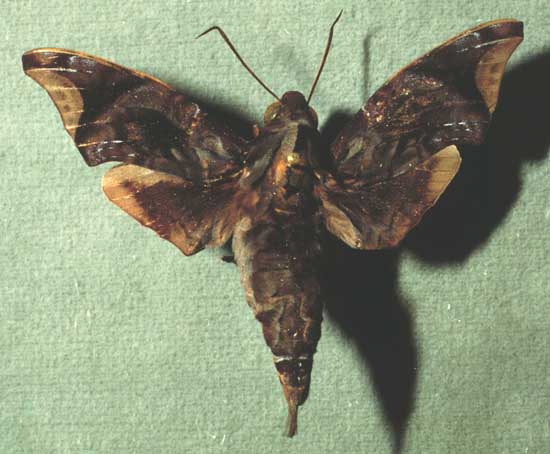 Enyo cavifer cavifer male courtesy of Dan Janzen.
SCENTING AND MATING:
Females call in the males with a pheromone released from a gland at the tip of the abdomen. Both males and females nectar at flowers. Females are seldom taken at lights while males are more common. EGGS, LARVAE, PUPAE:
Larvae feed on Cissus aff. biformifolia, Vitus tiliifolia and other members of the Vitaceae family.

This one was "caught in the act."
Return to Sphingidae Index
Return to Dilophonotini Tribe

Use your browser "Back" button to return to the previous page.
This page is brought to you by Bill Oehlke and the WLSS. Pages are on space rented from Bizland. If you would like to become a "Patron of the Sphingidae Site", contact Bill.
Please send sightings/images to Bill. I will do my best to respond to requests for identification help.
Enjoy one of nature's wonderments: Live Saturniidae (Giant Silkmoth) cocoons.

Show appreciation for this site by clicking on flashing butterfly to the left.
The link will take you to a page with links to many insect sites.