EUPYRRHOGLOSSUM CORVUS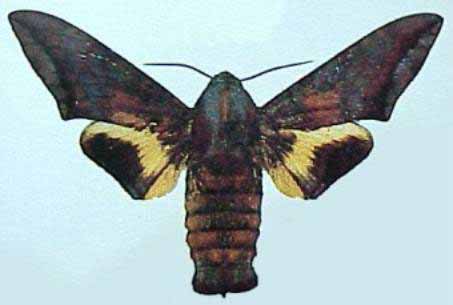 Eupyrrhoglossum corvus, Nicaragua, MAES J.M.
Sphingidae & Saturniidae of Nicaragua CD ROM.
This site has been created by Bill Oehlke at oehlkew@islandtelecom.com
Comments, suggestions and/or additional information are welcomed by Bill.
TAXONOMY:

Family: Sphingidae, Latreille, 1802
Subfamily: Macroglossinae, Harris, 1839
Tribe: Dilophonotini, Burmeister, 1878
Genus: Eupyrrhoglossum Grote, 1865 ...........
Species: corvus Boisduval, 1870


MIDI MUSIC
.....It's a Wonderful World.....
copyright C. Odenkirk


ON.OFF

DISTRIBUTION:
Eupyrrhoglossum corvus (Wing span: ), flies in tropical and subtropical lowlands from
Nicaragua, the specimen type locality;
Guatemala;
Peru: Huancabamba; Chanchamayo;
Bolivia: La Paz. It is also recorded in
Venezuela. Range is probably much more extensive than stated. It likely also flies in Costa Rica, Panama, Colombia, and possibly Ecuador.
"Similar in general appearance to Perigonia lusca lusca form restituta but distinguishable by the dark grey thorax with dark brown edges and broad median stripe. Distinguishable from Eupyrrhoglossum sagra by the absence of the semitransparent submarginal spot on the forewing and the broader yellow band, with more diffuse edges, on the hindwing upperside. Forewing Rs3 and Rs4 not fused apically.
"Head and thorax without median crest. Antenna slender, not at all clubbed, hook quite gradually narrowed; end-segment short, conical, less than three times as long as basally broad. Thorax dark grey, contrasting sharply with the dark brown edges and median line, these broader than in Eupyrrhoglossum sagra."
FLIGHT TIMES:
Eupyrrhoglossum corvus probably broods continuously in the tropics. ECLOSION:Adults eclose from pupae formed in loose cocoons spun among surface litter. Eclosions can occur within fifteen days. SCENTING AND MATING:Females call in the males with a pheromone released from a gland at the tip of the abdomen. EGGS, LARVAE, PUPAE:Larvae probably feed on Guettarda macrosperma and Chomelia spinosa and other species in the Rubiaceae family.
Return to Sphingidae Index
Return to Dilophonotini Tribe