Updated as per personal communication with Peter Bruce-James (Weyqecha Lodge, Manu, Cusco, Peru, 2950m); February 2010

Updated as per

Hawkmoths of Venezuela

; February 2010

Updated as per

CATE

; April 7, 2011

Updated as per personal communication with Hubert Mayer: Oxapampa, Peru, June 2004, 2050m; August 9, 2011
Euryglottis dognini
you-ree-GLAHT-tihsmmDOG-nin-eye
Rothschild, 1896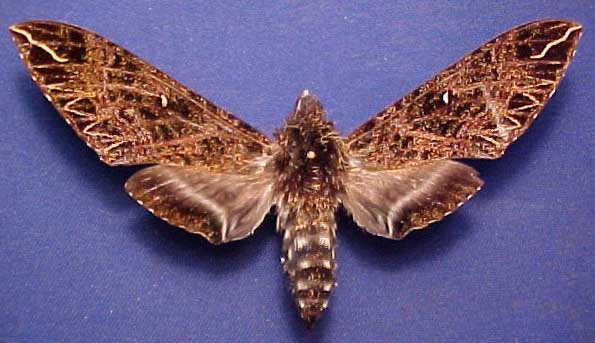 Euryglottis dognini by John Vriesi.
This site has been created by Bill Oehlke at oehlkew@islandtelecom.com
Comments, suggestions and/or additional information are welcomed by Bill.
TAXONOMY:



Family: Sphingidae, Latreille, 1802
Subfamily: Sphinginae, Latreille, [1802]
Tribe: Sphingini, Latreille, 1802
Genus: Euryglottis Boisduval, [1875] ...........
Species: dognini Rothschild, 1896


MIDI MUSIC
.....It's a Wonderful World.....
copyright C. Odenkirk


ON.OFF

DISTRIBUTION:
Euryglottis dognini (wingspan: approximately 117mm) flies in
Colombia, specimen type locality. Specimens also come from
Peru: Cusco (PBJ), River Tabaconas; Carabaya: S Domingo; (Oxapampa, 2050m (HM))
Bolivia: La Paz: Caupolican, Mamacona, Apolo; Murillo, Zongo Pacollo; Beni: José Ballivián, Espíritu; La Paz: Murillo, Río Zongo, 750m; Cochabamba: Cochabamba) and in
Venezuela: Merida, Tachira.
I suspect ?? it would also be found at high elevations in Ecuador (confirmed by CATE).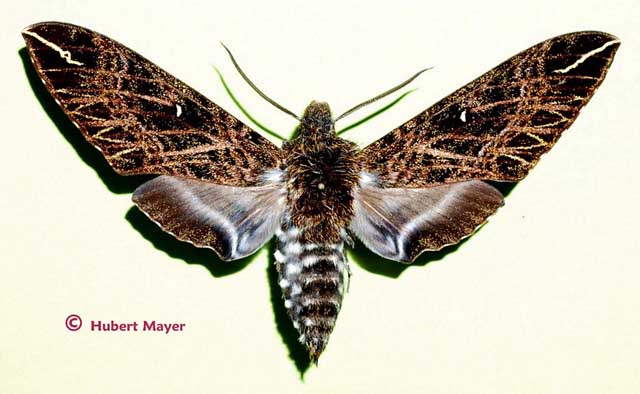 Euryglottis dognini male, Oxapampa, Peru,
June 2004, 2050m, courtesy/copyright of Hubert Mayer.

The abdomen has three rows of white spots on each side, with the middle row not yellow as it is in Euryglottis davidianus and Euryglottis aper. The ventral surface of the abdomen has a large white patch at the base. The tips of the coxae are white. CATE
Euryglottis dognini, Weyqecha Lodge, Manu, Cusco, Peru,
2950m, courtesy of Peter Bruce-Jones, id by Bill Oehlke.

There are several Euryglottis species in Peru. I have gone with E. dognini for the image from Weyqecha Lodge, based primaily on the weak contrast between the forewing pm band and the rest of the wing.
FLIGHT TIMES:
Euryglottis dognini adults are on the wing in February and August. Hubert Mayer reports a June flight in Oxapampa, Peru.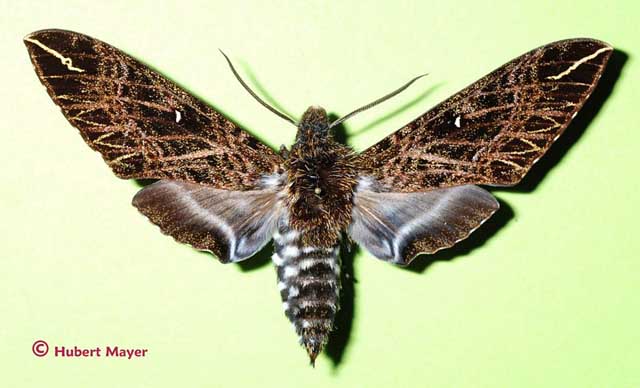 Euryglottis dognini male, Oxapampa, Peru,
June 2004, 2050m, courtesy/copyright of Hubert Mayer.
ECLOSION:
Pupae probably wiggle to surface from subterranean chambers just prior to eclosion.
SCENTING AND MATING:
Females call in the males with a pheromone released from a gland at the tip of the abdomen. EGGS, LARVAE, PUPAE:
Use your browser "Back" button to return to the previous page.
Return to Sphingidae Index
Return to Sphingini Tribe