Updated as per personal communication with Ezequiel Bustos (Aguas Blancas, Salta, Argentina, 405m); December 2009

Updated as per More, Kitching and Cocucci's

Hawkmoths of Argentina

2005, December 2009

Updated as per

AN ANNOTATED CHECKLIST OF THE SPHINGIDAE OF BOLIVIA

, December 2009

Updated as per personal communication with Hubert Mayer (male: 60 mm, 170km NE of Curitiba, Sao Paulo, Brazil, November); June 2, 2014

Updated as per personal communication with Sergio D. Ríos Díaz in

CATÁLOGO DE LOS SPHINGIDAE (INSECTA: LEPIDOPTERA) DEPOSITADOS EN EL MUSEO NACIONAL DE HISTORIA NATURAL DEL PARAGUAY

; sent to me in July 2014 by Sergio D. Ríos Díaz.

Updated as per personal communication with Joanna Rodriguez Ramirez (Chaco; Misiones; Argentina), January 21, 2015

Updated as per personal communication with Ezequiel Bustos (Shilap revta. lepid. 43 (172) diciembre, 2015, 615-631 eISSN 2340-4078 ISSN 0300-5267), January 4, 2016
Erinnyis domingonis
Butler, 1875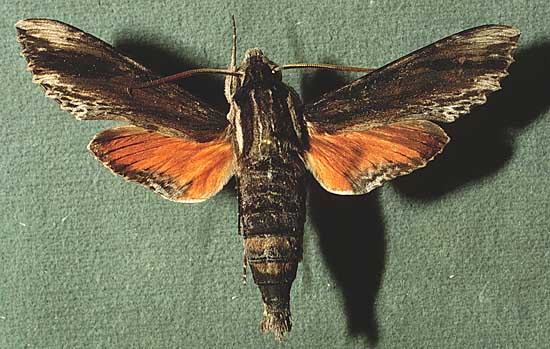 Erinnyis domingonis probably obscura male courtesy of Dan Janzen.
This site has been created by Bill Oehlke at oehlkew@islandtelecom.com
Comments, suggestions and/or additional information are welcomed by Bill.
TAXONOMY:

Family: Sphingidae, Latreille, 1802
Subfamily: Macroglossinae, Harris, 1839
Tribe: Dilophonotini, Burmeister, 1878
Genus: Erinnyis Hubner, [1819] ...........
Species: domingonis Butler, 1875

MIDI MUSIC
.....It's a Wonderful World.....
copyright C. Odenkirk


ON.OFF

DISTRIBUTION:
The Dominican Sphinx, Erinnyis domingonis (Wing span: 2 1/4 - 2 1/2 inches (60 - 65mm)), flies in Haiti and Jamaica south to
Venezuela;
French Guiana (HM)??;
Bolivia: La Paz;
Brazil: Sao Paulo: Curitiba (HM)??; and
Argentina: Cordoba, Tucuman, Salta (405m EB); Chaco and Misiones (JRR)
Paraguay: Presidente Hayes; with occasional sightings in Texas and Arizona and strays as far north as Nebraska.
Haiti is the specimen type locality.
Kitching and Cadiou, 2000, indicate E. domingonis might be a synonym of E. obscura. If they are distinct species, E. domingonis probably has the more limited range indicated above, and it might only be in Venezuela and the Caribbean.
E. obscura would have a much greater range, and the images on this page from Costa Rica, may in fact be E. obscura.
James P. Tuttle reports in his excellent book The Hawk Moths of North America, 2007, that he has reared larvae from eggs of a single female of Erinnyis obscura that have resulted in two different larval colour morphs. The emergent moths from this rearing showed two different adult morphs, a light form and a dark form (previously thought to be domingonis). He also reports there was no consistency between the larval morphs and the adult forms that resulted from them.
I do not know if DNA barcoding has resolved this issue???
I am pretty sure (January 2016) domingonis is a junior synonym of obscura.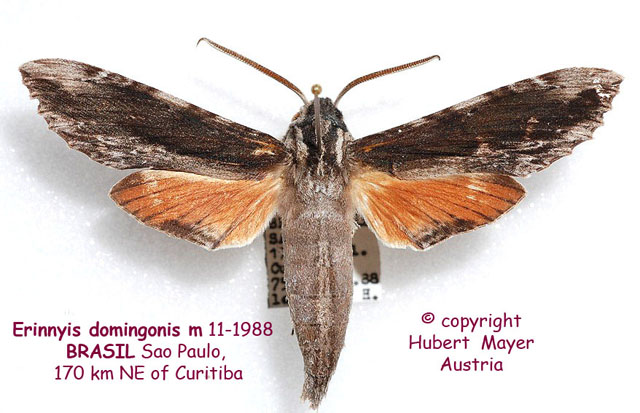 Erinnyis domingonis ??, male, 60mm, 170km NE of Curitiba, Sao Paulo, Brazil,
November 1988, courtesy of Hubert Mayer.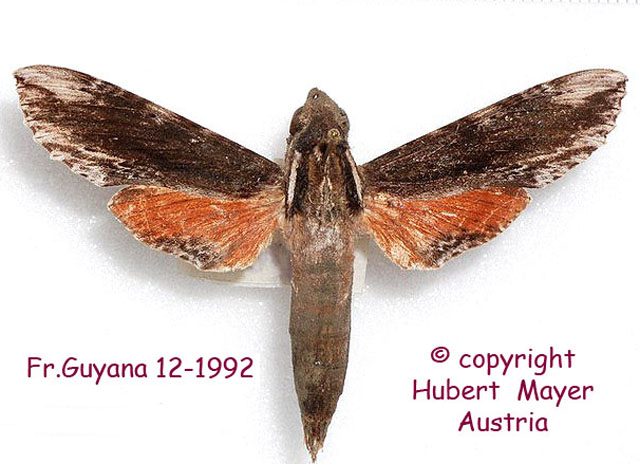 Erinnyis domingonis ??, male, 64mm, French Guiana,
December 1988, courtesy of Hubert Mayer.
FLIGHT TIMES:
Erinnyis domingonis broods continuously in the tropics.
Adults nectar at flowers.
ECLOSION:
Adults eclose from pupae formed in loose cocoons spun among surface litter.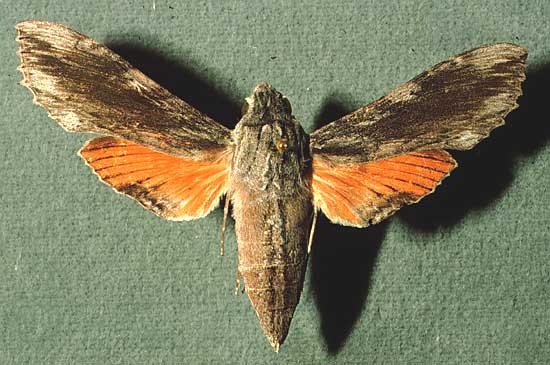 Erinnyis domingonis probably obscura female courtesy of Dan Janzen.
SCENTING AND MATING:
Females call in the males with a pheromone released from a gland at the tip of the abdomen. EGGS, LARVAE, PUPAE:Larval hosts are unknown.
Return to U. S. A. Table
Return to Sphingidae Index
Return to Dilophonotini Tribe