Eumorpha eacus
(Cramer, 1780) Sphinx
Eumorpha megaeacus
you-MOR-fuhmm MEG-uh-ee-kus
(Hubner [1819]) Daphnis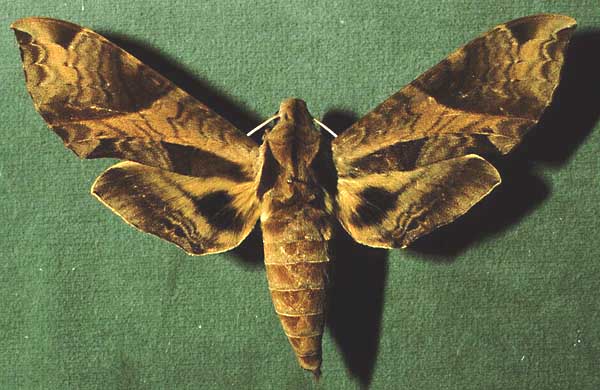 Eumorpha megaeacus male courtesy of Dan Janzen.
This site has been created by Bill Oehlke at oehlkew@islandtelecom.com
Comments, suggestions and/or additional information are welcomed by Bill.
TAXONOMY:

Superfamily: Sphingoidea, Dyar, 1902
Family: Sphingidae, Latreille, 1802
Subfamily: Macroglossinae, Harris, 1839
Tribe: Philampelini, Burmeister
Genus: Eumorpha, Hubner, [1807]
Species: megaeacus, (Hubner [1819])

MIDI MUSIC
"What.A.Wonderful.World"
copyright C. Odenkirk
MIDI CITY


ON.OFF

DISTRIBUTON:
Eumorpha megaeacus, the Eacus Sphinx (wing span: 4 1/8 - 4 3/4 inches (10.5 - 12.1 cm)), flies in Surinam and probably throughout most of Central and South America to southern Brazil, and west to Bolivia. Occasionally a stray is taken in Texas.
The moth's upperside is brown with indistinct dark and yellow-brown markings. A yellow-brown band runs parallel to the inner margin from the base almost to the outer margin on the forewing.
Until very recently this moth was previously most often incorrectly refered to as Eumorpha eacus.
The genus name "Eumorpha" means well-formed.
In Greek mythology, Eacus is a weather deity, often conflated with Jupiter.
The pronunciation of scientific names is troublesome for many. The "suggestion" at the top of the page is merely a suggestion. It is based on commonly accepted English pronunciation of Greek names and/or some fairly well accepted "rules" for latinized scientific names.
The suggested pronunciations, on this page and on other pages, are primarily put forward to assist those who hear with internal ears as they read.
There are many collectors from different countries whose intonations and accents would be different.
FLIGHT TIMES AND PREFERRED FOOD PLANTS:
Eumorpha megaeacus adults are on the wing from February-March, May-July and again from September-October in Costa Rica.
Eumorpha megaeacus larvae feed at night upon Jussiaea species and upon members of the primrose family (Onagraceae).
ECLOSION, SCENTING AND MATING:
Pupae wiggle to surface just prior to eclosion. Females call at night, and males fly into the wind to pick up and track the pheromone plume. EGGS, LARVAE AND PUPAE:Larvae feed on Jussiaea species in the evening primrose family (Onagraceae).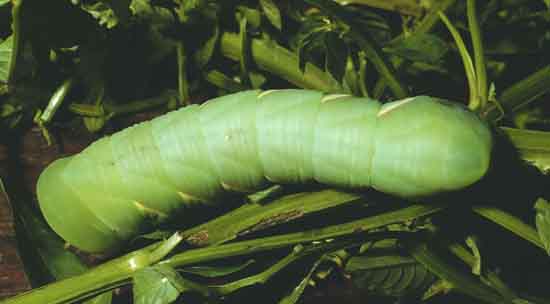 Eumorpha megaeacus, dorsal view, courtesy of Dan Janzen.
Larval Food Plants
Listed below are primary food plant(s) and alternate food plants. It is hoped that this alphabetical listing followed by the common name of the foodplant will prove useful. The list is not exhaustive. Experimenting with closely related foodplants is worthwhile.



Use your browser "Back" button to return to the previous page.
Return to U. S. A. Table
Return to Philampelini Index
Return to Sphingidae Index