Updated as per

AN ANNOTATED CHECKLIST OF THE SPHINGIDAE OF BOLIVIA

, October 2007

Updated as per

http://www.pybio.org/MACROGLOSSINAE.htm (Paraguay)

, October 2007

Updated as per More, Kitching and Cocucci's

Hawkmoths of Argentina

2005, October, 2007

Updated as per

http://biological-diversity.info/sphingidae.htm (Belize)

, November 2007

Updated as per

Fauna Entomologica De Nicarauga

, November 2007

Updated as per

The Known Sphingidae of Costa Rica

, November 2007

Updated as per personal communication with Veronica L. Gaitan (Santa Fe City, Santa Fe, Argentina); March 5, 2011

Updated as per personal communication with Shaina Noggle (

Ludwigia peruviana

, Hempweed); May 4, 2011

Updated as per personal communication with Leonardo Aguado (Gualeguychu R 4, Entre Rios, Argentina, February 2008); October 8, 2011

Updated as per personal communication with Sergio D. Ríos Díaz in

CATÁLOGO DE LOS SPHINGIDAE (INSECTA: LEPIDOPTERA) DEPOSITADOS EN EL MUSEO NACIONAL DE HISTORIA NATURAL DEL PARAGUAY

; sent to me in July 2014 by Sergio D. Ríos Díaz.

Updated as per personal communication with Joanna Rodriguez Ramirez (Cordoba; Salta; Santa Fe; Argentina), January 21, 2015

Updated as per personal communication with Barbara Kelly, (

Eumorpha fasciatus

, Terrell, Kaufman County, August 18, 2015); August 20, 2015

Updated as per personal communication with Ezequiel Bustos (Shilap revta. lepid. 43 (172) diciembre, 2015, 615-631 eISSN 2340-4078 ISSN 0300-5267), January 4, 2016

Updated as per personal communication with Luiz Walter Costa Neto (Aracatuba, Sao Paulo, Brazil, May 11, 2016); May 16, 2016

Updated as per personal communication with Francierlem Oliveira (Extremoz, Rio Grande do Norte, Brazil, September 11, 2016); September 12, 2016
Eumorpha fasciatus fasciatus
you-MOR-fuhMFASH-ee-AGH-tuhs
(Sulzer, 1776) Sphinx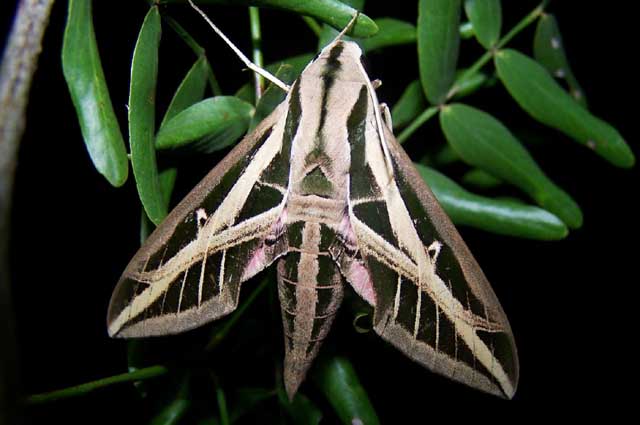 Eumorpha fasciatus fasciatus, Paraguay, PYBIO.
This site has been created by Bill Oehlke at oehlkew@islandtelecom.com
Comments, suggestions and/or additional information are welcomed by Bill.
TAXONOMY:

Superfamily: Sphingoidea, Dyar, 1902
Family: Sphingidae, Latreille, 1802
Subfamily: Macroglossinae, Harris, 1839
Tribe: Philampelini, Burmeister
Genus: Eumorpha, Hubner, [1807]
Species: fasciatus fasciatus, (Sulzer, 1776)
DISTRIBUTION:
The Banded Sphinx Moth, (Eumorpha fasciatus fasciatus), wingspan 3 7/16 - 3 13/16 inches (8.7 - 9.6 cm), flies in
northern Argentina: Buenos Aires, Corrientes, Chaco, Formosa, Misiones, Santa Fe (VLG image), Entre Rios (LA), La Rioja (EB), Cordoba, Santa Fe and Salta (JRR);
Bolivia: Beni, La Paz, Santa Cruz;
Paraguay: Asuncion, Concepcion, Boqueron, Presidente Hayes, San Pedro, Canindeyu, Central, Cordillera, Caaguazu, Alto Parana, Paraguari (possibly Misiones and Itapua (WO??));
north through Central America:
Mexico;
Belize: Corozol, Orange Walk, Cayo;
Guatemala;
Honduras;
Nicaragua: Carazo, Rio San Juan, probably Rivas and elsewhere;
Costa Rica: Guanacaste, Puntarenas, Limon, Alajuela, Heredia, San Jose, Cartago;
Panama
to southern California and southern Arizona; east to Texas, Mississippi, Florida, and South Carolina. The moths strays north (migrates) to Missouri, Michigan, Indiana, Iowa (TJ), Pennsylvania, New Jersey (Monmouth County, September 5, 2010), New York, and Nova Scotia. On October 19, 2007, I received an image of a somewhat tattered live specimen from southern Minnesota, courtesy of Roxanne Goodrich.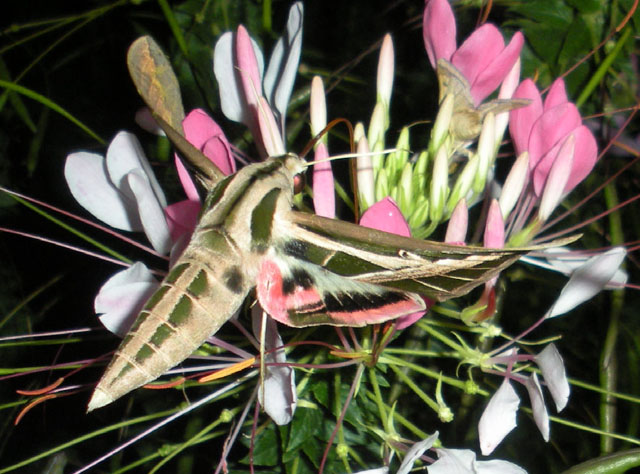 Eumorpha fasciatus Noel Ridge Park, Cedar Rapids, Linn County, Iowa,
October 4, 2013, courtesy of Thomas Jantscher

It also has an extensive range in South America, and flies in southern Argentina: Buenos Aires, Chaco, Cordoba, Corrientes, Entre Rios, Formosa, Misiones, Salta, Santa Fe, Tucuman;
Uruguay;
Brazil: Amapa, Ceara, R.G. do Norte, Paraiba, Rio de Janeiro, Sao Paulo: Aracatuba; Parana;
Colombia: Meta (GN);
Ecuador;
Peru.

With very strong migrating tendencies this moth can probably be found wherever there is sufficient moisture for its larval hosts.

It should also be throughout the Carribean:
Dominican Republic;
Puerto Rico;
Virgin Islands;
St. Kitts;
Montserat;
Guadelupe;
Dominica;
Martinique;
St. Lucia: Dennery;
Bonaire;
and other islands.

I have never seen them on Prince Edward Island, Canada.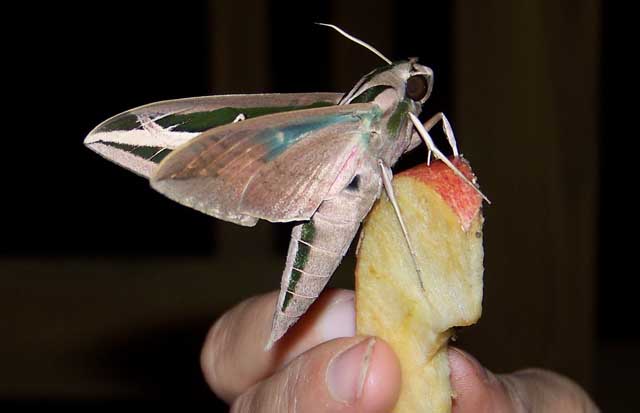 Eumorpha fasciatus emergent moth, Hagan-Stone Park, Pleasant Garden, Guildford County, North Carolina,
October 7, 2009, courtesy of Joanne Stuart.

The upperside of the moth is dark pinkish brown. Each forewing has a lighter brown band along the costa, and sharp pinkish white bands and streaks. The hindwing has a pink patch on the inner margin and pink along the outer margin, distinguishing it from vitis.

Visit Eumorpha fasciatus nectaring, Texas, August, courtesy of Justin & Valerie Valleau.

Visit Eumorpha fasciatus nectaring, Hinesville, Liberty County, Georgia, September, 8, 2009, courtesy of Nicole Janke.

Visit Eumorpha fasciatus, Wauchula, Hardee County, Florida, June 7, 2011, Greg Roehm.

Visit Eumorpha fasciatus, Spring, Harris County, Texas, August 16, 2012, courtesy of Sara.

Visit Eumorpha fasciatus, Terrell, Kaufman County, Texas, August 18, 2015, Barbara Kelly.

Visit Eumorpha fasciatus fasciatus Cabedelo, Paraiba, Brazil, courtesy of Alexander von Buldring.

Visit Eumorpha fasciatus, Aracatuba, Sao Paulo, Brazil, May 11, 2016, courtesy of Luiz Walter Costa Neto.

Visit Eumorpha fasciatus, Extremoz, Rio Grande do Norte, Brazil, September 11, 2016, courtesy of Francierlem Oliveira.

The genus name "Eumorpha" means well-formed.

"Fasciata" means bound together and possibly refers to the network of lines on the forewing, especially the thinner lines "atop" the wider ones.

The pronunciation of scientific names is troublesome for many. The "suggestion" at the top of the page is merely a suggestion. It is based on commonly accepted English pronunciation of Greek names and/or some fairly well accepted "rules" for latinized scientific names.

The suggested pronunciations, on this page and on other pages, are primarily put forward to assist those who hear with internal ears as they read.

There are many collectors from different countries whose intonations and accents would be different.
FLIGHT TIMES AND PREFERRED FOOD PLANTS:
Eumorpha fasciatus fasciatus broods continuously in tropical regions, but in the northern extent of its range is single brooded with adults on from August til November. Veronica L. Gaitan confirms a March 5, 2011, flight in Santa Fe City, Santa Fe, Argentina, with an image, but she indicates the moth emerged in a greenhouse. Possibly the pupae came in soil of potted plant from further north.
Leonardo Aguado confirms a presence in Entre Rios, Argentina, with moths on the wing in February.
Sergio Rios Diaz confirms January-February and May flights in Paraguay.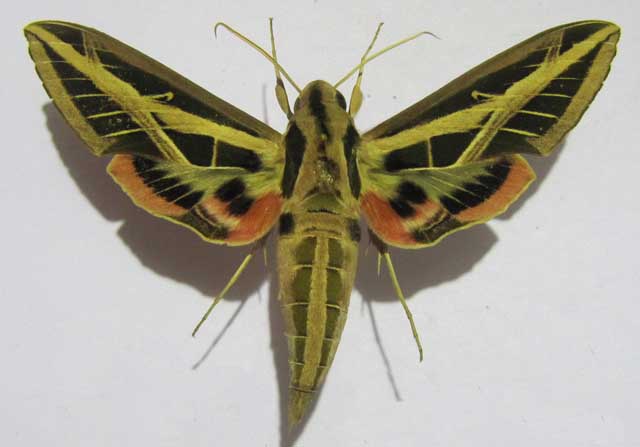 Eumorpha fasciatus, Gualeguychu R 4, Entre Rios, Argentina,
February 2008, courtesy of Leonardo Aguado.
Adults nectar at various flowers in the dark. Eumorpha fasciatus fasciatus larvae feed upon primrose-willow, Ludwigia (water primrose) and other plants in the evening primrose family (Onagraceae). Grapes also serve as larval hosts.
Vist Ludwigia peruviana, courtesy of Shaina Noggle.
ECLOSION, SCENTING AND MATING:
Pupae wiggle to surface just prior to eclosion. Females call at night, and males (below) fly into the wind to pick up and track the pheromone plume.

To the right a moth sits in the typical resting pose.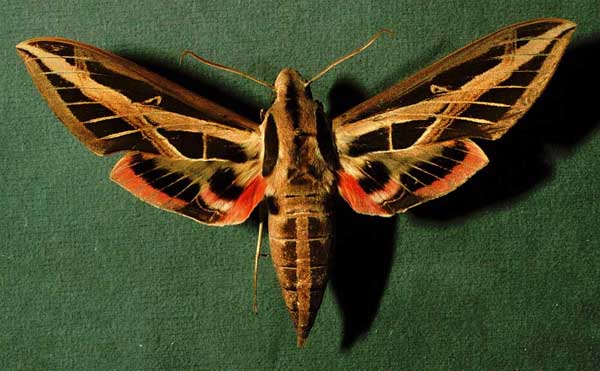 Eumorpha fasciatus fasciatus male courtesy of Dan Janzen.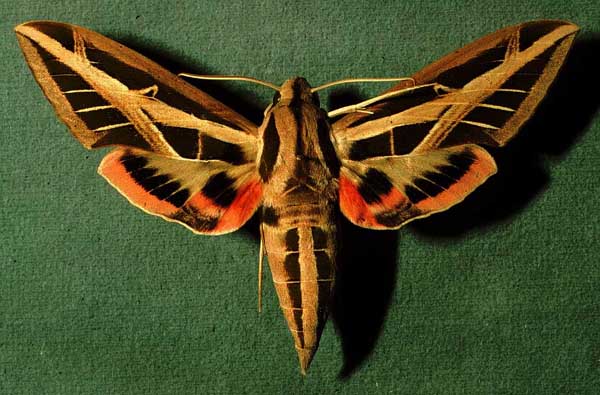 Eumorpha fasciatus fasciatus female courtesy of Dan Janzen.
EGGS, LARVAE AND PUPAE:
Larvae are quite striking and pupate in subterranean burrows. The larvae are also highly variable in patterning and depth of color. Many have considerably more green than the one depicted to the right.

Mature larvae descend from the host to pupate in subterranean burrows. Terre Haute, Indiana, image (below), courtesy of Scott Reely.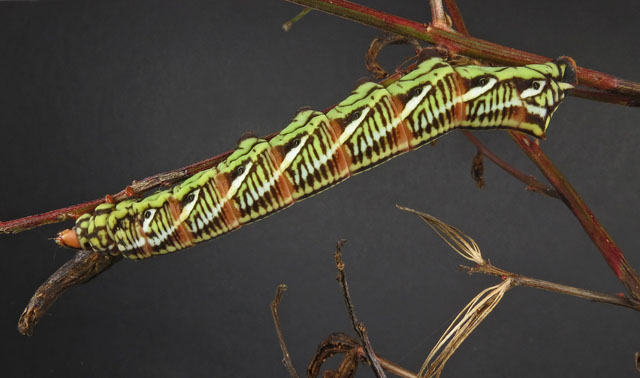 Eumorpha fasciatus fifth instar, Villavicencio, Meta, Colombia,
May 15, 2013, 500m, courtesy of Gregory Nielsen, id by bill Oehlke.
Michael van Buskirk writes (September 2, 2007), "Was out doing a some nature walking this afternoon, about 20 miles north of me, which is actually in the next county. We have been extremely wet, and our vacant lots are getting jungle-like. Bright yellow flowers in the ditch caught my attention, since I was certain they were in the Evening Primrose family. Upon inspection, turned out they were Ludwigia. My hunch was that Eumorpha fasciatus might use this as a host, but I have never taken any at light in TX, and only have seen a few in collections from the area.
"After some searching found (19) ova and (4) ~3rd instar larvae on the plants. Only Lugwigia listed in my most reliable local plant guide Enquist (Wildflowers of the Texas Hill Country) is L. octovalis. Plants were in the ditch and many in standing water. While I do suspect this is Eumorpha fasciatus, have no reference for the earlier instar larvae. Found the ova first, and wondered if they might be H. lineata--some may turn out to be that species as well.
"Know that E. fasciatus is highly variable as a larva. I will take some better pics of the ova and earlier instars if you want for your website. Seems like you have enough 5th instar larvae, unless mine turn out to be something unusual....
"Nothing extraordinary, but was nice to find them on a Sunday walk."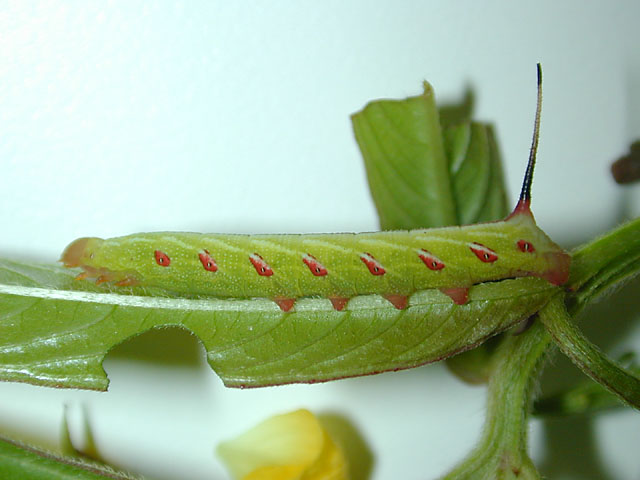 Eumorpha fasciatus third instar, Kendall County, Texas,
September 2, 2007, courtesy of Michael van Buskirk.

Subsequently (September 9, 2007) Michael writes, "Larvae I found last Sunday are definitely E. fasciatus, since two have molted into 5th instar today. That is very fast development. Believe the Water Willow hostplant (Ludwigia octovalis) needs a lot of water, and so the species takes advantage of wet spells, like we have been having here in South Texas recently, and develop quickly. The ova I found have hatched as well, and are all in 2nd instar already as of this morning.

"Not sure if these are useful for your website, but noted you did not have earlier instar pics. Have included the three 4th instar color forms here: pink, yellow-pink, and green (109,110, 113), two just molted 5ths (105 & 106). Use what you can, or just delete. My goal is to rear all the Sphingidae of Texas, and will keep sending you images, for you to pick and choose as you like."

I very much appreciate Michael's efforts. Often the early stages are only identified/confirmed by rearing to fifth instar or even to adult moth stage. It is great to have these earlier instar images as well as the variations. Bill Oehlke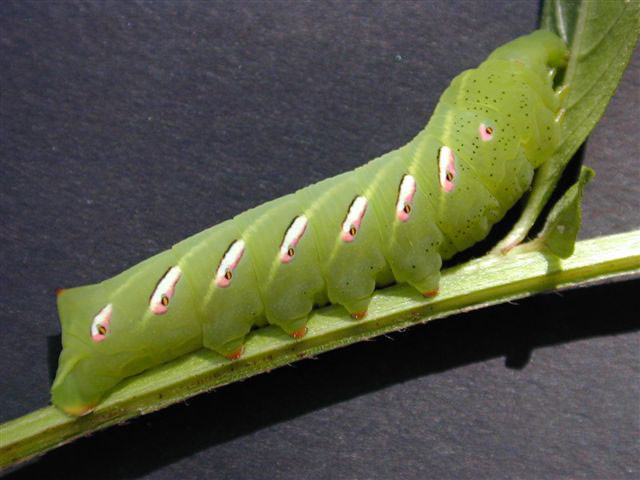 Eumorpha fasciatus fourth instar (green form), Kendall County, Texas,
September 7, 2007, courtesy of Michael van Buskirk.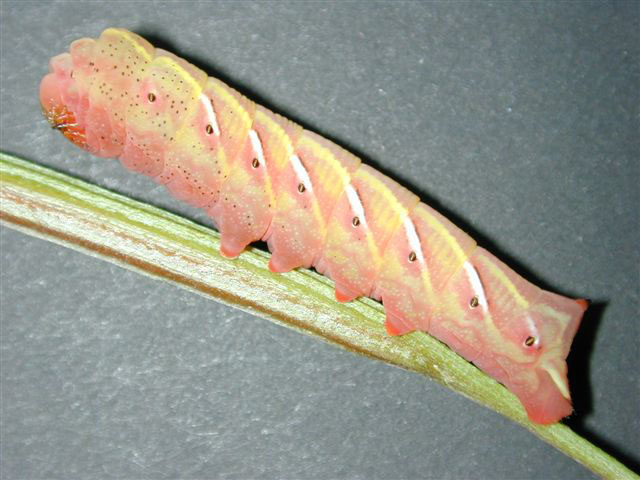 Eumorpha fasciatus fourth instar (yellow-pink form), Kendall County, Texas,
September 7, 2007, courtesy of Michael van Buskirk.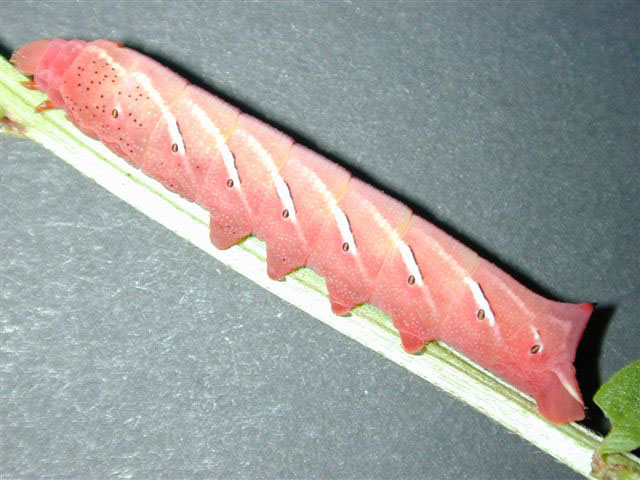 Eumorpha fasciatus fourth instar (pink form), Kendall County, Texas,
September 7, 2007, courtesy of Michael van Buskirk.

I have not included Michael's images of fifth instar larvae, as they are well depicted on the image below.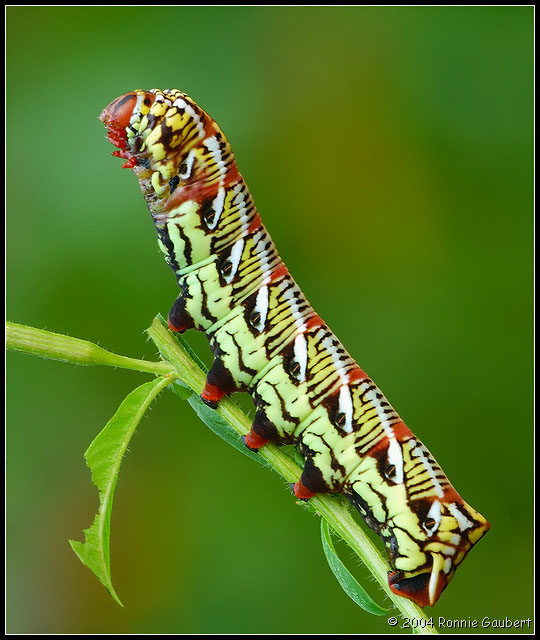 Eumorpha fasciatus, Jean Lafitte National Park, Lafitte Louisiana, Saturday, 9/25/04,
courtesy of Ronnie Gaubert, copyright.
Jim Tuttle, August 24, 2005 writes, "In my experience the caterpillars of this species are the most variable of all of the sphingids. The hostplant (below) is definitely one of the Ludwigia species (primrose willows).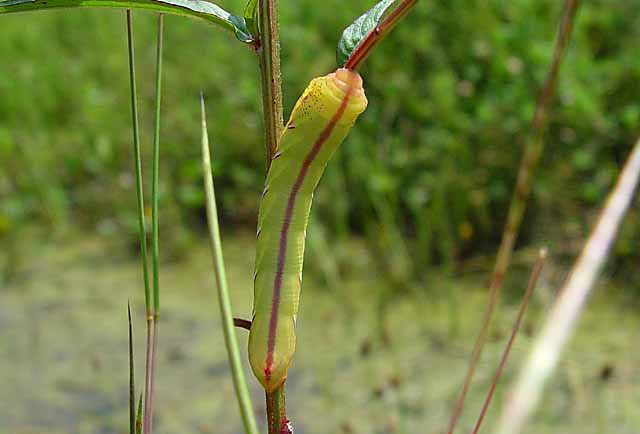 Eumorpha fasciatus, Bayou George, (western Florida, Bay County), courtesy of May Lattanzio.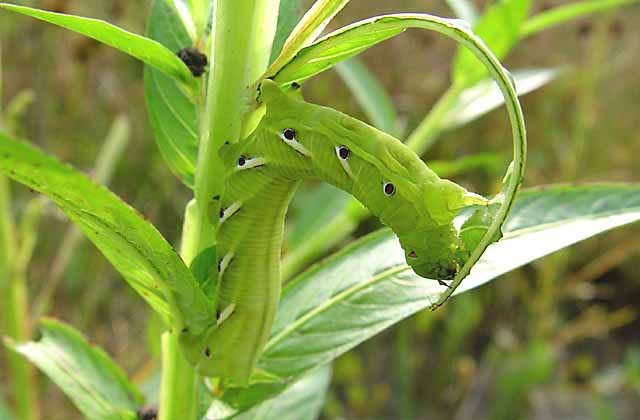 Eumorpha fasciatus, Bayou George, (western Florida, Bay County), courtesy of May Lattanzio.

Note the nubby "horn" and the black spiracular circles intersecting the white lateral lines.

Michael van Buskirk has sent an image of the very dark pupa of Eumorpha fasciatus as well as images of the beautiful emergent moth.

Visit Eumorpha fasciatus larva and pupa, Orlando, Orange County, Florida, courtesy of Shay Grech.

Visit Eumorpha fasciatus larva and pupa, Bon Secour, Baldwin County, Alabama, courtesy of Dirk Bayer. Augusto Rosa, Sao Paulo, Brazil, reports mature larvae pupate within three days of leaving foliage and moths emerge about 25 days after pupation.
Larval Food Plants
Listed below are primary food plant(s) and alternate food plants. It is hoped that this alphabetical listing followed by the common name of the foodplant will prove useful. The list is not exhaustive. Experimenting with closely related foodplants is worthwhile.
Cissus verticillata
Fuchsia hybrida
Ludwigia decurrens
Ludwigia erecta
Ludwigia leptocarpa.......
Ludwigia octovalvis
Ludwigia peruviana
Ludwigia repens
Magnolia virginiana
Parthenocissus
Vitis


Seasonvine/Possum grape
Hybrid fuchsia
Upright Primrose Willow
Yerba de jicotea
Anglestem primrose willow
Mexican primrose-willow
Peruvian Primrose-willow
Red ludwigia
Sweetbay magnolia/Swamp magnolia
Virginia creeper
Grape

Use your browser "Back" button to return to the previous page.

Return to U. S. A. Table
Return to Philampelini Index
Return to Sphingidae Index

Use your browser "Back" button to return to the previous page.

This page is brought to you by Bill Oehlke and the WLSS. Pages are on space rented from Bizland. If you would like to become a "Patron of the Sphingidae Site", contact Bill.

Please send sightings/images to Bill. I will do my best to respond to requests for identification help.

Enjoy one of nature's wonderments: Live Saturniidae (Giant Silkmoth) cocoons.

Show appreciation for this site by clicking on flashing butterfly to the left.
The link will take you to a page with links to many insect sites.