Erinnyis guttularis
Walker, 1856

Erinnyis guttalaris Petionville, Haiti,
June 8, 1930, Cornell University Collection via Ryan Saint Laurent
This site has been created by Bill Oehlke at oehlkew@islandtelecom.com
Comments, suggestions and/or additional information are welcomed by Bill.
TAXONOMY:

Family: Sphingidae, Latreille, 1802
Subfamily: Macroglossinae, Harris, 1839
Tribe: Dilophonotini, Burmeister, 1878
Genus: Erinnyis Hubner, [1819] ...........
Species: guttularis Walker, 1856


MIDI MUSIC
.....It's a Wonderful World.....
copyright C. Odenkirk


ON.OFF

DISTRIBUTION:
Erinnyis guttularis (Wing span: males: 29mm; females: 33mm), flies in the Dominican Republic, the specimen type locality.
It is known from Cuba, Jamaica and the Bahamas (Wiki).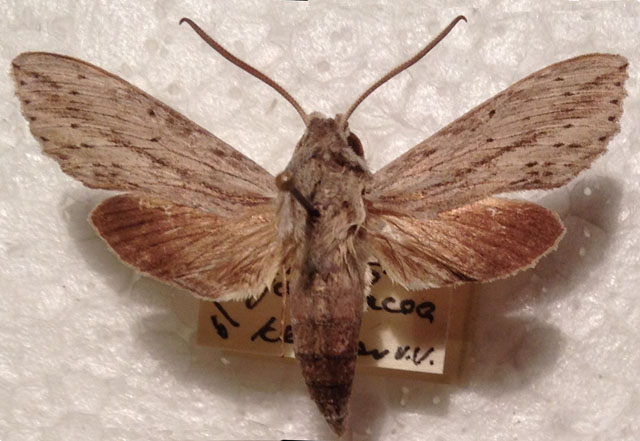 Erinnyis guttularis male, Jarabacoa, Dominican Republic,
29mm, courtesy of Vadim Kroutov.
FLIGHT TIMES:
Erinnyis guttularis probably broods continuously in the tropics.
Adults nectar at flowers.
ECLOSION:
Adults eclose from pupae formed in loose cocoons spun among surface litter. SCENTING AND MATING:Females call in the males with a pheromone released from a gland at the tip of the abdomen.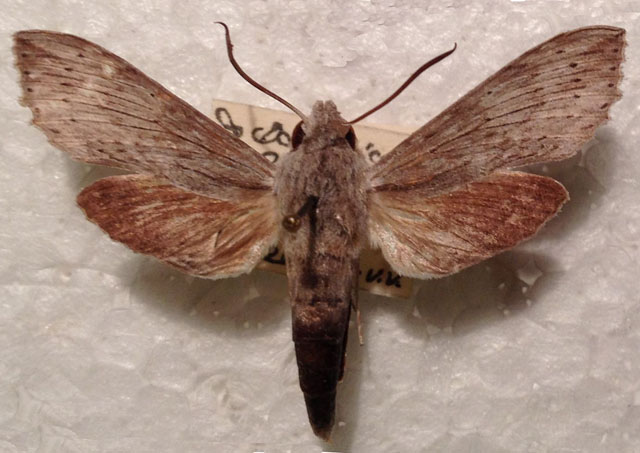 Erinnyis guttularis female, Jarabacoa, Dominican Republic,
33mm, courtesy of Vadim Kroutov.
EGGS, LARVAE, PUPAE:
Larvae probably feed on papaya (Carica papaya), nettlespurge (Jatropha), and allamanda (Allamanda).
Goto U. S. A. Table
Return to Sphingidae Index
Return to Dilophonotini Tribe
Goto Central American Indices
Goto South American Indices