Eumorpha mirificatus
you-MOR-fuhmmmeer-ih-fih-CAY-tuhs
(Grote, 1875) Philampelus

Eumorpha mirificatus male, Cuba, courtesy of Tomas Melichar.
This site has been created by Bill Oehlke at oehlkew@islandtelecom.com
Comments, suggestions and/or additional information are welcomed by Bill.
TAXONOMY:

Superfamily: Sphingoidea, Dyar, 1902
Family: Sphingidae, Latreille, 1802
Subfamily: Macroglossinae, Harris, 1839
Tribe: Philampelini, Burmeister
Genus: Eumorpha Hubner, [1807]
Species: mirificatus (Grote, 1875)

MIDI MUSIC
"What.A.Wonderful.World"
copyright C. Odenkirk
MIDI CITY


ON.OFF

DISTRIBUTION:
Eumorpha mirificatus flies in the western tip of Cuba. This moth is elevated to full species status, Kitching and Cadiou, 2000.
The forewing has an olive green ground colour with a white line along the outer margin.
FLIGHT TIMES AND PREFERRED FOOD PLANTS:
Eumorpha mirificatus adults are on the wing from ??
Eumorpha mirificatus larvae feed upon plants in the Vitaceae family.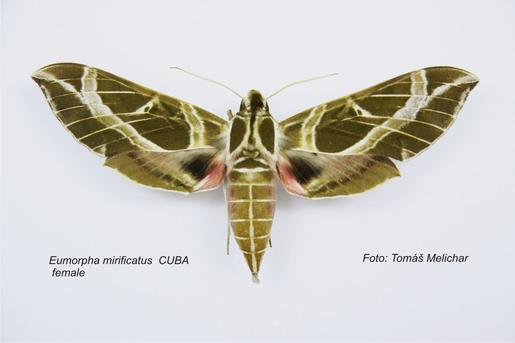 Eumorpha mirificatus female, Cuba, courtesy of Tomas Melichar.
ECLOSION, SCENTING AND MATING:
Pupae wiggle to surface just prior to eclosion. Females call at night, and males fly into the wind to pick up and track the pheromone plume. EGGS, LARVAE AND PUPAE:
Larval Food Plants
Listed below are primary food plant(s) and alternate food plants. It is hoped that this alphabetical listing followed by the common name of the foodplant will prove useful. The list is not exhaustive. Experimenting with closely related foodplants is worthwhile.
Return to Philampelini Index

Return to Sphingidae Index