Updated as per

AN ANNOTATED CHECKLIST OF THE SPHINGIDAE OF BOLIVIA

, October 2007

Updated as per More, Kitching and Cocucci's

Hawkmoths of Argentina

2005, October, 2007

Updated as per personal communication with Fernando Penco, May 2008

Updated as per personal communication with Nigel venters (Tafe de Valle, Tucuman, Argentina, November 18, 2009, 2000m); November 29, 2009

Updated as per personal communication with Ezequiel Bustos (Shilap revta. lepid. 43 (172) diciembre, 2015, 615-631 eISSN 2340-4078 ISSN 0300-5267), January 4, 2016
Eumorpha neuburgeri
(Rothschild & Jordan, 1903) Pholus

Eumorpha neuburgeri, Argentina: Tucuman: Cochuna, courtesy of Fernando Penco, late November-early December.

This site has been created by Bill Oehlke at oehlkew@islandtelecom.com
Comments, suggestions and/or additional information are welcomed by Bill.
TAXONOMY:

Superfamily: Sphingoidea, Dyar, 1902
Family: Sphingidae, Latreille, 1802
Subfamily: Macroglossinae, Harris, 1839
Tribe: Philampelini, Burmeister
Genus: Eumorpha, Hubner, [1807]
Species: neuburgeri, (Rothschild & Jordan, 1903)

MIDI MUSIC
"What.A.Wonderful.World"
copyright C. Odenkirk
MIDI CITY


ON.OFF

DISTRIBUTION:
Eumorpha neuburgeri (wingspan: approximately 98-106mm) flies in
Argentina: Catamarca, Jujuy, Tucuman (1300-2000m), La Rioja, Salta, and
Bolivia: Santa Cruz: Ichilo, Buena Vista.
Fernando Penco reports this species flies in the same location (Cochuna, Tucuman, Argentina) as do Sphinx phalerata, March; Xylophanes schreiteri, common in February-March and October-November; Sphinx aurigutta, November-December; Manduca undata December.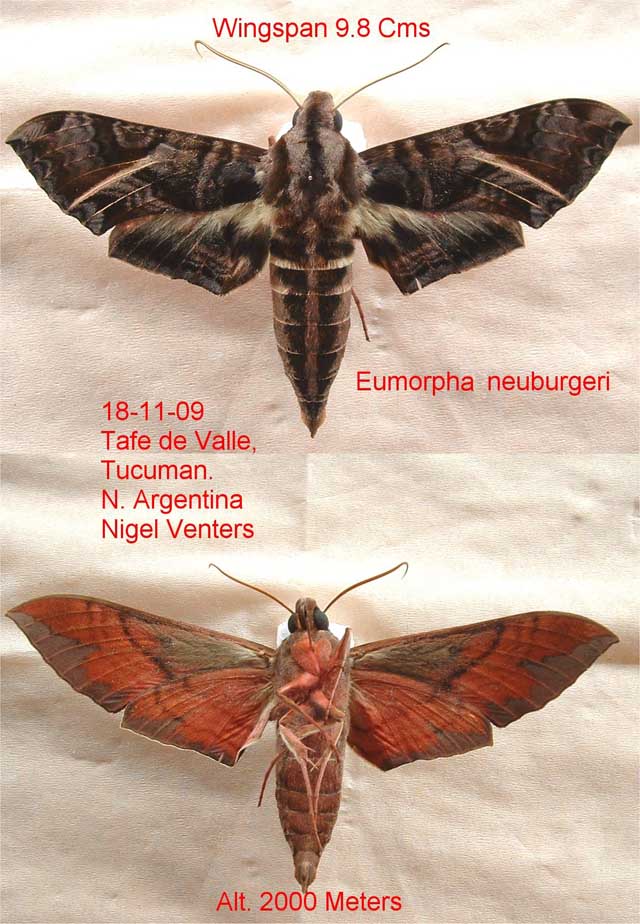 Eumorpha neuburgeri, 98mm, Tafe de Valle, Tucuman, Argentina,
November 18, 2009, 2000m, courtesy of Nigel Venters.
FLIGHT TIMES AND PREFERRED FOOD PLANTS:
Eumorpha neuburgeri adults are on the wing in late November early December in Cochuna, Tucuman Province, Argentina.
Eumorpha neuburgeri larval hosts are unknown.
ECLOSION, SCENTING AND MATING:
Pupae wiggle to surface just prior to eclosion. Females call at night, and males fly into the wind to pick up and track the pheromone plume. EGGS, LARVAE AND PUPAE:
Larval Food Plants
Listed below are primary food plant(s) and alternate food plants. It is hoped that this alphabetical listing followed by the common name of the foodplant will prove useful. The list is not exhaustive. Experimenting with closely related foodplants is worthwhile.
Return to Philampelini Index

Return to Sphingidae Index

Use your browser "Back" button to return to the previous page.