Updated as per

http://www.pybio.org/MACROGLOSSINAE.htm (Paraguay)

, November 2007

Updated as per personal communication with Johan van't Bosch (Mato Grosso, Brazil, September 22), March 2008

Updated as per More, Kitching and Cocucci's

Hawkmoths of Argentina

2005, December 2009

Updated as per

AN ANNOTATED CHECKLIST OF THE SPHINGIDAE OF BOLIVIA

, December 2009

Updated as per personal communication with Gregory Nielsen (Villavivencio, Meta, Colombia, January 10, 2011, 500m); February 7, 2011

Updated as per personal communication with Shirley Sekarajasingham (Loreto, Peru, September 22, 2008); October 5, 2012

Updated as per personal communication with Sergio D. Ríos Díaz in

CATÁLOGO DE LOS SPHINGIDAE (INSECTA: LEPIDOPTERA) DEPOSITADOS EN EL MUSEO NACIONAL DE HISTORIA NATURAL DEL PARAGUAY

; sent to me in July 2014 by Sergio D. Ríos Díaz.

Updated as per personal communication with Joanna Rodriguez Ramirez (Catamarca; San Luis; Argentina), January 21, 2015

Updated as per personal communication with Bedros Orchanian (Cozumel, Quintana Roo, Mexico); January 27, 2015

Updated as per personal communication with Ezequiel Bustos (Shilap revta. lepid. 43 (172) diciembre, 2015, 615-631 eISSN 2340-4078 ISSN 0300-5267), January 4, 2016
Erinnyis oenotrus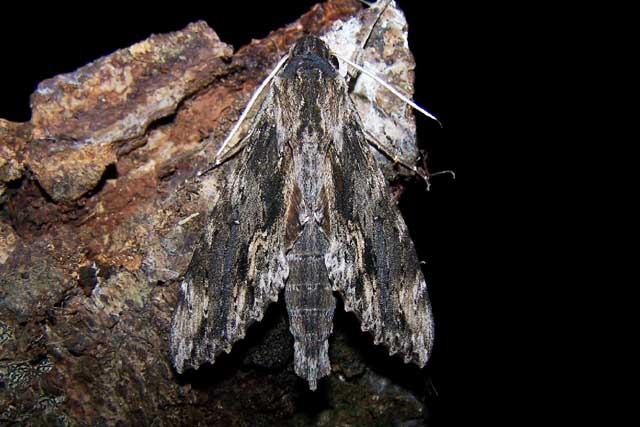 Erinnyis oenotrus Paraguay, PYBIO
This site has been created by Bill Oehlke at oehlkew@islandtelecom.com
Comments, suggestions and/or additional information are welcomed by Bill.
TAXONOMY:

Family: Sphingidae, Latreille, 1802
Subfamily: Macroglossinae, Harris, 1839
Tribe: Dilophonotini, Burmeister, 1878
Genus: Erinnyis Hubner, [1819] ...........
Species: oenotrus Cramer 1782


MIDI MUSIC
.....It's a Wonderful World.....
copyright C. Odenkirk


ON.OFF

DISTRIBUTION:
The Oenotrus Sphinx, Erinnyis oenotrus (Wing span: 2 7/8 - 3 3/8 inches (7.3 - 8.6 cm)), flies in tropical and subtropical lowlands in
Paraguay: Alto Paraguay, Boqueron, Presidente Hayes, Concepcion, Canideyu, Central, Amambay, San PedroAlto Parana, Caaguazu, Cordillera, Paraguari, Guaira, (probably Caazapa and Itapua);
Brazil: Mato Grosso;
Bolivia: Beni, La Paz, Cochabamba, Santa Cruz;
Peru: Loreto (SS) and;
Argentina: Buenos Aires, Cordoba, Corrientes, Formosa, Jujuy, Misiones, Salta, Tucuman, Catamarca and San Luis (JRR);
north through Central America,
Mexico: Quintana Roo: Cozumel, and the West Indies.
This species occasionally strays into Florida and southern Texas in July.
Surinam is the specimen type locality.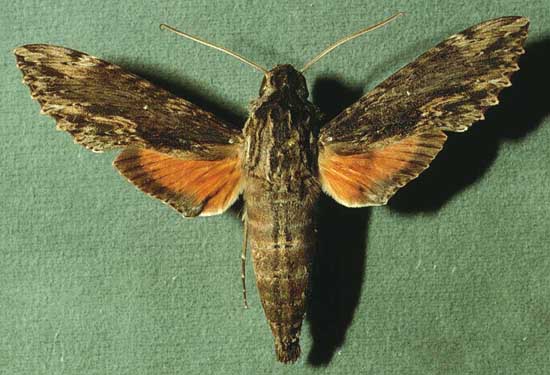 Erinnyis oenotrus male courtesy of Dan Janzen.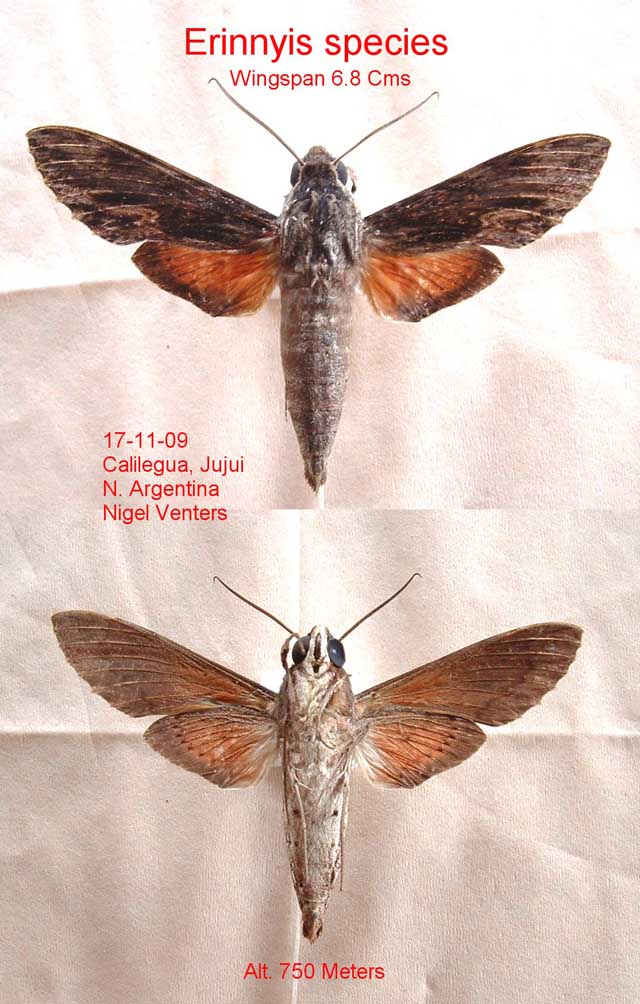 Erinnyis oenotrus, 68mm, Calilegua, Jujuy, Argentina,
November 17, 2009, 750m, courtesy of Nigel Venters.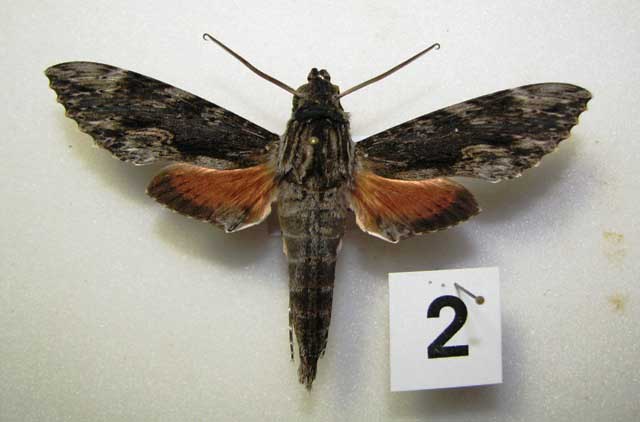 Erinnyis oenotrus, Cozumel, Quintana Roo, Mexico,
courtesy of Bedros Orchanian.
The underside of the abdomen has two black spots. The male's forewing is dark brown, while the female's forewing is gray with mottled brown markings. The black border of the hindwing blends (blurs) into the orange background color. Related species have more distinct orange and black areas.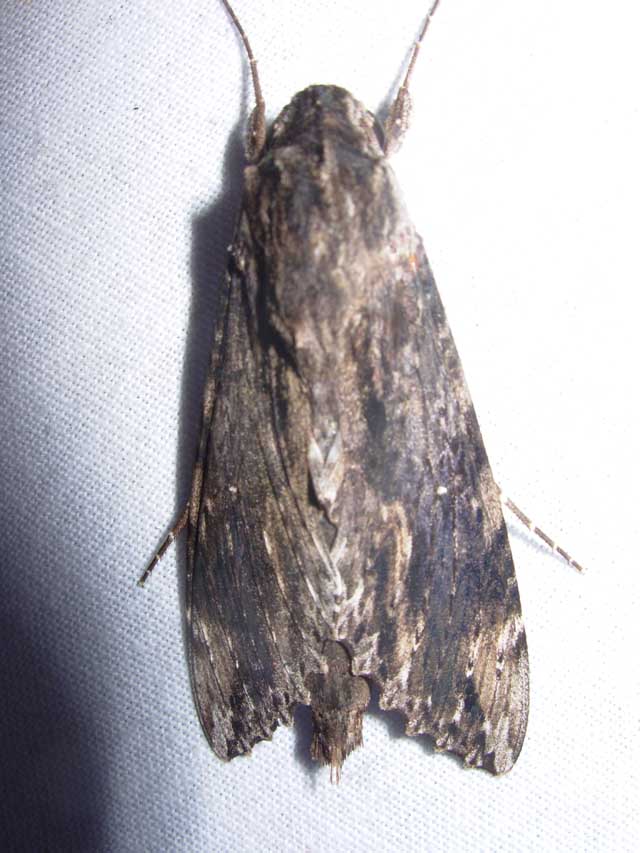 Erinnyis oenotrus, Yacutinga Private Reserve, Misiones Province,
(near border between Argentina and Brazil),
courtesy/copyright of Ezequiel Osvaldo Núñez Bustos.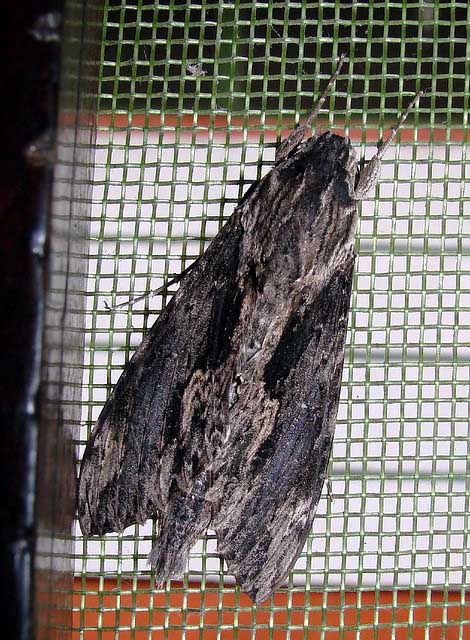 Erinnyis oenotrus male, Loreto, Peru,
September 22, 2008, courtesy of Shirley Sekarajasingham, id by Bill Oehlke
FLIGHT TIMES:
Erinnyis oenotrus broods continuously in the tropics.
Sergio Rios Diaz confirms flights in February, May-June, August and December in Paraguay. During the night adults nectar at flowers, including bouncing bet (Saponaria officinalis).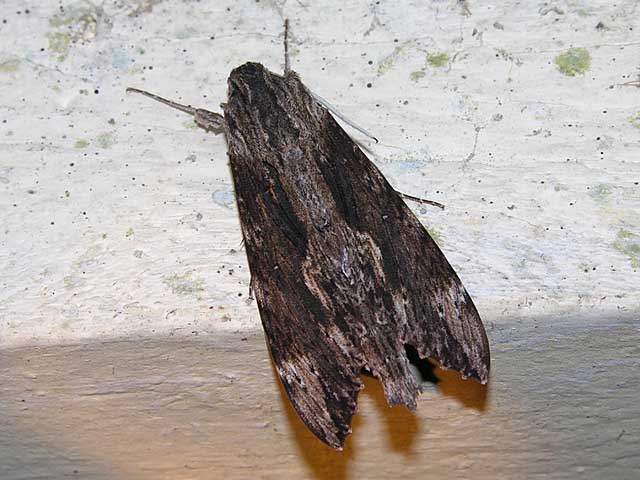 Erinnyis oenotrus, Cristalino Jungle Lodge, Mato Grosso, Brazil,
September 22, 2007, 71m, courtesy/copyright of Johan van't Bosch.
ECLOSION:

Adults eclose from pupae formed in loose cocoons spun among surface litter. Eclosions can occur within fourteen days.

Erinnyis oenotrus pupa courtesy of Dan Janzen.
SCENTING AND MATING:
Females call in the males with a pheromone released from a gland at the tip of the abdomen.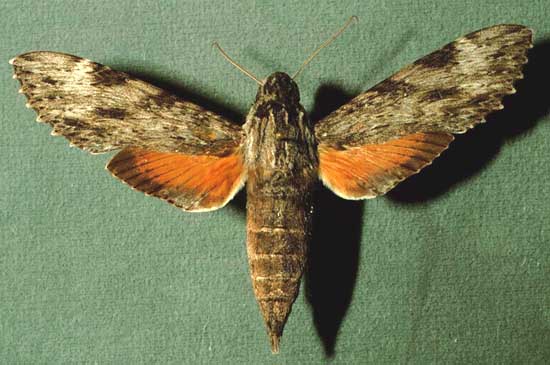 Erinnyis oenotrus female courtesy of Dan Janzen.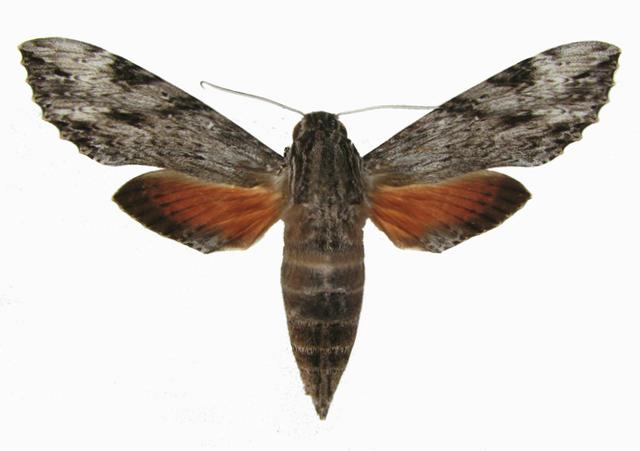 Erinnyis oenotrus female, Villavivencio, Meta, Colombia,
January 10, 2011, 500m, courtesy of Gregory Nielsen.
EGGS, LARVAE, PUPAE:
Larvae feed on Forsteronia spicata and other species in the dogbane family (Apocynaceae).

Erinnyis oenotrus dark colour morph, dorsal, courtesy of Dan Janzen.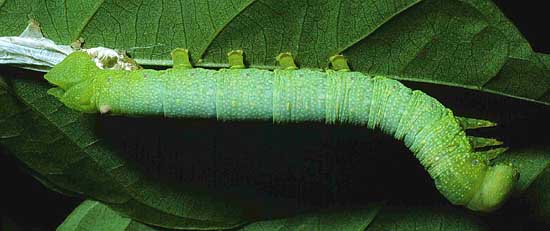 Erinnyis oenotrus green form courtesy of Dan Janzen.
Return to U. S. A. Table
Return to Sphingidae Index
Return to Dilophonotini Tribe