Eumorpha satellitia posticatus
you-MOR-fuhmmsat-el-LYTE-ee-uhmmpoh-stih-CAY-tus
(Grote, 1865) Philampelus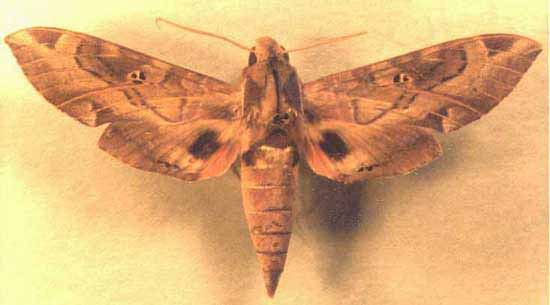 Eumorpha satellitia posticatus courtesy of V. A. Brou.
This site has been created by Bill Oehlke at oehlkew@islandtelecom.com
Comments, suggestions and/or additional information are welcomed by Bill.
TAXONOMY:

Superfamily: Sphingoidea, Dyar, 1902
Family: Sphingidae, Latreille, 1802
Subfamily: Macroglossinae, Harris, 1839
Tribe: Philampelini, Burmeister,
Genus: Eumorpha, Hubner, [1807]
Species: posticatus (Grote, 1865)

MIDI MUSIC
"What.A.Wonderful.World"
copyright C. Odenkirk
MIDI CITY


ON.OFF

DISTRIBUTION:
Eumorpha satellitia posticatus flies in
Cuba: Guantanamo and the
Bahamas.
Vernon A. Brou indicates this species is often mistakingly synononymized with satellitia.
Kitching and Cadiou, 2000 describe this subspecies: "It differs markedly from both s. satellitia and s. licaon in having much more boldly and contrastingly patterned forewings and a bright pink anal patch on the hindwings."
More similar to Eumorpha mirificatus and Eumorpha strenua than Eumorpha satellitia satellitia and Eumorpha satellitia licaon.
Upperside pattern of body and wings much more well-defined and vivid than Eumorpha satellitia satellitia. Abdomen with a narrow but distinct, continuous dorsal band running posteriad from segment 2. Forewing upperside with the dark patch midway along posterior margin triangular (rather than rhombiform as in Eumorpha satellitia satellitia); a broad pale postmedian band running from the posterior margin, parallel to the outer margin before curving to the costa anteriorly (reminiscent of Eumorpha vitis vitis but without the pale band running from the wing base to the postmedian band). Hindwing upperside with inner margin pink (as in Eumorpha analis) not brown (as in Eumorpha satellitia satellitia; the series of black submarginal spots between CuA1 and 1A continued towards costa as a distinct submarginal line. CATE
FLIGHT TIMES AND PREFERRED FOOD PLANTS:
Eumorpha satellitia posticatus adults are on the wing from ???? Eumorpha satellitia posticatus larvae probably feed upon Grape (Vitis), Virginia Creeper (Parthenocissus quinquefolia) and other vines and ivies (Ampelopsis).
ECLOSION, SCENTING AND MATING:
Pupae wiggle to surface just prior to eclosion. Females call at night, and males fly into the wind to pick up and track the pheromone plume. EGGS, LARVAE AND PUPAE:
Larval Food Plants
Listed below are primary food plant(s) and alternate food plants. It is hoped that this alphabetical listing followed by the common name of the foodplant will prove useful. The list is not exhaustive. Experimenting with closely related foodplants is worthwhile.
Parthenocissus quinquefolia.....
Vitis
Ampelopsis

Virginia creeper
Grape
Vines and Ivies
Return to Philampelini Index

Return to Sphingidae Index