Updated as per personal communication with Jose Monzon (Guatemala); May 2009

Updated as per

AN ANNOTATED CHECKLIST OF THE SPHINGIDAE OF BOLIVIA

, December 2009

Updated as per

Sphingidae (Lepidoptera) de Venezuela

, Compilado por: María Esperanza Chacín; December 2009

Updated as per

CATE Sphingidae

(Belize, Mexico, Costa Rica, Panama, Ecuador,); April 12, 2011

Updated as per

French Guiana Systematics

; April 12, 2011

Updated as per personal communication with Andres Urbas (near Kaw Mountains, French Guiana, April 1, 2011), April 20, 2011

Updated as per personal communication with Jim Hogue (Loreto, Peru, February 17-18, 2011), May 12, 2011

Updated as per personal communication with Torsten van der Heyden (Costa Rica); March 30, 2014

Updated as per personal communication with Maxime Pastore (

Unzela pronoe, Refugio Bartola, El Castillo, Rio San Juan, Nicaragua, January 7, 2015); February 15, 2016

Unzela pronoe pronoe
Druce, 1894
Unzela pronoe pronoe, Venezuela, from Hawkmoths of Venezuela,
courtesy of Dr. María Esperanza Chacín and José Clavijo A., Ph.D.
This site has been created by Bill Oehlke at oehlkew@islandtelecom.com
Comments, suggestions and/or additional information are welcomed by Bill.
TAXONOMY:

Family: Sphingidae, Latreille, 1802
Subfamily: Macroglossinae, Harris, 1839
Tribe: Dilophonotini, Burmeister, 1878
Genus: Unzela Walker, 1856 ...........
Species: pronoe pronoe Druce, 1894


MIDI MUSIC
.....It's a Wonderful World.....
copyright C. Odenkirk


ON.OFF

DISTRIBUTION:
Unzela pronoe pronoe (wingspan: approx. 53-58mm) flies in Guatemala and Honduras to Amazonia. The specimen type locality is Belize: Stann Creek. It has also been recorded in
Panama: Chiriqui;
Costa Rica: Cartago; Alajuela; Puntarenas; Heredia; Guanacaste; San Jose;
Venezuela: Amazonas;
French Guiana: Saint Georges de l'Oyapock; Kaw;
Brazil: Para;
Ecuador: Mancas (probably Macas in Morona-Santiago);
Peru: Loreto (JH);
and from as far south as
Bolivia: La Paz (750-1100m).
Although not confirmed in the following countries, I suspect it is present in Nicaragua (now confirmed); Colombia; Guyana; and Suriname.
This species has now been confirmed in Nicaragua, by Maxime Pastore & Norma Bonilla Ingram, 2015 with a sighting and image from Refugio Bartola, El Castillo, Rio San Juan, Nicaragua, January 7th, 2015.
Maxime writes, "It was found resting under a palm roof of the Refugio, in the evening. I didn't have a good camera but I could take the pic you will find here below. I didn't capture the individual.
"ID thanks to Jean Haxaire (F). Jean-Michel Maes, Director, Museo Entomologico de León (NIC), confirmed the first record for Nicaragua."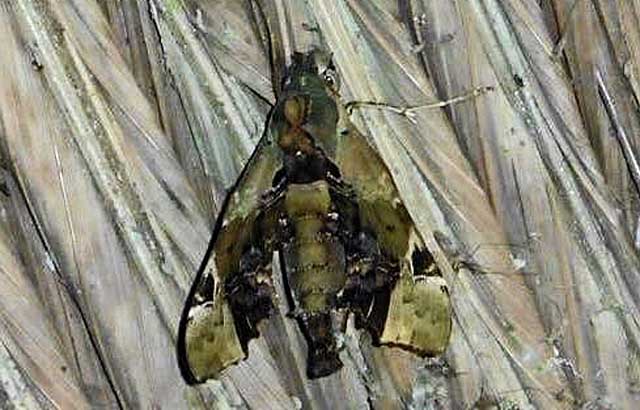 Unzela pronoe, Refugio Bartola, El Castillo, Rio San Juan, Nicaragua,
January 7, 2015, courtesy of Maxime Pastore & Norma Bonilla Ingram.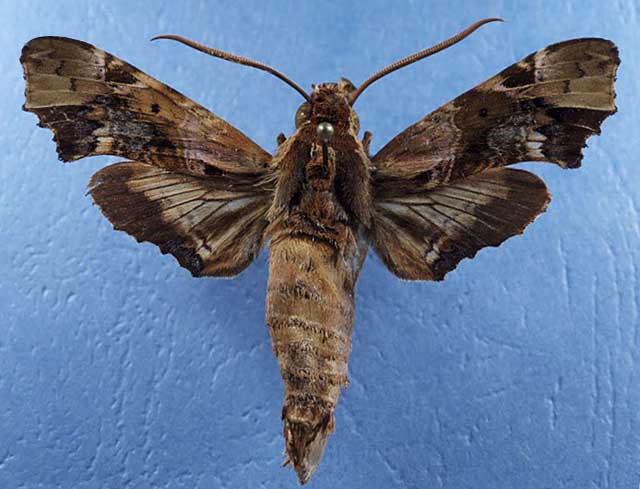 Unzela pronoe Rio Ucayali, NE of Saquena, Loreto, Peru,
February 16-17, 2011, 110m, courtesy of Hartmut Wisch, via Jim Hogue.
Dr. James N. Hogue (JH), Dept. of Biology, Californina State University, has just confirmed Unzela pronoe in PERU: Depto. Loreto, Rio Ucayali, NE of Saquena, 4.56 degrees South 73.49 degrees West, elev. 110 m, 16-17 February 2011, B. J. Hogue.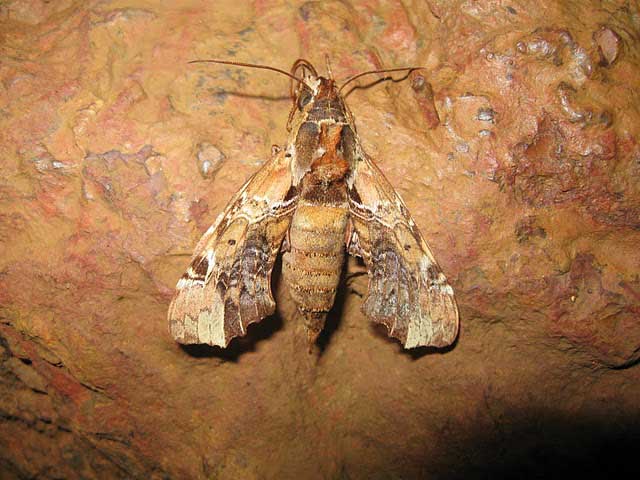 Unzela pronoe, near Kaw Mountains, French Guiana,
April 1, 2011, courtesy of Andres Urbas.
The dorsal forewing is similar to that of Unzela japix japix but the dark cell mark is in strong contrast to the lighter brown surrounding median area. The outer am line is angulate or sinuate in pronoe but very straight in japix.
FLIGHT TIMES:
Unzela pronoe pronoe flies in February in Peru (JH). It has also been taken in French Guiana in February and in April.
There are records form Costa Rica in November. I belive there are three generations per year in Costa Rica.
ECLOSION:
Adults eclose from pupae formed in loose cocoons in shallow underground burrows. SCENTING AND MATING:Females call in the males with a pheromone released from a gland at the tip of the abdomen. EGGS, LARVAE, PUPAE:Larvae possibly feed on Vitus tiliifolia and other members of the Vitaceae family: Vitis, Cissus rhombifolia, Ampelopsis, , however, this genus may be limited to Dilleniaceae. Tetracera volubilis, Curatella americana, Tetracera hydrophila and Doliocarpus multiflorus of the Dilleniaceae family likely also serves as a host, as does Ludwigia of the Onagraceae.
The "horn" is very long in early instars and head is relatively large. As the larva matures, the body develops rapidly, leaving the head relatively small and the "horn" relatively short.
The pupa is dark and smooth with a sharp cremaster.
Return to Sphingidae Index
Return to Dilophonotini Tribe
Use your browser "Back" button to return to the previous page.
This page is brought to you by Bill Oehlke and the WLSS. Pages are on space rented from Bizland. If you would like to become a "Patron of the Sphingidae Site", contact Bill.
Please send sightings/images to Bill. I will do my best to respond to requests for identification help.
Enjoy one of nature's wonderments: Live Saturniidae (Giant Silkmoth) cocoons.

Show appreciation for this site by clicking on flashing butterfly to the left.
The link will take you to a page with links to many insect sites.