Updated as per

AN ANNOTATED CHECKLIST OF THE SPHINGIDAE OF BOLIVIA

, October 2007

Updated as per More, Kitching and Cocucci's

Hawkmoths of Argentina

2005, October, 2007

Updated as per

http://biological-diversity.info/sphingidae.htm (Belize)

, November 2007

Updated as per

Fauna Entomologica De Nicarauga

, November 2007

Updated as per

The Known Sphingidae of Costa Rica

, November 2007

Updated as per personal communication with Ben Trott (Playa del Carmen, Quintana Roo, Mexico); February 25, 2012

Updated as per personal communication with Vadim Kroutov (Sao Bento do Sul, Brazil); March 1, 2015
Eumorpha triangulum
you-MOR-fuhMtrye-ang-Gewe-luhm
Rothschild & Jordan, 1903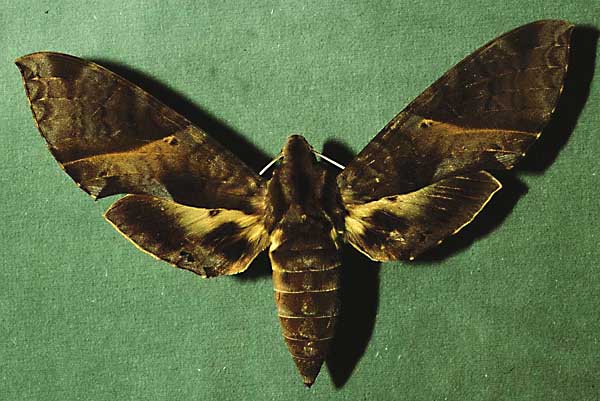 Eumorpha triangulum female courtesy of Dan Janzen.
This site has been created by Bill Oehlke at oehlkew@islandtelecom.com
Comments, suggestions and/or additional information are welcomed by Bill.
TAXONOMY:

Superfamily: Sphingoidea, Dyar, 1902
Family: Sphingidae, Latreille, 1802
Subfamily: Macroglossinae, Harris, 1839
Tribe: Philampelini, Burmeister
Genus: Eumorpha, Hubner, [1807]
Species: triangulum, Rothschild & Jordan, 1903

MIDI MUSIC
"What.A.Wonderful.World"
copyright C. Odenkirk
MIDI CITY


ON.OFF

DISTRIBUTON:
Eumorpha triangulum (wingspan: males: 99-119mm; females: 103-130 mm) flies in
Mexico: Quintana Roo (BT), and elsewhere;
Belize: Corozol, Cayo, Toledo;
Guatemala: Izabal (JM);
Honduras;
Nicaragua: Nueva Segovia, Jinotega, Matagalpa, Zelaya, Rio San Juan;
Costa Rica: Guanacaste, Puntarenas, Cartago, Alajuela, Heredia, Limon, San Jose;
Panama; and into
Colombia;
Ecuador;
Peru;
Bolivia: Sant Cruz, La Paz (600-1000m);
Argentina: Misiones, Tucuman (139-450m) (questionable presence in Argentina, 2015;
Brazil: Sao Bento do Sul (VK);
and possibly southeastern Paraguay: Itapua.
This species flies in Costa Rican rain forests and cloud forests.
Eumorpha triangulum, Arenal Lodge Hotel, Alejuela, Costa Rica,
September 22, 2008, courtesy of Pat and Tony James, id confirmed by Bill Oehlke.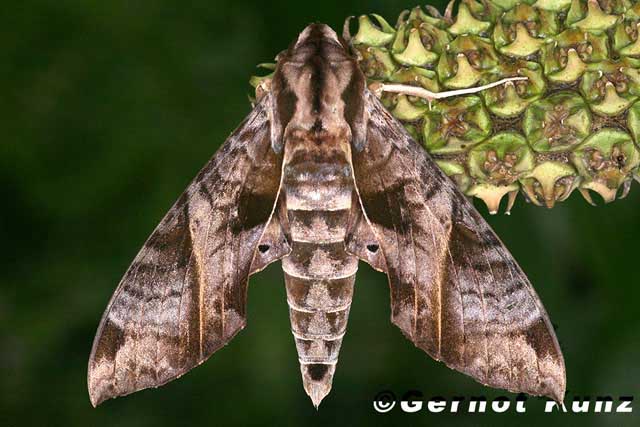 Eumorpha triangulum, N P Piedras Blancas, Puntarenas, Costa Rica,
July 7, 2008, 65m, courtesy of Gernot Kunz, tentative id by Bill Oehlke.

I have identified the Eumorpha specimen, directly above, as E. triangulum based on the dark trapezoidal patch emanating from the costa just prior to the apex. In E. triangulum this patch continues into the next intraneural segment while in the very similar E. anchemolus the same area remains a trapezoid without the "tailed" extension into the next section. E. triangulum is noted by Dan Janzen as a rain forest/cloud forest species, and the higher altitude that would be experienced at the Arenal Lodge is probably more to the liking of E. triangulum as compared to E. anchemolus.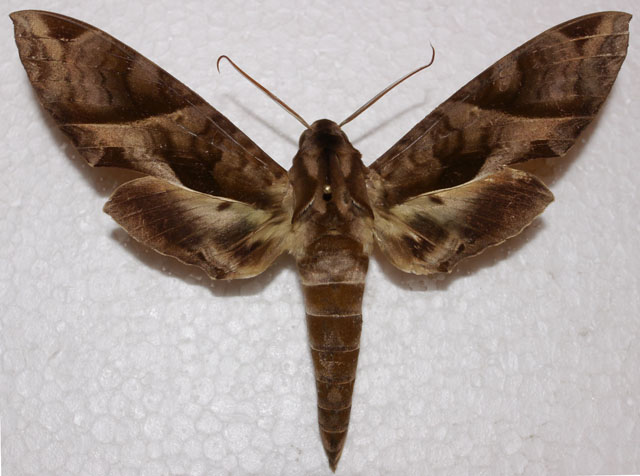 Eumorpha triangulum male, 123mm, Sao Bento do Sul, Brazil,
courtesy of Vadim Kroutov; a first?? for Brazil.
FLIGHT TIMES AND PREFERRED FOOD PLANTS:
Eumorpha triangulum adults are on the wing in every month in Costa Rica. Eumorpha triangulum larvae feed upon Saurauia montana and Cissus rhombifolia. In Argentina they are reported to feed on plants in the Actinidiaceae family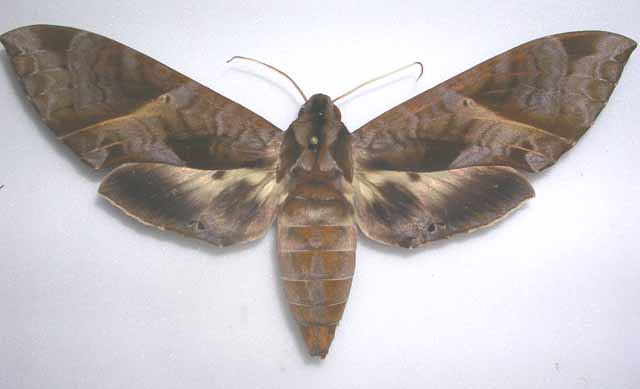 Eumorpha triangulum, Costa-Rica, Tuis-Cartago, courtesy of Frederik Goussey.
ECLOSION, SCENTING AND MATING:
Pupae wiggle to surface just prior to eclosion. Females call at night, and males (below) fly into the wind to pick up and track the pheromone plume.

Eumorpha triangulum male courtesy of Dan Janzen.

Eumorpha triangulum male, 114mm, verso, courtesy of Dan Janzen.

Eumorpha triangulum female, 114mm, verso, courtesy of Dan Janzen.

Images of the ventral surface of E. triangulum on Dan Janzen's pages consistently show a greenish-grey cast to the forewing basal and median areas and an orangey brown cast to a preapical area just below the costa. The terminal area is also purplish grey, in strong contrast to the rest of the wing. Images of the ventral surface of E. anchemolus on Dan's pages, show a much reduced, lighter "greenish" area and a much more uniform reddish cast to the rest of the wing, including the terminal area which tends to be a slightly lighter reddish tan. I have included a ventral image of E. anchemolus for comparison.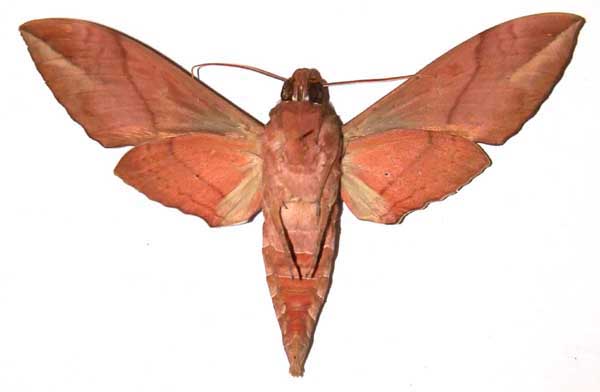 Eumorpha anchemolus, male (verso), 119mm, Costa Rica, courtesy of Dan Janzen.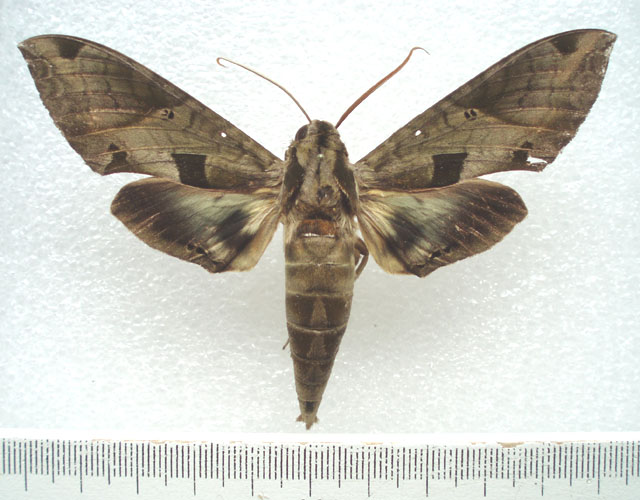 Eumorpha triangulum ??, Pook's Hill Reserve, Cayo District, Belize,
more likely E. anchemolus, June 23, 2006, courtesy of Brant Reif.

I may have originally identified the specimen from Pook's Hill Reserve as E. triangulum, but most recent information (truncated, dark trapezidal patch near fw apex) I have obtained (October 19, 2008) from Dan Janzen's website, leads me to believe it is more likely E. anchemolus.

In E. triangulaum there is almost alwasy a thick, dark, comma-shaped tail extending from base of the trapezoidal patch into, at least, the next intraneural section of wing.
EGGS, LARVAE AND PUPAE:
| | |
| --- | --- |
| Typical of Eumorpha species, the larvae have a well develped anal horn in the first instar. Eggs are deposited singly and are a translucent green | |
| | |
| --- | --- |
| The horn becomes much less prominent as the larvae develop. | |
| | |
| --- | --- |
| This larva has taken on a pinkish hue and will shortly descend foodplant host to pupate. | |
| | |
| --- | --- |
| Pupation is underground and pupal stage usually lasts five-six weeks before eclosion. The pupa is long and slender with a long cremaster. | |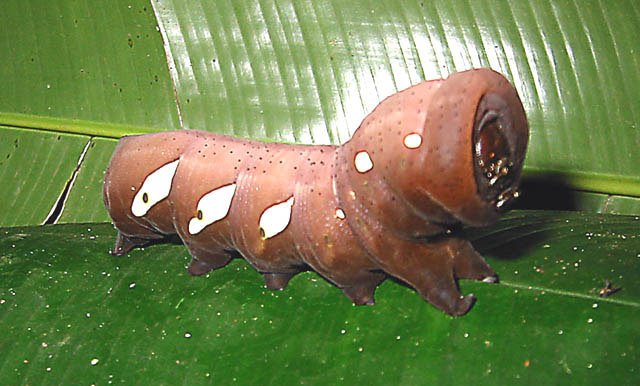 Eumorpha triangulum courtesy of David Bajorins,
November, about 100km up river from Iquitos, Peru.
Larval Food Plants
Listed below are primary food plant(s) and alternate food plants. It is hoped that this alphabetical listing followed by the common name of the foodplant will prove useful. The list is not exhaustive. Experimenting with closely related foodplants is worthwhile.
Saurauia montana
Cissus rhombifolia.......

Saurauia montana
Grape and Oak Leaf Ivy
Those who first published descriptions and assigned scientific names to many insects, simply chose names of biblical or mythological origin without any real descriptive qualities. Their purpose was simply to set a standard for purposes of identification by assigned name. On some occasions, names, mostly of Latin or Greek origin, were chosen to signify a particular character of the genus or of an individual species.
The genus name "Eumorpha" means well-formed.
The species name, "triangulum", MIGHT refer to the darker triangular scaling across the dorsal surface of the thorax.
The pronunciation of scientific names is troublesome for many. The "suggestion" at the top of the page is merely a suggestion. It is based on commonly accepted English pronunciation of Greek names and/or some fairly well accepted "rules" for latinized scientific names.
The suggested pronunciations, on this page and on other pages, are primarily put forward to assist those who hear with internal ears as they read.
There are many collectors from different countries whose intonations and accents would be different.
Ben Trott sends the Eumorpha triangulum larval images from Quintana Roo, Mexico. He writes, "This larva was found in its third instar on the same plant as E. anchemolus, in its fifth instar. It was also huge like anchemolus, and very similar, except it was a brown morph, and has an extra colour patch between the three main patches and the two spots on the frontal segments. This species also annoints itself prior to pupating, and doesn't use silk for its chamber."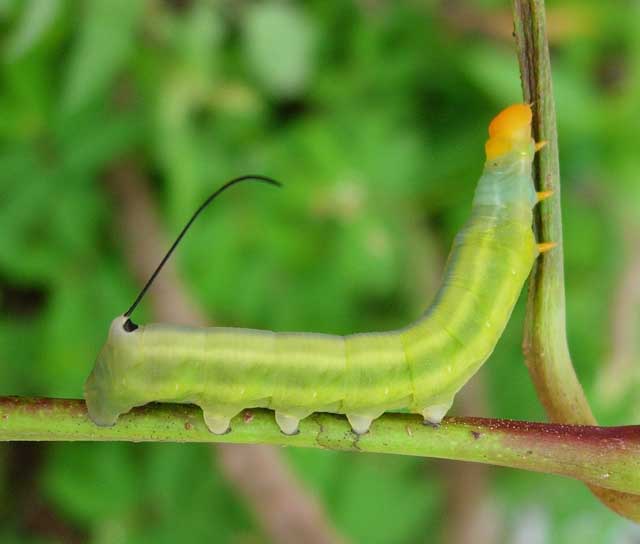 Eumorpha triangulums third instar, Playa del Carmen, Quintana Roo, Mexico,
courtesy of Ben Trott.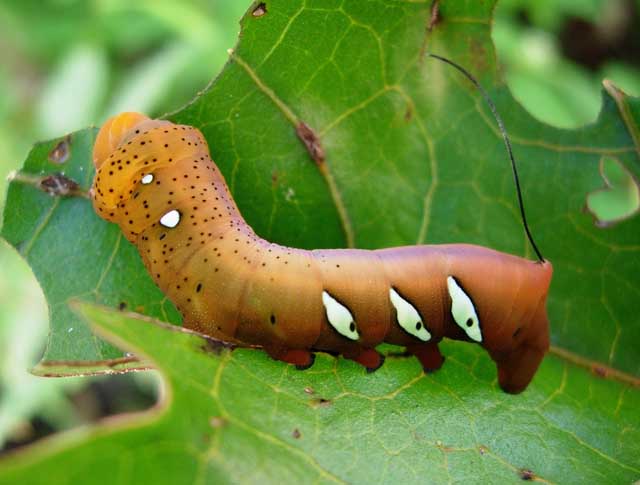 Eumorpha triangulums fourth instar, Playa del Carmen, Quintana Roo, Mexico,
courtesy of Ben Trott.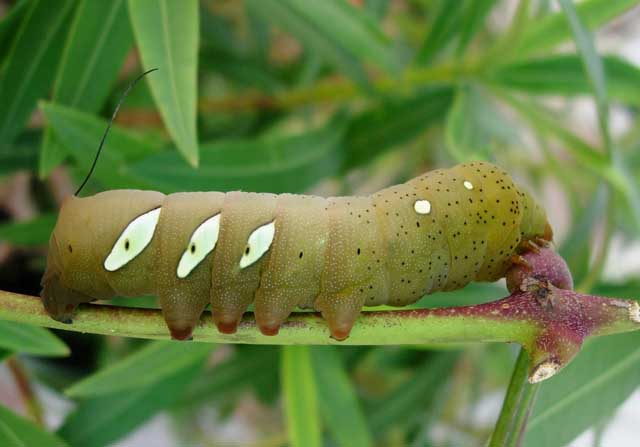 Eumorpha triangulums fourth instar, Playa del Carmen, Quintana Roo, Mexico,
courtesy of Ben Trott.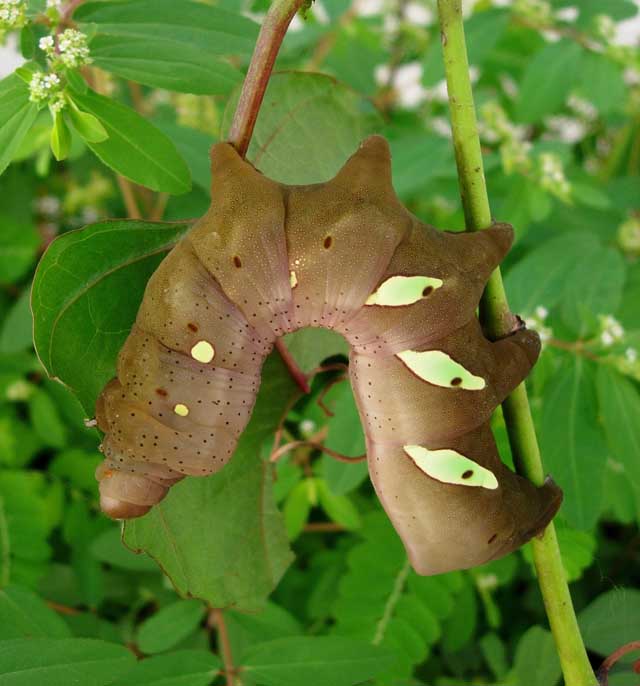 Eumorpha triangulums fifth instar, Playa del Carmen, Quintana Roo, Mexico,
courtesy of Ben Trott.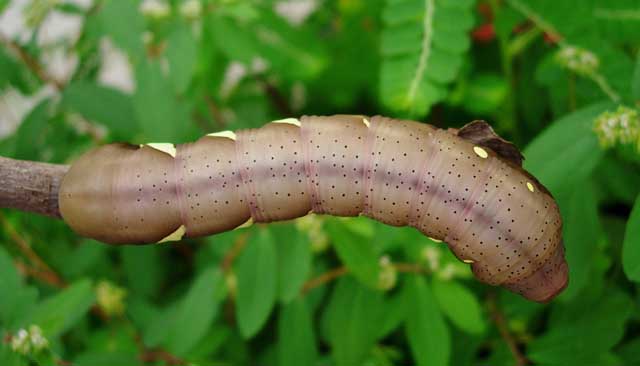 Eumorpha triangulums fifth instar, Playa del Carmen, Quintana Roo, Mexico,
courtesy of Ben Trott.

Return to Philampelini Index

Return to Sphingidae Index

Use your browser "Back" button to return to the previous page.

This page is brought to you by Bill Oehlke and the WLSS. Pages are on space rented from Bizland. If you would like to become a "Patron of the Sphingidae Site", contact Bill.

Please send sightings/images to Bill. I will do my best to respond to requests for identification help.

Enjoy one of nature's wonderments: Live Saturniidae (Giant Silkmoth) cocoons.

Show appreciation for this site by clicking on flashing butterfly to the left.
The link will take you to a page with links to many insect sites.