Updated as per

AN ANNOTATED CHECKLIST OF THE SPHINGIDAE OF BOLIVIA

, October 2007

Updated as per personal communication with Patrick Demez (Peru, Ica Province, Ica City, Puente Blanco, last week of Agust 2009); September 7, 2009

Updated as per personal communication with Chris Snyers (Peru, Lima, January 13, 2010); January 14, 2010

Updated as per personal communication with Eric LoPresti (Peru: Lambayeque: Pacora); December 11, 2012

Updated as per personal communication with Joanna Rodriguez Ramirez (Mendoza; Argentina), January 21, 2015
Hyles annei
(Guerin-Meneville, 1839) Sphinx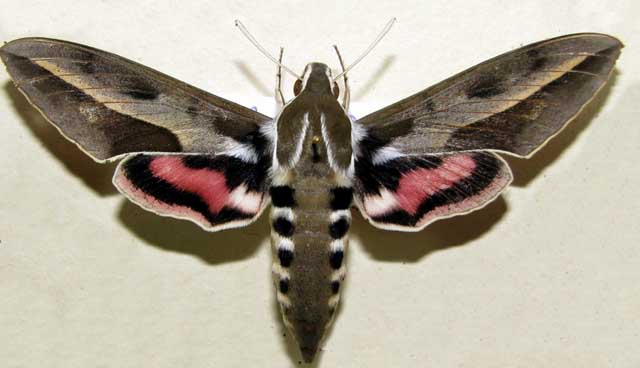 Hyles annei, Puente Blanco, Ica, southwestern Peru, last week in August, 2009, courtesy of Patrick Demez.
This site has been created by Bill Oehlke at oehlkew@islandtelecom.com
Comments, suggestions and/or additional information are welcomed by Bill.
TAXONOMY:



Family: Sphingidae, Latreille, 1802
Subfamily: Macroglossinae, Harris, 1839
Tribe: Macroglossini, Harris, 1839
Genus: Hyles Hubner, [1819] ...........
Species: annei (Guerin-Meneville, 1839)


MIDI MUSIC
.....It's a Wonderful World.....
copyright C. Odenkirk


ON.OFF

DISTRIBUTION:
Hyles annei flies in Chile,
Bolivia: La Paz: Murillo, La Paz;
western Peru: Ica (Patrick Demez); Lima (Chris Snyers); Pecora: Lambayeque (EL); and
Argentina: San Juan; Mendoza (JRR).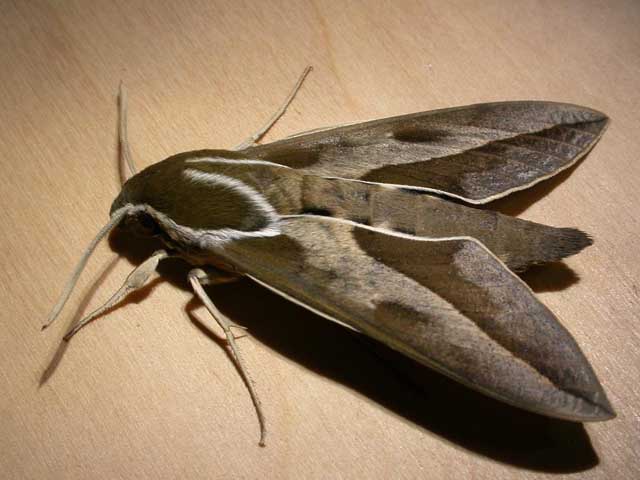 Hyles annei, Lima, Peru, January 13, 2010, courtesy of Chris Snyers.
FLIGHT TIMES:
Hyles annei adults fly in January (CS) and August (PD) and probably in other months.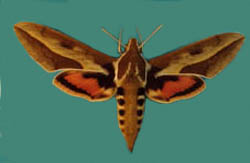 Hyles annei courtesy of Andres Angulo
ECLOSION:
Pupae probably wiggle to surface from subterranean chambers just prior to eclosion.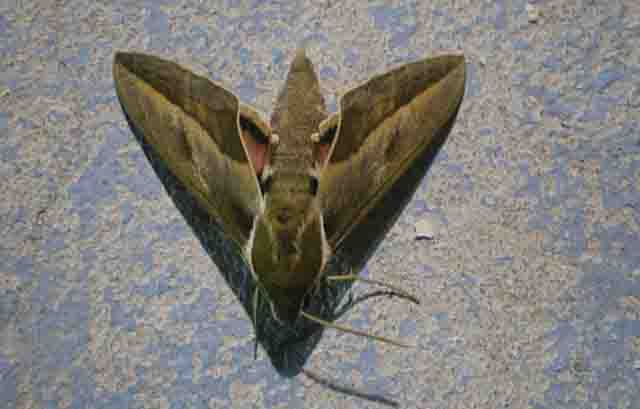 Hyles annei, Pacora, Lambayeque, Peru,
courtesy of Eric Lopresti.
SCENTING AND MATING:Females call in the males with a pheromone released from a gland at the tip of the abdomen. EGGS, LARVAE, PUPAE:Larval hosts are unknown to me, but I suspect they will eat a great diversity of plants including willow weed (Epilobium), four o'clock (Mirabilis), evening primrose (Oenothera), grape (Vitis), tomato (Lycopersicon), purslane (Portulaca), Fuschia, Gaura lindheimerii, Alternanthera pungens and Euphorbia dentata (toothed spurge), or closely related plants suited to a dry climate.
Use your browser "Back" button to return to the previous page.
Goto Main Sphingidae Index
Goto Macroglossini Tribe
Goto Central American Indices
Goto Carribean Islands
Goto South American Indices
Goto U.S.A. tables
Use your browser "Back" button to return to the previous page.
This page is brought to you by Bill Oehlke and the WLSS. Pages are on space rented from Bizland. If you would like to become a "Patron of the Sphingidae Site", contact Bill.
Please send sightings/images to Bill. I will do my best to respond to requests for identification help.
Enjoy one of nature's wonderments: Live Saturniidae (Giant Silkmoth) cocoons.

Show appreciation for this site by clicking on flashing butterfly to the left.
The link will take you to a page with links to many insect sites.