Hemaris thysbe
hee-MAGH-rihsmm THIHS-bee
(Fabricius, 1775) Sesia thysbe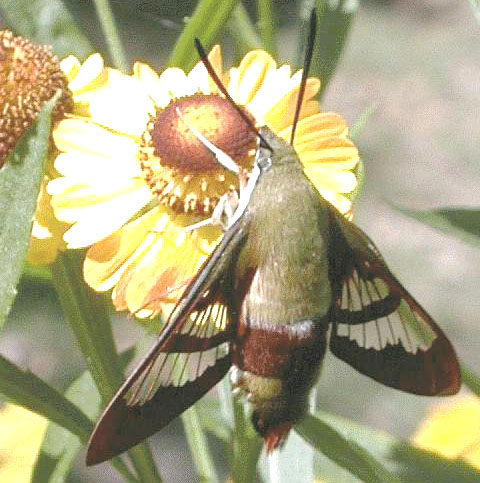 Hemaris thysbe photo courtesy of Praveen Mutalik
This site has been created by Bill Oehlke at oehlkew@islandtelecom.com
Comments, suggestions and/or additional information are welcomed by Bill.
TAXONOMY:



Family: Sphingidae, Latreille, 1802
Subfamily: Macroglossinae, Harris, 1839
Tribe: Dilophonotini, Burmeister, 1878
Genus: Hemaris (Dalman, 1816) was Sesia...........
Species: thysbe (Fabricius, 1775)


MIDI MUSIC
.....It's a Wonderful World.....
copyright C. Odenkirk


ON.OFF

DISTRIBUTION:
Hemaris thysbe, the Hummingbird Clearwing Moth or Common Clearwing (wingspan 38-50 mm), readily visits flowers by day throughout the eastern half of the U.S. and Canada, where it ranges far to the north, even into the Yukon. Ken Philip reports them in Alaska: Interior Alaska: Fairbanks vicinity; Southcentral Alaska: Index Lake.

It is not difficult to see why many gardeners would mistake an Hemaris thysbe moth for a small hummingbird as it hovers, sipping nectar from flowers through a long feeding tube.

The moth hovers briefly, sipping for only a few seconds before darting off to a new flower. Green body "fur" and burgundy wing scales suggest a small ruby throated hummingbird.

Adults can be quite variable. See Vernon Brou images of two males followed by a female at bottom of page.
FLIGHT TIMES:
In Canada, single-brooded Hemaris thysbe stock flies in June and July, sometimes even early May. On June 1, 1999 (early spring), I captured two Hemaris thysbe nectaring on blackberry blossoms here on Prince Edward Island, Canada. These Hummingbird clearwings were on the wing from mid to late June in 2000 (more typical weather).
In New Jersey there are at least two broods of this hawkmoth and in Louisiana there are six broods at thirty day intervals with the first brood peaking at the end of March.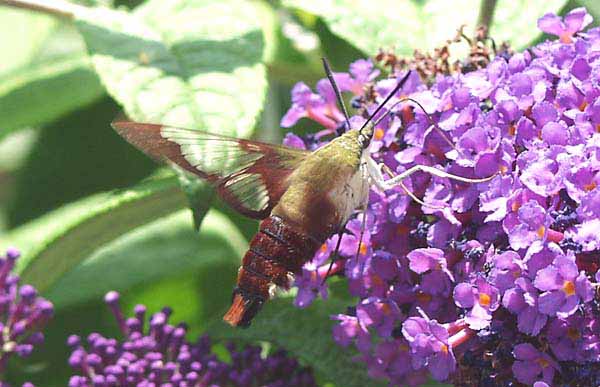 Hemaris thysbe on butterfly bush, June 5, 2003,
Lexington County, South Carolina, courtesy of Scott Wilson.
Note the pale area below the wing junctures (right side above) and the irregular edge of the burgundy-brown outer margin (left forewing above) as it projects (mid wing) into the clear area of the forewing.
H. gracilis is a similar species that has dark bars below the wing junctures and has a smooth curve to the burgundy-brown outer margin as it meets the clear area of the forewing.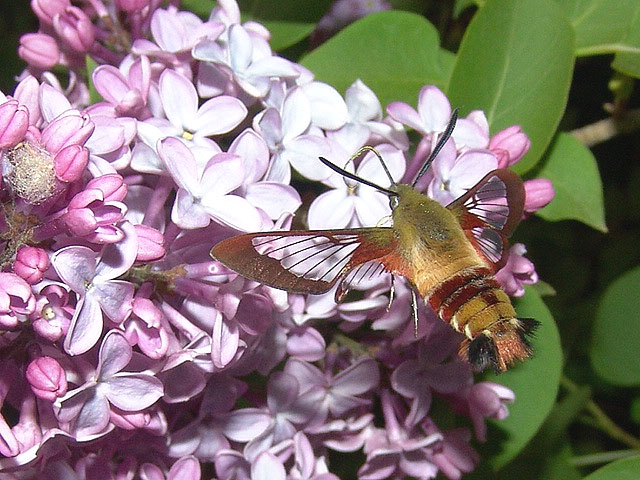 Hemaris thysbe, Peterborough, Ontario, May 22, 2007, courtesy of Tim Dyson.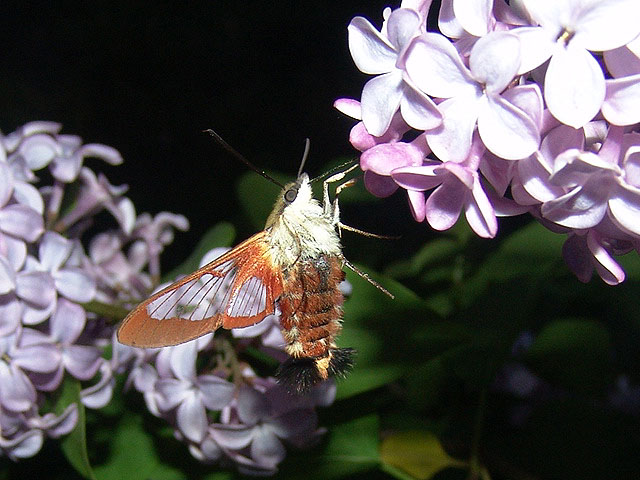 Hemaris thysbe, Peterborough, Ontario, May 29, 2007, courtesy of Tim Dyson.
View a beautiful series of images of Hemaris thysbe from South Carolina, courtesy of Lonnie Huffman.

Visit Hemaris thysbe, Presquile Provincial Park, Brighton, Ontario, May 3, 2015, Steven Rowe.

Visit Hemaris thysbe at rest, North Andover, Essex County, Masachusetts, June 2, 2009, courtesy of Howard Hoople.

Visit Hemaris thysbe, Hinesville, Liberty County, Georgia, courtesy of Nicole Janke.

Visit Hemaris thysbe, Gouin Reservoir, northern Quebec, July 5, 2010, courtesy of Neil Cameron.

Visit Hemaris thysbe nectaring at butterfly bush, Glastonbury, Hartford County, CT., July 15, 2010, courtesy of Susan Franzis.

Visit Hemaris thysbe, Ettrick, Trempealeau County, Wisconsin, July 15, 2012, Don Severson

Visit Hemaris thysbe nectaring at pink phlox, Aylmer, Gatineau, Quebec, August 2, 2010, Michel Paradis.

Visit Hemaris thysbe, Geary, Sunbury County, New Brunswick, Canada, August 1, 2010, Helen MÚrag McKinnon.

Visit Hemaris thysbe nectaring at pink phlox, Laurentian, Quebec, August 2-15, 2010, courtesy of Ilania Abileah.

Visit Hemaris thysbe, Chatham, Kent County, Ontario, August 14, 2007, 8:28pm, John Van der Pryt.

Visit Hemaris thysbe, Sidney Boat Landing, Kennebec County, Maine, August 24, 2011, Steve Lemieux.

Visit Hemaris thysbe, Ozaukee County, Wisconsin, August 28, 2011, Kate Redmond Visit Hemaris thysbe, Bullitt County, Kentucky, Dan Davison.
ECLOSION:
Regular sized moths emerge from seemingly small pupae when this species is reared in captivity.

Larvae pupate in thin walled cocoons under leaf litter. Scan to right shows cocoon formed under a paper towel.
SCENTING AND MATING:
Females call in the males with a pheromone released from a gland at the tip of the abdomen.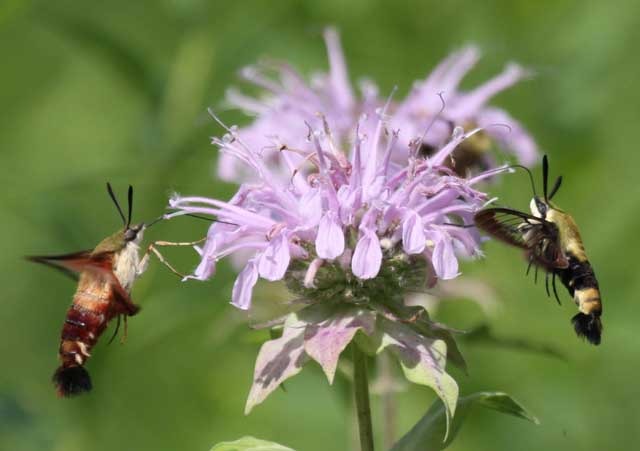 Dan Jackson writes, "The Hemaris diffinis shot that I just sent to you reminded me of another that I took at my home in Vernon County, Wisconsin on 7/30/11. I think that you will enjoy it. You donít see this every day!!

In that clump of flowers that was about 3 m square, there were 8 Hemaris thysbe and 3 Hemaris diffinis feeding at the same time. I really lucked out when one of each start to nectar on the same flower. That was my best shot."

WOW!!!
EGGS, LARVAE, PUPAE: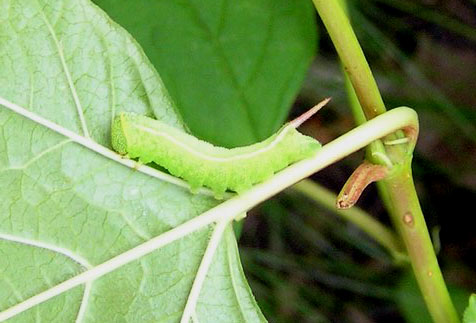 Hemaris thysbe, immature larva, August 20, 2006, Joan F. Rickert

Joan writes, "The caterpillar is (I think) a Snowberry Clearwing (Hemaris diffinis). I took this picture in Green Bay, Brown County, Wisconsin, on August 20. It was on a virburnum shrub. There were two of them."

Sam Jaffe has corrected the id to Hemaris thysbe.
Hemaris thysbe larvae feed on viburnum and related plants and the clearwing adults captured with a butterfly net on June 1, were put in a sleeve over growing viburnum.

The sleeves I use are made out of a very light weight material called Remay cloth. The cloth is intended as a spring garden cover. The sleeve is more like a sock, six feet long with a six foot circumference. I pull it over a few branches of viburnum and then insert the captured moths.

Pale green eggs were deposited singly on the undersides of foliage and small larvae remained well camouflaged, resting on the ventral mid-leaf vein.
A second instar larva is depicted above and to the right.

This lateral view of a second instar hornworm larva reveals the faint orangy-red spiracular circles and relatively large head and well developed anal horn.

Larvae remain well camouflaged in rearing sleeves, and, in the early instars, only the constant rain of small droppings assures their presence.

The larva to the right is approximately 3/4 inch long.
On July 9, I took several fifth instar larvae from the sleeve. One is depicted to the right. The anal horn is now blue and body bulk makes head of a more reasonable proportion.

Just a few days later, the top half of the larvae turned purple and they began to leave foliage in preparation for pupation. I placed them in a paper sandwich bag under some loose paper towelling and then placed the entire bag in a dark bucket.

Tom Murray, David Wagner and Jim Tuttle all indicate there is also an orangey-pink prepupal form, and the lateral line runs from S1 to the horn.

Scan by Bill Oehlke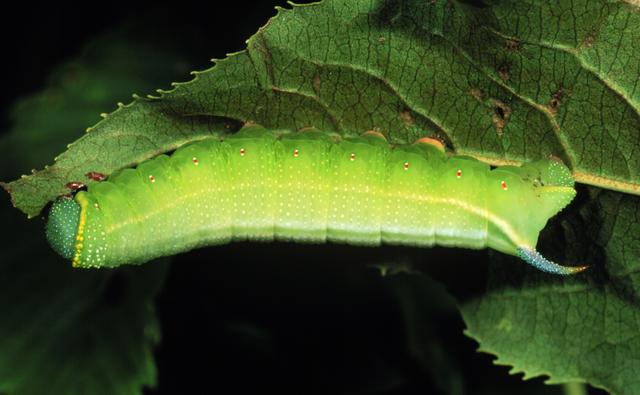 Hemaris thysbe courtesy/copyright David Wagner.

Many thanks to Ian Miller for this lovely image of a prepupal Hemaris thysbe larva.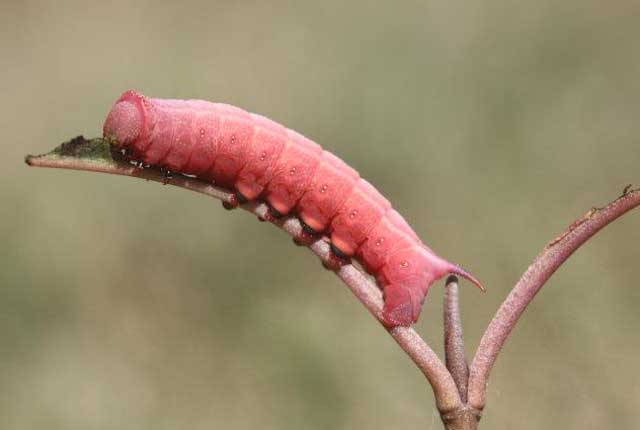 Hemaris thysbe fifth instar, Eau Claire County, Wisconsin,
courtesy of Ian Miller
Pupae are deceptively small, dark brown, and smooth-skinned.

These three were removed from thin walled cocoons spunup under paper towelling. They will be stored between layers of tissue in ziploc containers placed in a mini fridge.
Vernon A. Brou images below: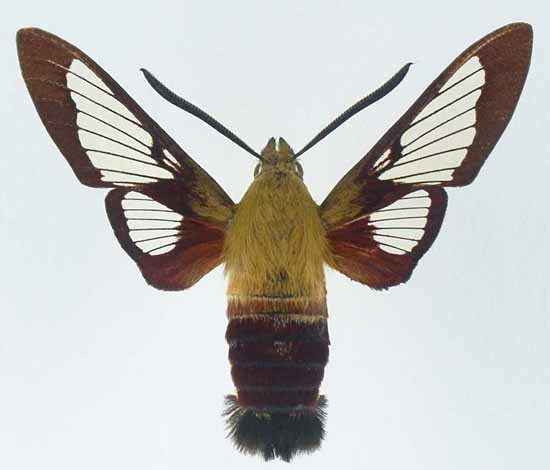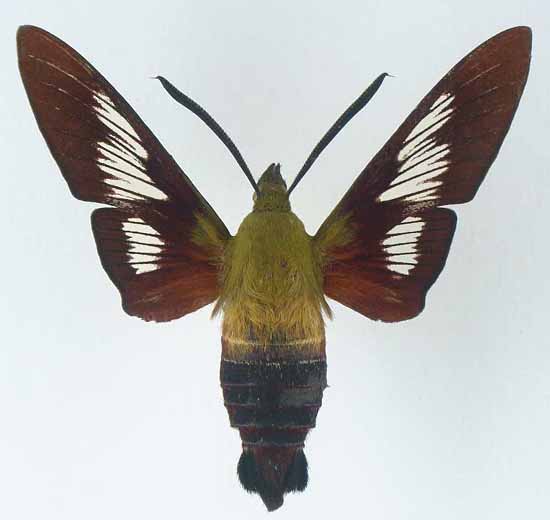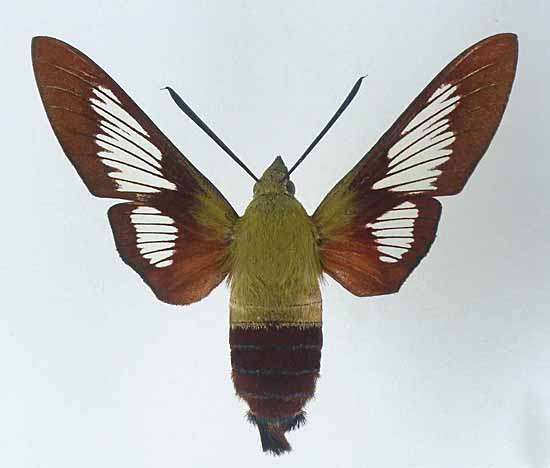 Visit Janice Stiefel's great images of an Hemaris thysbe larva and subsequent moth.
In response to a question about nectar sources for Hemaris species, I have copied the following from Insectnet.com:
Here in Upstate New York, they are daily visitors to my butterfly bushes (Buddleia). I've also seen them around the wild honeysuckle, which is listed as a host plant for the larvae. (Kevin)
In Tulare, California, they come to Star Jasmine, Honeysuckle, Zauschneria, Gaura, and Evening Primrose. In fact my Mexican Evening Primrose have larvae on them. I'm assuming they're White-lined Sphinx. (Dennis).
Hemaris spp. come to mint, dogwood, purple cone flower, blackberry, trumpet vine, and various species of milkweed, amongst others in Illinois and elsewhere. (Jeff Prill).
I have seen them at blackberry blossoms and butterfly weed on Prince Edward Island in eastern Canada. A recent planting of French lilacs has also been attracting these moths.
In New Jersey I have seen them butterfly bush, joe-pie weed, lilac, honeysuckle. (Bill Oehlke)
Sandy Westermann reports the adults nectaring at bee balm (Monarda).
Kathy Johnstone, Branchport, New York, indicates these moths have a strong preference for the monarda and phlox in her garden. Rebekah Garris reports them on Spotted Knapweed in Sussex County, New Jersey.
Nicole Kovacs of Delaware writes, "We have almost daily visits to our deck planters by a clearwing hummingbird moth. The first sighting was in June, and still in July we are still seeing it. The first visit was on a red petunia hanging basket. But now in bloom are the yellow lantana to which it has been showing a preference."
Those who first published descriptions and assigned scientific names to many insects, simply chose names of biblical or mythological origin without any real descriptive qualities. Their purpose was simply to set a standard for purposes of identification by assigned name. On some occasions, names, mostly of Latin or Greek origin, were chosen to signify a particular character of the genus or of an individual species.
The genus name "Hemaris" is probably a Latin adjective form for blood. It may have been chosen by Dalman based on the burgundy-red scales on the wings.
"Thysbe" may have been taken from Shakespeare's A Midsummer Night's Dream or from the more original source, Ovid's Metamorphoses (Thisbe).
The pronunciation of scientific names is troublesome for many. The "suggestion" at the top of the page is merely a suggestion. It is based on commonly accepted English pronunciation of Greek names and/or some fairly well accepted "rules" for latinized scientific names.
The suggested pronunciations, on this page and on other pages, are primarily put forward to assist those who hear with internal ears as they read.
There are many collectors from different countries whose intonations and accents would be different.
Return to Sphingidae Index
Return to Dilophonotini Tribe
Return to Hemaris Genus

Enjoy some of nature's wonderments, giant silk moth cocoons. These cocoons are for sale winter and fall. Beautiful Saturniidae moths will emerge the following spring and summer. Read Actias luna rearing article. Additional online help available.
Eggs of many North American species are offered during the spring and summer. Occasionally summer Actias luna and summer Antheraea polyphemus cocoons are available. Shipping to US destinations is done from with in the US.
Use your browser "Back" button to return to the previous page.
This page is brought to you by Bill Oehlke and the WLSS. Pages are on space rented from Bizland. If you would like to become a "Patron of the Sphingidae Site", contact Bill.
Please send sightings/images to Bill. I will do my best to respond to requests for identification help.

Show appreciation for this site by clicking on flashing butterfly to the left.
The link will take you to a page with links to many insect sites.