Isoparce broui
eye-soh-PAR-kehmm BROW-eye
Brou's Sphinx
Eitschberger, 2001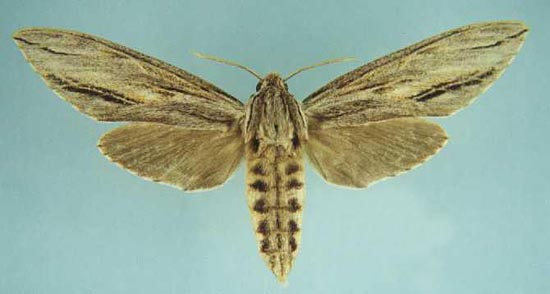 Isoparce broui (holotype) female, Mexico, courtesy of Vernon A. Brou.
This site has been created by Bill Oehlke at oehlkew@islandtelecom.com
Comments, suggestions and/or additional information are welcomed by Bill.
TAXONOMY:



Family: Sphingidae, Latreille, 1802
Subfamily: Sphinginae, Latreille, [1802]
Tribe: Sphingini, Latreille, 1802
Genus: Isoparce Rothschild & Jordan, 1903 ...........
Species: broui Eitschberger, 2001


MIDI MUSIC
.....It's a Wonderful World.....
copyright C. Odenkirk


ON.OFF

DISTRIBUTION:
Isoparce broui flies in Mexico (specimen type locality).
There is only the one female holotype specimen (above) in existence taken in late August 1985 in mountainous terrain, quite different from habitat of I. cupressi which is a swamp habitat species. This species was formally described just two months ago in Dec 2001.
FLIGHT TIMES:
Isoparce broui adults probably fly as two broods from February-October, but this is just supposition on my part, Bill Oehlke. ECLOSION:Pupae probably wiggle to surface from subterranean chambers just prior to eclosion.
SCENTING AND MATING:
Females call in the males with a pheromone released from a gland at the tip of the abdomen. The short-tongued adults probably do not feed (supposiition).
EGGS, LARVAE, PUPAE:
A guess about the food plant of the larvae would be one of several Mexican cypress species.
Return to Sphingidae Index
Return to Sphingini Tribe