Updated as per More, Kitching and Cocucci's

Hawkmoths of Argentina

2005, December 2009

Updated as per

AN ANNOTATED CHECKLIST OF THE SPHINGIDAE OF BOLIVIA

, December 2009

Updated as per French Guiana Systematics: Sphingidae; May 12, 2011

Updated as per CATE (Venezuela, Bolivia, western Argentina, Brazil; description); May 12, 2011

Updated as per "A Hawk Moths fauna of southern Maranhão state, Brazil, ... ";

NEVA: Jahrgang 34 Heft 3 November 2013

; via Jean Haxaire; April 5, 2014

Updated as per personal communication with Ezequiel Bustos (Shilap revta. lepid. 43 (172) diciembre, 2015, 615-631 eISSN 2340-4078 ISSN 0300-5267), January 4, 2016
Isognathus menechus
(Boisduval, [1875]) Anceryx menechus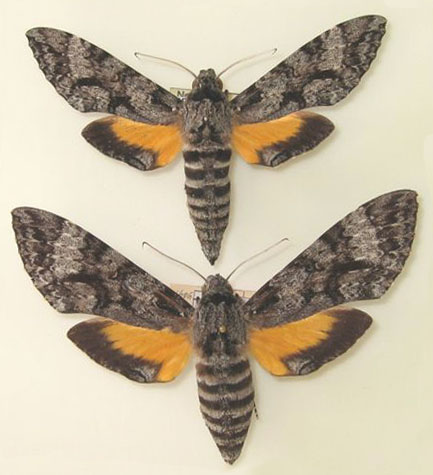 Isognathus menechus pair, Mato Grosso, Brazil, courtesy of Eurides Furtado.
This site has been created by Bill Oehlke at oehlkew@islandtelecom.com
Comments, suggestions and/or additional information are welcomed by Bill.
TAXONOMY:



Family: Sphingidae, Latreille, 1802
Subfamily: Macroglossinae, Harris, 1839
Tribe: Dilophonotini, Burmeister, 1878
Genus: Isognathus G. Felder & R. Felder, 1862 ...........
Species: menechus (Boisduval, [1875])


MIDI MUSIC
.....It's a Wonderful World.....
copyright C. Odenkirk


ON.OFF

DISTRIBUTION:
Isognathus menechus (Wing span: 90-92mm, females: 100mm), flies from Cuba to
Venezuela;
French Guiana: Saint-Georges l'Oyopok; Matoury;
Bolivia: Cochabamba, Santa cruz;
Argentina: Tucuman; and
Brazil: Para; Alagoas: Leopoldina; Federal District: Brasilia; Mato Grosso; southern Maranhao;
with Cuba given as the specimen type locality.
Possibly there are populations in Colombia WO??
The body and forewings have a bluish-grey cast. The forewings have double antemedian and double postmedian lines, which are distinct at tthe costal margin. The pm pair is interrupted at M3, then reappear posteriorly, forming a semicircle opening towards the anal angle. An elongate black patch between M3 and CuA1 merges basally with the postmedian lines. The distal white vein-streaks are usually conspicuous.
FLIGHT TIMES:
There are probably several flights throughout the year. Specimens have been taken in French Guiana in May and November-December.
ECLOSION:
Moths emerge from pupae in thin-walled cocoons under leaf litter within 8-24 days of pupation. SCENTING AND MATING:Females call in the males with a pheromone released from a gland at the tip of the abdomen. Adults nectar at flowers, including petunia. EGGS, LARVAE, PUPAE: Females probably lay eggs on leaves of Apocynacea. Himatanthus lancifolius has been reported as a host in Brazil.
Larvae have long tails; colouration suggests they are unpalatable to birds.
The pupae are also quite colourful, and, I suspect, are very lively. Moths generally emerge within 8-24 days of pupation.
Return to Sphingidae Index
Return to Dilophonotini Tribe