Updated as per personal communication with Eurides Furtado

Updated as per

AN ANNOTATED CHECKLIST OF THE SPHINGIDAE OF BOLIVIA

, December 2009

Updated as per personal communication with Peter Bruce-Jones (madre Dios, Peru, 500m); February 2010

Updated as per CATE description, February 2010

Updated as per personal communication with Jose Ramon Alvarez Corral (Bolivar, Venezuela); May 27, 2012; ongoing
Isognathus swainsonii
eye-sug-NATH-uhsMSWAIN-son-ee-eye
Felder & Felder, 1862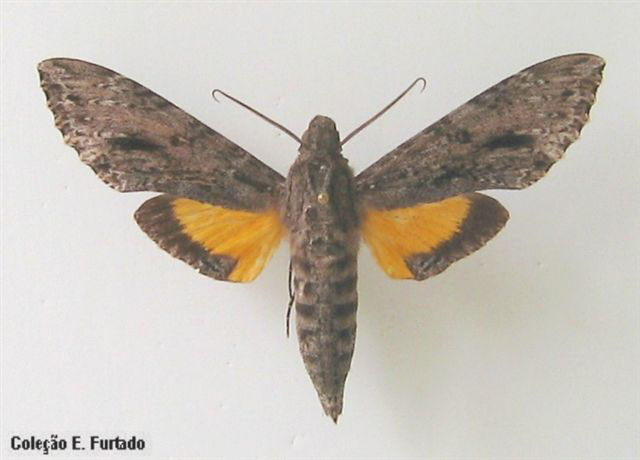 Isognathus swainsonii male: 82 mm, December,
Reserva Vale da Solidão, 14o22'S 56o07'W, 450 m, Diamantino, Mato Grosso, Brazil,
courtesy of Eurides Furtado.
This site has been created by Bill Oehlke at oehlkew@islandtelecom.com
Comments, suggestions and/or additional information are welcomed by Bill.
TAXONOMY:



Family: Sphingidae, Latreille, 1802
Subfamily: Macroglossinae, Harris, 1839
Tribe: Dilophonotini, Burmeister, 1878
Genus: Isognathus G. Felder & R. Felder, 1862 ...........
Species: swainsonii C. Felder, 1862


MIDI MUSIC
.....It's a Wonderful World.....
copyright C. Odenkirk


ON.OFF

DISTRIBUTION:
Isognathus swainsonii (Wing span: male: 82mm; females: larger than males), flies from
Peru: Madre de Dios, Cusco;
Brazil: Para (CATE); Mato Grosso; Rio de Janeiro; to
Bolivia: Santa cruz (750m), Lapaz; with Brazil given as the specimen type locality.
Jean Haxaire records it in French Guiana: Kaw; and Jose Ramon Alvarez Corral reports it in Venezuela: Bolivar.
Isognathus swainsonii, Madre Dios, Peru, 500m, courtesy of Peter Bruce-Jones.

This species is very similar to Isognathus leachii, but it is lighter in overall appearance whith more white scaling. The basal streak is thinner in swainsonii than in leachii, but probably the most distinguishing character on the forewing is the melding of the dark brown spot at the apex of the discal cell with the brown spot outside crossvein m2-m3 in swainsonii. In leachii there is a clear separation of these two dark spots with a thin light space.

If the hindwing is visible, the dark marginal band of swainsonii tends to be uniformly wider and less regularly dentate along the veins as in leachii. CATE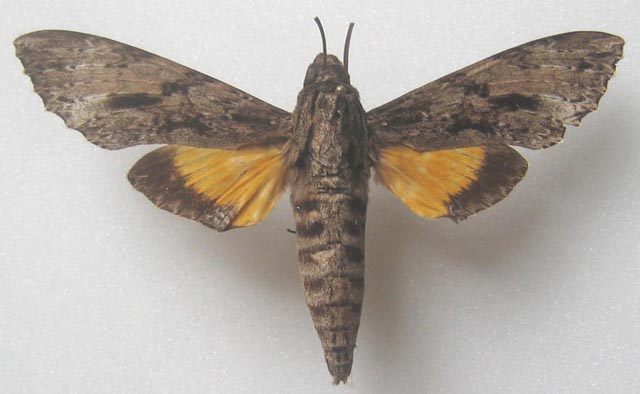 Isognathus swainsonii French Guiana, courtesy of Stephane Vassel,
id by Jean-Marie Cadiou and Jean Haxaire.
FLIGHT TIMES:
There are probably several flights throughout the year. The specimen depicted top of page was taken in December. ECLOSION:Moths emerge from pupae in thin-walled cocoons under leaf litter within 8-24 days of pupation. SCENTING AND MATING:Females call in the males with a pheromone released from a gland at the tip of the abdomen. Adults nectar at flowers, including petunia. EGGS, LARVAE, PUPAE: Females probably lay eggs on leaves of Apocynacea. Plumeria acuminata has been reported as a host.
Larvae have long tails which shorten in final instar; colouration suggests they are unpalatable to birds.
The pupae are also quite colourful, and, I suspect, are very lively. Moths generally emerge witin 8-24 days of pupation.
The following larva is from Rio de Janeiro, Brazil, courtesy of Luiza Horta. I am not positive regarding its (my) identification as I. swainsonii as I have no images of swainsonii for reference. It does not seem a perfect match for the larval image I have of Isognathus caricae, but it is very close to that species. I am going with swainsonii simply because swainsonii is known from Rio de Janeiro.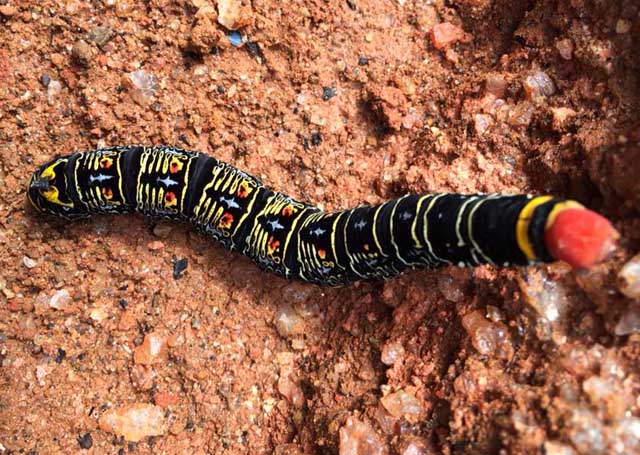 Isognathus swainsonii???, Rio de Janeiro, Brazil,
February 18, 2016, courtesy of Luiza Horta, tentative id by Bill Oehlke.
Return to Sphingidae Index
Return to Dilophonotini Tribe