Manitoba, Canada

Sphingidae Larvae

Ceratomia amyntor fifth instar, Wolseley, Winnipeg, Manitoba,
August 8, 2011, courtesy of Robin.
My original Manitoba list was adapted by myself, Bill Oehlke, from a North Dakota list, with items marked with ** confirmed from the Rev. Ron Hooper list, courtesy of Gary Anweiler, Alberta Lepidopterists' Guild.
Richard Westwood, Dept. of Biology, University of Winnipeg, indicates "I checked your sphinx moth website and noted a couple of additions of interest. Sphinx canadensis does not seem to be on your Manitoba list (It is moderately common here). Also a stray Eupmorpha labruscae was caught in Winnipeg Aug 24/1971 and a stray Agrius cingulata on Aug 8/1986. They are both located in the Manitoba Provincial Museum collection." The larvae of the migrants/strays such as cingulata and labruscae are not depicted here, as I do not think those species breed in Manitoba.
Larvae often show considerable variation.
Please help me develop this list with improved, documented accuracy by sending sightings (species, date, location), preferably with an electronic image, via email to Bill Oehlke.
For care of "found larvae/caterpillars" visit Manduca sexta larva, central Texas, August 21, 2008, Trina Woodall.
The BAMONA website, as of August 10, 2011, only confirms Hyles lineata for Manitoba.
Many thanks also to Wiiliam Stadnyk who sends the following image of Sphinx kalmiae larva, feeding on lilac.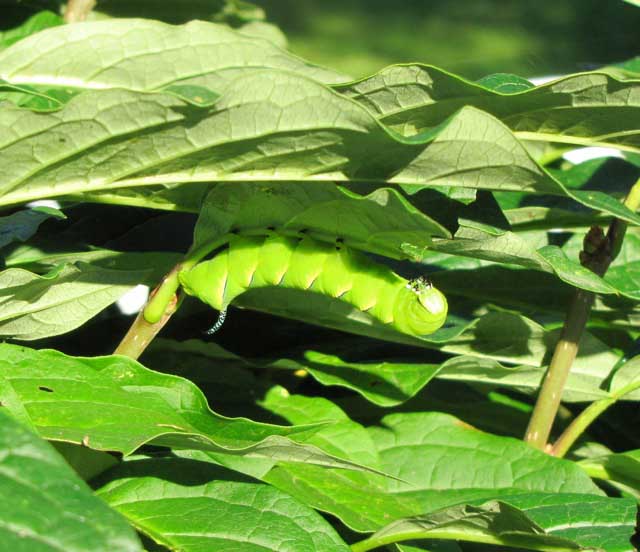 Sphinx kalmiae, Rossman Lake, Manitoba, August 2, 2012, courtesy of William Stadnyk.

Visit Manitoba Sphingidae: Adult Moths

Visit Manitoba Catocala: Underwing Moths
Sphinginae subfamily
Sphingini tribe:
| | |
| --- | --- |
| | Ceratomia amyntor common, Elm Sphinx, Four-horned Sphinx: Elm (Ulmus), birch (Betula), basswood (Tilia), cherry (Prunus). Green and brown forms. Four horns near head. |
| | |
| --- | --- |
| | Ceratomia undulosa common, Waved Sphinx: Fraxinus, Ligustrum, Quercus, Crataegus, Chionanthus virginicus. Fifth instar spiracular ovals: decidedly red; anal horn: off-white to pinkish laterally. |
| | |
| --- | --- |
| | Lapara bombycoides abundant, Northern Pine Sphinx: If you have pines, you probably have this species. It flies on P.E.I. |
| | |
| --- | --- |
| | Sphinx canadensis WO, Canadian Sphinx: Uncommon at lights, not often reported anywhere. Black ash (Fraxinus nigra). Variable appearance but always with granulous (darker protrusions) on pinkish horn. |
| | |
| --- | --- |
| | Sphinx chersis abundant, Northern Ash Sphinx, Great Ash Sphinx: Ssh, lilac, privet, cherry, and quaking aspen. Note pale blue horn. |
| | |
| --- | --- |
| | Sphinx drupiferarum, Wild Cherry Sphinx: We have them on P.E.I., but I do not see them nearly as frequently as I see the other Sphingidae. |
| | |
| --- | --- |
| | Sphinx gordius, Apple Sphinx: Ranges from brown with black borders through brownish gray with paler borders to pale gray with no borders. It is probably Sphinx poecila that is present in Manitoba. |
| | |
| --- | --- |
| | Sphinx kalmiae present, Laurel Sphinx: Lower forewings predominantly brownish-yellow with fairly wide dark bar along inner margin. At rest wings hug body, giving the moth a long slender look. Anal horn: blue with extensive black markings in final instar. |
Sphinx luscitiosa present, the Canadian Sphinx or Clemen's Sphinx

This one is reported from Ontario, but it is generally not common.
| | |
| --- | --- |
| | Sphinx poecila abundant, Poecila Sphinx: If you have blueberries in the woods, then you might have the Poecila Sphinx. They are pretty common here on Prince Edward Island. Larvae can be purple or green. |
| | |
| --- | --- |
| | Sphinx vashti, Snowberry Sphinx: Common snowberry (Symphoricarpos albus), coralberry (S. orbiculatus). Note two golden lines of slightly raised bumps, one just behind head, other on thorax. |
Smerinthini Tribe:
| | |
| --- | --- |
| | Amorpha juglandis, Walnut Sphinx: Walnut, butternut (Juglans), hickory (Carya), alder (Alnus), beech (Fagus), hazelnut (Corylus), hop-hornbeam (Ostrya). |
| | |
| --- | --- |
| | Pachysphinx modesta, the Modest Sphinx or Poplar Sphinx: Larvae feed on poplars and cottonwood. |
| | |
| --- | --- |
| | Larvae accept willows, birches, and cherries. I have also found them in the wild on oak in eastern Canada. generally more eastern species |
Named for the small eye-spot in the hindwing, this moth has a wide distribution and is probably common in Ontario.

I regularly see them on Prince Edward Island, and they are reported as far south as Florida.
| | |
| --- | --- |
| | Smerinthus cerisyi, Cerisyi's Sphinx: Found in southern regions of all Canadian provinces/ northern border states. One-eyed sphinx also found along U.S. west coast, eastward to Rockies. At my home in Montague, P.E.I., Canada, they are quite common. |
| | |
| --- | --- |
| | Smerinthus jamaicensis, Twin-spotted Sphinx: Birches and cherries, expecially fond of poplars and willows. Red markings on sides vary greatly from specimen to specimen. |
Macroglossinae subfamily
Dilophonotini tribe:
See Hemaris comparison to help distinguish the next three species.
| | |
| --- | --- |
| | Hemaris thysbe, Hummingbird Clearwing: There is also an orangey-pink prepupal form. The lateral line runs from S1 to the blue horn. Hemaris thysbe larvae feed on viburnum and related plants. generally more eastern species |
| | |
| --- | --- |
| | Hemaris diffinis, Snowberry Clearwing: Snowberry (Symphoricarpos), honeysuckle (Lonicera), Coralberry, viburnums, Blue Dogbane (Apocynum), dwarf bush honeysuckle (Diervilla lonicera). Horn: black; yellow base. |
| | |
| --- | --- |
| | Hemaris gracilis, Slender Clearwing or Graceful Clearwing: This day-flying moth is less common. |
Philampelini tribe:
| | |
| --- | --- |
| | Eumorpha achemon, Achemon Sphinx. Grape (Vitis), Virginia Creeper (Parthenocissus quinquefolia), other vines, ivies (Ampelopsis). Mature (final instar) larvae occur in many colours: light green; tan/brown; orangey. Note six "segmented" oblique lines. Immatures are often pinkish-red with long, curved anal horns. |
Macroglossini tribe:
| | |
| --- | --- |
| | Amphion floridensis, Nessus Sphinix: In additon to Virginia creeper larvae accept Grape (Vitis), ampelopsis (Ampelopsis), and cayenne pepper (Capsicum).Larvae are green until the final instar. |
| | |
| --- | --- |
| | Darapsa choerilus, Azalea Sphinx: Azalea, Viburnum; progress very rapidly. Larva, left, on Viburnum cassinoides is getting ready to pupate. Color change from green to light burgundy-brown indicates pupation imminent. |
| | |
| --- | --- |
| | Darapsa myron, Virginia Creeper Sphinx, Grapevine Sphinx: If you have foodplants indicated in common names, you probably have this species. Lower wings: orange. Virginia creeper (Parthenocissus quinquefolia), Grape (Vitis), Ampelopsis, Viburnum. |
| | |
| --- | --- |
| | Hyles euphorbiae introduced, Leafy Spurge Hawkmoth: Introduced into Ontario to try to control spread of leafy spurge. |
Hyles euphorbiae larvae, Winnipeg, September 10, 2013, Carroll Maxwell
Hyles gallii, Bedstraw Hawk Moth, Gallium Sphinx:

Some years I see them on P.E.I., some years, I do not. Larvae can be quite variable.
| | |
| --- | --- |
| | Hyles lineata BAMONA, White-lined Sphinx: Highly varied. Willow weed (Epilobium), four o'clock (Mirabilis), apple (Malus), evening primrose (Oenothera), elm (Ulmus), grape (Vitis), tomato (Lycopersicon), purslane (Portulaca), Fuschia. red/black swellings split by dorso-lateral lines. |
| | |
| --- | --- |
| | Proserpinus flavofasciata , the Yellow-banded Day Sphinx: Day flier; it may not be common. Look for them in meadows near coniferous forests. |
| | |
| --- | --- |
| | Proserpinus juanita, Juanita Sphinx: Newly-hatched caterpillars eat their eggshells. (Onagraceae) including evening primrose (Oenothera), gaura (Gaura), and willow weed (Epilobium). Michael Van Buskirk has found them on Guara biennis in Missouri. rare |
---
Enjoy some of nature's wonderments, giant silk moth cocoons. These cocoons are for sale winter and fall. Beautiful Saturniidae moths will emerge the following spring and summer. Read Actias luna rearing article. Additional online help available.
Eggs of many North American species are offered during the spring and summer. Occasionally summer Actias luna and summer Antheraea polyphemus cocoons are available. Shipping to US destinations is done from with in the US.
Use your browser "Back" button to return to the previous page.
Please send sightings/images to Bill. I will do my best to respond to requests for identification help.

Show appreciation for this site by clicking on flashing butterfly to the left.
The link will take you to a page with links to many insect sites.
This website has been created and is maintained by Bill Oehlke without government or institutional financial assistance. All expenses, ie., text reference support material, webspace rental from Bizland, computer repairs/replacements, backups systems, software for image adjustments (Adobe Photoshop; L-View), ftp software, anti-virus protection, scanner, etc. are my own.

I very much appreciate all the many images that have been sent to me, or of which I have been granted permission to copy and post from other websites. All images on this site remain the property of respective photographers.

If you would like to contribute to the maintenace of this website by sending a contribution to

Bill Oehlke
Box 476
155 Peardon Road
Montague, Prince Edward Island, C0A1R0
Canada

your donation would be much appreciated and would be used for
1) paying for webspace rental;
2) paying for computer maintenance and software upgrades;
3) purchases of additional text reference material (journals and books) in an effort to stay current with new species;
4) helping to pay my daughter's tuition (completed spring of 2013), with the rest going to humanitarian aid.

I also hope to expand the North American Catocala site as well as the Sphingidae of the Americas site, to worldwide sites, and that will require additional funds for reference materials, etc. Both of those site are linked from your WLSS homepage.

If you are mailing a check from USA, please use $1.10 postage (2013 rate). Donations can also be made through Paypal via the button below.