Manduca corallina
(Druce, 1881) Diludia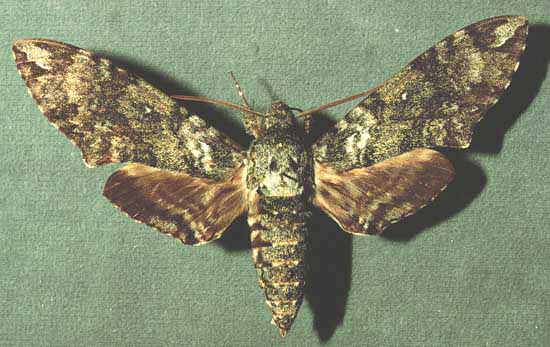 Manduca corallina male courtesy of Dan Janzen.
Manduca corallina Los Ranchitos Lodge, 3km south of Bajaverapaz, Guatemala,
116mm, 1675m, June 1, 2015, courtesy of Terry Stoddard,
very tentative id by Bill Oehlke of badly worn specimen.
This site has been created by Bill Oehlke at oehlkew@islandtelecom.com
Comments, suggestions and/or additional information are welcomed by Bill.
TAXONOMY:


Family: Sphingidae, Latreille, 1802
Subfamily: Sphinginae, Latreille, [1802]
Tribe: Sphingini, Latreille, 1802
Genus: Manduca Hubner, [1807] ...........
Species: corallina (Druce, 1881)

DISTRIBUTION:
Manduca corallina (Wingspan 93-104-110mm-116mm (ts), males smaller than females) flies from
Mexico (specimen type locality); and
Belize: Cayo, Stann Creek;
Guatemala: Izabal (JM);
Honduras: Rosery Mine;
Nicaragua: Chinandega, Chontales;
Costa Rica: Guanacaste, Alajuela, Lemon, Puntarenas, Heredia; and south to
Venezuela.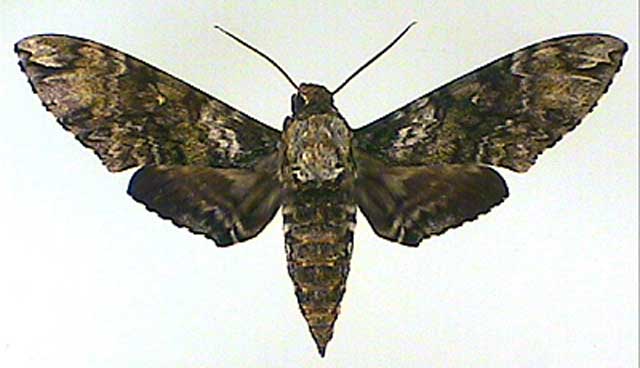 Manduca corallina Pook's Hill Reserve, Cayo District, Belize,
June 23, 2006, 104mm, courtesy of Brant Reif.

The white patch in the basal area seems characteristic of this sepcies.

Thorax, especially in the male, seems less robust than in Manduca lichenea. Wings are more elongate than in Manduca lichenea, but with a very similar pattern.
FLIGHT TIMES:
Manduca corallina adults have been taken every month of the year in Costa Rica. ECLOSION:Pupae probably wiggle to surface from subterranean chambers just prior to eclosion.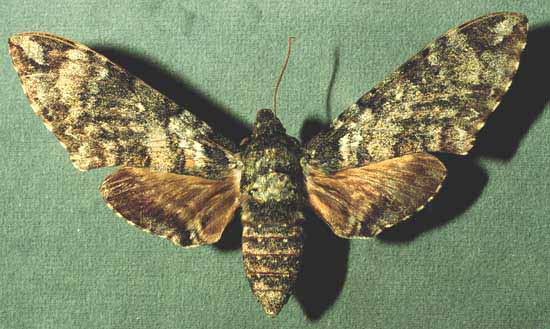 Manduca corallina female courtesy of Dan Janzen.
SCENTING AND MATING:
Females call in the males with a pheromone released from a gland at the tip of the abdomen. Adults take nectar from flowers. EGGS, LARVAE, PUPAE:Larvae feed on Cordia alliodora of the Boraginaceae family. The larvae have a very rough skin, two dorsal yellow stripes and have side slashes on a green body.


It is Manduca corallina that lacks the pulvinus and Manduca lichenea that has a pulvinus and Manduca schausi, formerly Manduca lichenea, is from upper elevations while Manduca corallina is from lower elevations
| | |
| --- | --- |
| Moths emerge about one month after pupation. The larvae lies on its back, in typical Manduca fashion, while pupating. | |
Larvae are subject to parasitization by Drino rhoeo of the Tachinidae family.
Use your browser "Back" button to return to the previous page.
Return to Sphingidae Index
Return to Sphingini Tribe
Use your browser "Back" button to return to the previous page.
This page is brought to you by Bill Oehlke and the WLSS. Pages are on space rented from Bizland. If you would like to become a "Patron of the Sphingidae Site", contact Bill.
Please send sightings/images to Bill. I will do my best to respond to requests for identification help.
Enjoy one of nature's wonderments: Live Saturniidae (Giant Silkmoth) cocoons.

Show appreciation for this site by clicking on flashing butterfly to the left.
The link will take you to a page with links to many insect sites.